An encroachment permit is needed anytime you wish to perform any work in or use the public right-of-way such as a public street or sidewalk. Applying for an encroachment permit is how you get permission to do work in the right-of-way, and assures that your work will be inspected to established standards and, upon acceptance, protects you from potential liability that may otherwise come about by substandard or unauthorized work.
Encroachment Permit Types
Minor Temporary Encroachment Permit- A minor temporary encroachment permit is intended for work with a specified, limited period of time including debris boxes, temporary construction, scaffolding, and tree trimming.
Minor Continuing Encroachment Permit- An encroachment which is intended and permitted to continue for an indefinite period of time, but which by its nature is limited in size, scale or use so that the encroachment will have little or no impact on the public health, safety or welfare like, flat or low level landscaping, bike racks, newspaper racks, and signs/architectural features extending more than four feet (4') into the public-right-of-way.
Utility Encroachment Permit- Utility encroachment applications are for encroachments by a utility or special district (water, cable, sewer, gas, etc.)
Major Encroachment Permit- A major encroachment application would be needed for encroachments intended to continue for an indefinite period of time like, fences or walls higher than three feet (3') above natural grade, abutments for driveways and stairs, groundwater monitoring wells.
No Fee Encroachment Permit- A permit for sidewalk, gutter, and curb work with no fee associated. All requirements of a minor temporary encroachment permit apply except the fee. See diagram below for details on work associated with a no fee encroachment permit.
See Sanitation District for Sewer Permits.
SIDEWALK REPAIR PROGRAM AND RESPONSIBILITY
Fees
Minor temporary encroachment permits are $246
Minor continuing encroachment permits are $368
Utility encroachment permits are $919
Major encroachment permits are $2,394
No fee encroachment permits are $0
Sidewalk, gutter, and curb work that is included in a no fee encroachment permit: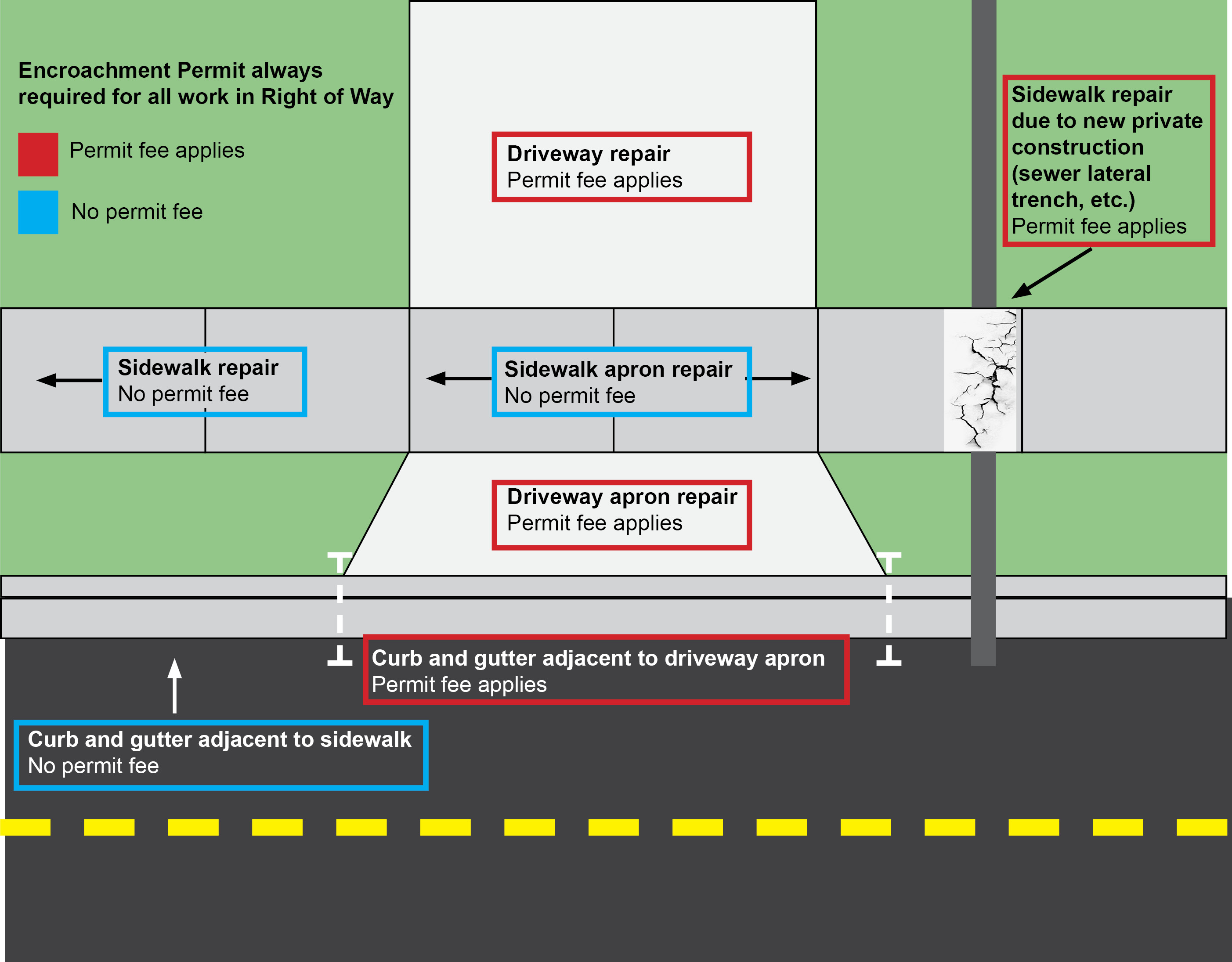 Encroachment Permit Requirements
Detailed Plan/ Key Map
A detailed plan shows the exact location, a more precise extent of the work zone, the work proposed and details of the improvements.
A key map shows the general project location and approximate extent of the workzone.
Underground utilities can be shown on the detailed plan or as a separate map. We use this to generally locate where subsurface utilities exist, and to avoid conflicts with existing facilities.
Traffic Control Plan
A Traffic Control Plan (TCP) is a document that shows temporary signs, cones, and flaggers to safely direct traffic around your work zone.  'Traffic' includes vehicles, bicycles, pedestrians, and mobility devices such as wheelchairs.
Temporary traffic control requirements, devices, and setups can be found in Part 6 of the CA Manual on Uniform Traffic Control Devices (MUTCD).
Part 6 includes temporary traffic controls such as for workzones.  Chapter 6H provides typical applications or general setups.
Several CA MUTCD applications that are commoly used within the City of San Rafael are:
01 - Spacing Requirements
03 - Shoulders
06 - Shoulder, Reduced Lane
10 - Lane Closure, Flaggers
11 - Lane Closure, Low Volume
13 - Temp Road Closure, Flaggers
15 - Center of Road, Low Volume
18 - Lane Closure, Self Regulating
20 - Detour
28 - Sidewalk Closure
29 - Crosswalk, Pedestrian Detour
101 - Shoulder, Bike Lane
CA MUTCD 2014 - 6H Typical Applications (Full Chapter)
(Please note that it is the applicant's responsibility to use the latest standards and to select/develop a traffic control plan specific to the proposed encroachment.)
Insurance Requirements
11.04.030.030 - Insurance.
A.  Secure a policy of broad form commercial general liability insurance naming the city as an additional insured in an amount not less than one million dollars ($1,000,000.00) and in a form as approved by the director.
B. Liability insurance shall not be required of any utility or special district which is authorized by law to establish or maintain any works or facilities in, under, or over the public right-of-way.
Licenses
A City of San Rafael business license is required. If you don't have a business license, you can apply online:
An A or C-12 license is required for all paving.  Other licenses may be required based on project scope.
What are the City's requirements for construction?
Most common projects in the Right-of-Way (ROW) are detailed in the Uniform Construction Standards (UCS). Additionally the City has specific requirements for trenches and pavements.
Additional Information:
2 lbs of Davis Black per cubic yard is required (Harvest Gold in downtown locations to match)

Curbs shall be poured separately from sidewalks

Rebar is not used in the Right-of-Way unless approved by the Department of Public Works

Forms are required for the lip of the gutter.  Asphalt shall be removed for installation of the form.

For repaving the asphalt a conform is required, with a clean cut 2' from the lip of the gutter to ensure a quality patch.

Cuts into moratorium streets (PCI 70 or greater) require curb to curb full width resurfacing.  Check out the Moratorium Street Map! 

See Municipal Code Section 

11.04.030.050