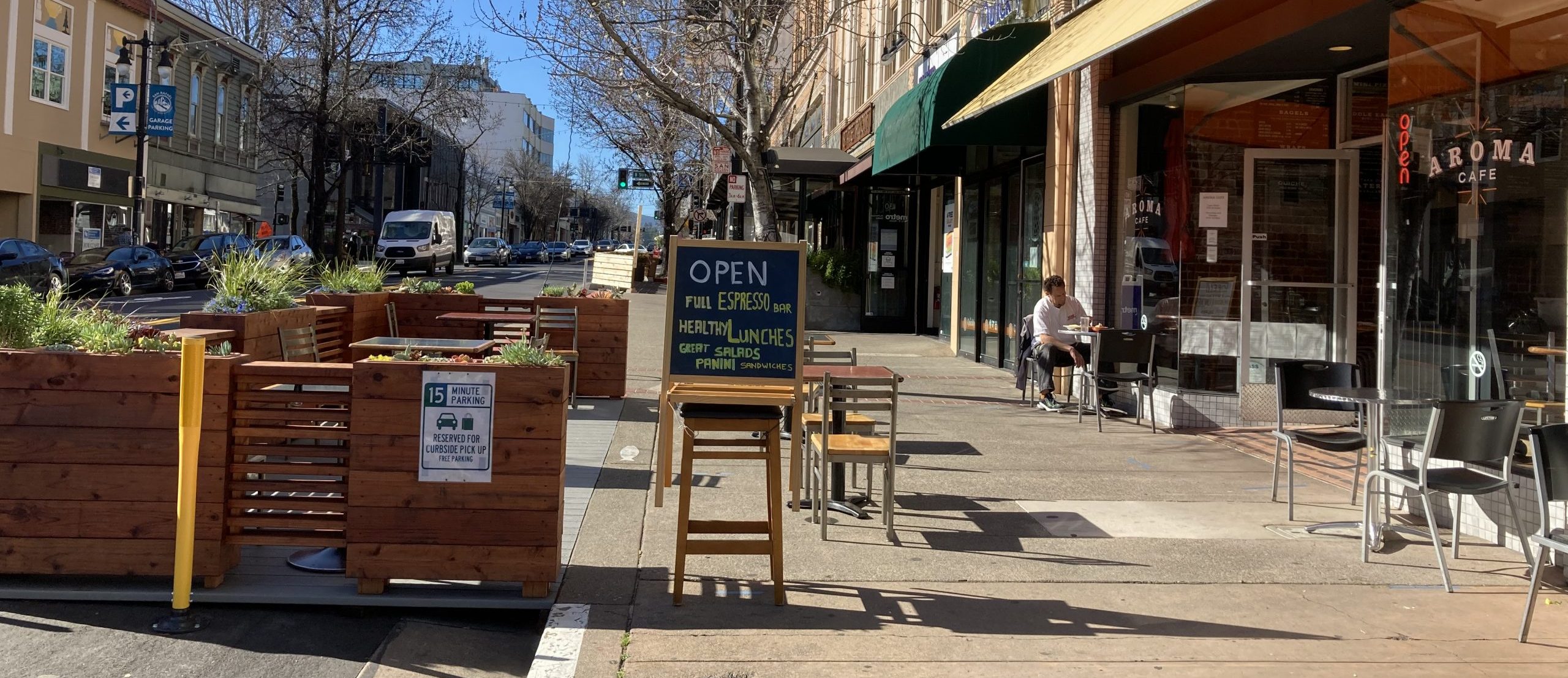 City of San Rafael 'Streetary' Program
The City of San Rafael is pleased to announce that we are continuing our street parklet dining program, now known as the Streetary Program. Initiated during the COVID-19 pandemic, the program has ensured the continued success and vitality of our restaurants and businesses hit hard by the pandemic.
As you may know, the City authorized the existing streetary program through a temporary emergency COVID-19 parklet program. Those businesses who applied for and were issued valid encroachment permits may operate their streetary until the current permits expire in November 30, 2022.
At its October 3rd meeting, the City Council approved the design and development standards as well as fees for the Streetary Program, which will take effect December 1st, 2022 and will be applicable to all dining establishments in the City of San Rafael.
Read the full staff report with the Council's approved design and development standards and fees at the link below.
How to Apply for Annual Streetary Encroachment Permit
Permit Fees
Three fees are required under the SRMC Section 11.70.040: 1) application fee, 2) annual encroachment lease fee, and 3) one-time refundable deposit.
Based on input from existing Streetary owners, several expressed hardships for the amount of fees due as early as December 1, 2022. There have been requests that the city provide waivers, discounts, or payment plans to assist with the fees.
The table below presents the fees and timeline for when they will go into effect:
Fee
Amount
Timeline
Application fee
$2,000 (one time)
Fee waived until December 31, 2023
Annual Encroachment Lease fee
$3,600 per parking space
Fee waived until June 1, 2023.
Between June 1, 2023 and May 30, 2024: Fee discount of 50% applies.
Between June 1, 2024 and May 30, 2025: Fee discount of 25% applies.

Beginning June 1, 2025: 100% of fee applies (no discounts or waivers)

Deposit
$2,000 (one time)
Fee due prior to the start of construction for new streetaries or before application is accepted for existing streetaries.
Other: Building permit fee
Dependent on value of improvements – in City Master Fee Schedule
Fee due before receiving building permit.