About
Project goals
The extension of Sonoma Marin Area Rail Transit (SMART) system to Larkspur has significantly impacted the available physical space available for bus transit at the existing transit center in downtown San Rafael and accommodations/changes to the transit center are needed in order to:
Increase safety and comfort for users
Enhance the surrounding community by providing improved public space and mobility opportunities
Improve connectivity and circulation in and around downtown San Rafael
Increase accessibility for all users
Overview
The Golden Gate Bridge, Highway and Transportation District (Golden Gate Transit, or "Bridge District") has begun a multi-year process to develop a new transit center for San Rafael. The current transit center has been affected by the extension of Sonoma Marin Area Rail Transit (SMART) system to Larkspur. Several government agencies are partnering to identify a new transit center site and configuration that will provide for the current and future mobility needs of San Rafael and Marin County.
As SMART has extended further south to Larkspur, the tracks have bisected the site where the San Rafael Transit Center (SRTC) is currently located. This has impacted how buses and people will be able to access and travel through the site as well as the amount of space available for buses and riders. As a result, the transit center must be replaced in another location in downtown San Rafael. This is an opportunity to create a more accessible transit facility for all users and improve both connectivity and safety.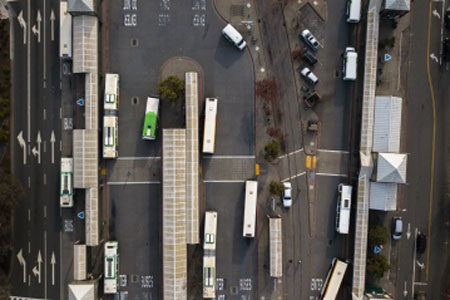 As the owner of the transit center, the Bridge District serves as the lead environmental agency for the project. The Bridge District, the City of San Rafael, Marin Transit, Transportation Authority of Marin, and SMART are all partners in the project.
Funding sources for the design and construction phases of the new transit center are anticipated to be a combination of local, state, and federal programs.
On the April19, 2021 City Council Meeting, the project's consultant, Kimley-Horn and Associates, presented an information report on the project. Check it out:
Project Presentation at April 19, 2021 City Council Meeting
More information on this project
Project contact
Leave a message for the Bridge District project team at (415) 257-4444 or email them at SRTC@goldengate.org.
City project contact:
Rafat Raie, PE, TE | Deputy Public Works Director/City Traffic Engineer
Rafat.Raie@cityofsanrafael.org
415.485.3473