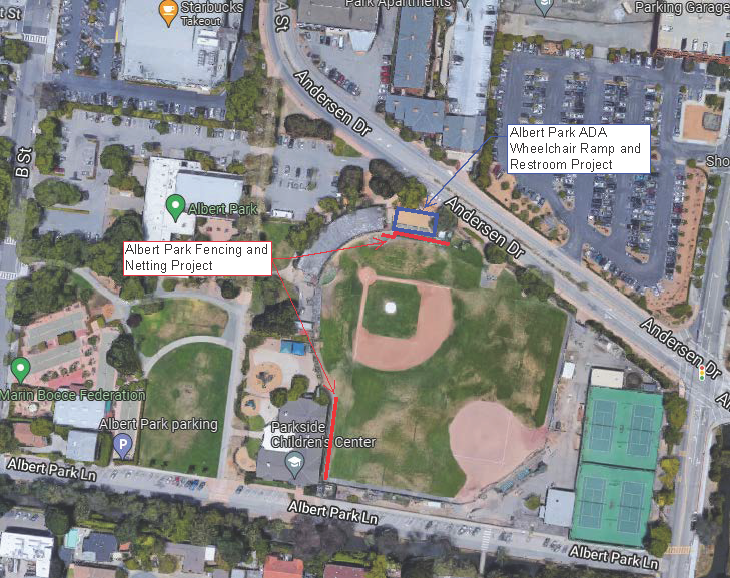 Albert Park ADA Wheelchair Ramp and Restroom
Project goals
This project includes ADA improvements, including a new accessible ramp up to the existing stadium seating and the installation of a prefabricated accessible gender neutral restroom building adjacent to the concession stand on the third baseline side.
Budget
| | |
| --- | --- |
| Planning/Design | $55,000 |
| Construction | $335,000 |
Overview
The project is located 50 Albert Park Lane, San Rafael, CA 94901. The City received quotes for the prefabricated restroom in the summer 2021 and has contracted with Structure Cast Concrete Products who was the lowest responsible and responsive bidder. The prefabricated restroom is anticipated to be manufacturer in Fall 2021 and delivered to Albert Park early 2022. The City anticipates site work for the accessible ramp and building pad to occur in the winter of 2021.
Project contact
Shawn Graf | Assistant Engineer
Shawn.Graf@cityofsanrafael.org
415.458.5347
Albert Park Fencing and Netting Project
Project goals
This project consists of the installation of additional netting down the first and third base lines to reduce the likelihood that foul balls do not hit parked vehicles or children playing at the Parkside Children's Center.
Budget
| | |
| --- | --- |
| Planning/Design | $10,000 |
| Construction | $200,000 |
Overview
The Project is located at the Albert Park Athletic field and stadium between Andersen Drive, Albert Park Lane, and Lindaro Street. The City plans to receive bids for the construction project in October 2021. Due to the lead time to acquire the poles and netting, the City anticipates that the Work will begin around January 2022 and be complete by the end of February 2022.
Project contact
Alysia Reyes | Junior Engineer
Alysia.Reyes@cityofsanrafael.org
415.720.6009