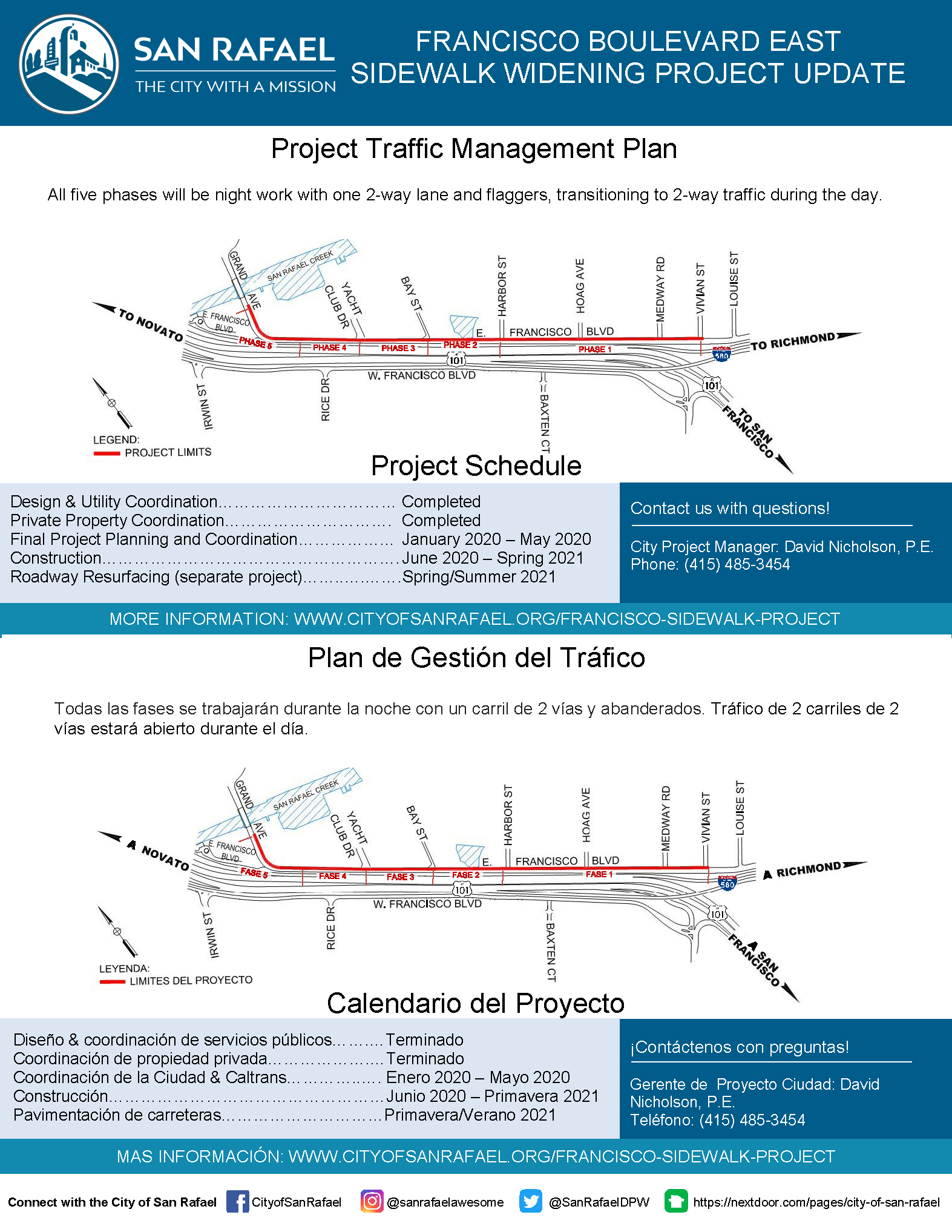 April 2020: The Construction Contract is out to bid for this project and Bid Open is scheduled for April 29th.  The project is on schedule with Construction planning to begin in mid to late June 2020.
February 2020: Construction is predicted to start at the beginning of June, 2020.  Construction operations will be broken into five Phases in an attempt to minimize traffic congestion and impact on local businesses.  During construction there will be some day-time work and some night-time work comprising temporary traffic diversions.
The day-time work will comprise a one-way lane southbound on Francisco Blvd East from Harbor Street to Medway Road and a northbound detour via Medway Road to Front Street to Harbor Street (see image above).  Temporary parking restrictions may be imposed on Front and Harbor Streets during this Phase, which is expected to take four to six months.  More details on this will be published as we near the time of Construction.
The night-time work will be broken into four Phases between Grand Avenue and Harbor Street.  During night-time operations there will be one traffic lane with flaggers for each Phase of work (approximately 500-feet each).  Two-way traffic will be restored during the day for normal operation of Francisco Blvd East and its side-streets.
Two-way pedestrian and bicycle traffic will be maintained on Francisco Blvd East throughout duration of all construction operations and as well as continuous access to driveways.
2019: Design, utility and private property coordination was completed at the end of summer 2019.  City staff has coordinated and will continue to coordinate with Caltrans as required for authorization to proceed with the construction phase.  Construction is still scheduled to begin early summer 2020.
2018: The existing sidewalk along Francisco Boulevard East is traversed daily by pedestrians and bicyclists who must navigate the congestion of fire hydrants and power poles. The Francisco Boulevard East Sidewalk Widening Project is a pedestrian and bicycle improvement project that will install an 8-foot wide sidewalk/bike path along Francisco Boulevard East. The sidewalk will be widened between Vivian Street and the Grand Avenue Bridge to provide additional room for pedestrians and bicyclists.
In 2006, Congress established the Non-Motorized Transportation Pilot Program, in which specific counties across the nation, including the County of Marin, were awarded federal funds to design and construct facilities that would enhance and encourage non-motorized transportation. The City subsequently entered into an agreement with the County of Marin in 2007 to receive funding to design a widened sidewalk along Francisco Boulevard East between Vivian Way and Grand Avenue.
In 2008, the City retained Jacobs, an engineering consulting firm, to perform extensive public outreach and produce construction plans, specifications, and an engineer's cost estimate that were advanced to approximately the 90-percent design level. In August 2013, when additional federal funding became available, the City retained another consulting firm, CH2M Hill, to obtain environmental clearance and bring the plans and specifications package to the 100-percent design level.  The City also obtained environmental clearance (i.e., NEPA) in 2014, at which time the project went dormant due to a lack of funding.
Updated Project General Timeline (January 2020)

➢ Planning and Coordination:                    September 2018 – January 2020
➢ Construction Bidding & Award:           January 2020 – March 2020
➢ Construction:                                                  May 2020 – January 2021
➢ Street Resurfacing:                                      January 2021 - April 2021