Traffic Coordinating Committee
The Traffic Coordinating Committee (TCC) is a monthly meeting comprised of staff from Police, Fire, Parking Services, Public Works, and the Planning Division.  The committee meets the first Tuesday of each month and reviews traffic requests made by the public. Reviews consist of visiting the location  and determining all possible outcomes. Each item is discussed and recommendations are made to the Public Works Director.
Typical TCC requests consist of:

Parking Restrictions (red zones, loading zones, time restrictions)

Signage and Markings (T's and L's)

Sight Distance Issues

Installation of an All-Way Stops

Crosswalk Improvements

Fire Access Issues

Pedestrian and Bicycle Safety
TCC does not look into the following:

Speeding
Speed Hump Installation
Congestion
If you have a request that falls within the typical criteria, stated above, or you believe the request may be similar please fill out the form below and it'll reviewed and placed on the next available TCC agenda.
Speed Limits and Speeding
Speeding on residential roads is one of the top complaints reported to the Department of Public Works. Studies show that most motorists travel above the 25mph speed limit on residential roads, and that those who exceed the speed limit come from all age groups.  Often residents speed because they feel more familiar and comfortable on roadways they travel regularly, and others may use them as short cuts.
STOP Signs
Under the right conditions STOP signs can play an important role in traffic safety, when installed at an unsuited location they can create more problems than they solve.  National standards have been established to determine when STOP signs should be installed.  These standards consider traffic speed, the number of vehicles, pedestrians and bicycles, intersection sight distance, and the frequency of gaps in traffic to allow safe vehicle entry or pedestrian crossing.
Studies have shown that when all-way stops are installed at locations that do not meet requirements, they do little to slow traffic and can actually make the intersection less safe.  Unwarranted stop signs are frequently ignored by drivers on the main street, putting pedestrians and cross-traffic at a higher risk.  Numerous studies nationwide have shown that speeds within a block of unwarranted stop signs are largely unaffected.  Naturally, motorists have to slow down when approaching a stop sign, but they often speed up quickly to make up for lost time.  In addition, stopping and starting causes an increase in tire and engine noise and an increase in air pollution.
Lowering the Speed Limit
Many studies have concluded that drivers are influenced by the type of street and the current traffic conditions, and not the posted speed.  In other words, changes in posted speed limits have little to no effect on vehicle speeds.
There are several types of roadways in which the speeds are set by the California Vehicle Code ("prima facia" speed limits apply).  The speed limit on local, residential roads is 25 mph. All other speed limits must be established based on engineering studies which look at roadway conditions, accident records and the existing speeds at which most vehicles travel. Setting unreasonably low speed limits has two negative effects: (1) makes violators out of otherwise law-abiding drivers; and (2) creates difficult situations for the police and community, especially when citations are not upheld in court. 
'Children at Play' Signs
Signs are typically used to guide and inform drivers.  Too many signs can confuse, distract and irritate motorists. Overuse of signs can lead to "sign pollution" and promote disrespect for all signs.
"Children at Play" signs tend to contribute to this feeling.  Even though it may seem this type of sign would protect neighborhood children, studies indicate otherwise.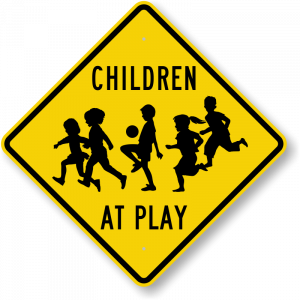 There has been no evidence to indicate that "Children at Play" signs reduce pedestrian-involved collisions or lower speeds.
In addition, pedestrians may feel a false sense of security since drivers often disregard these signs.  Signs that encourage parents or children to believe they have added protection can do more harm than good.  Children should not be encouraged to play in the street.  In fact, these signs have been removed from the federal list of approved traffic control signs since they suggest that playing in the street is not acceptable.  Specific warnings for school zones and crosswalk locations are available, and have shown to be effective when properly installed.
Speed Humps
Speed humps are raised areas in the roadway pavement surface that extend across the travel way to slow vehicle speeds.  A speed "hump" is a gradual rise in the pavement surface and is used on public streets, unlike a "speed bump" which is an abrupt change in pavement height typically used for private driveways and parking lots.
Speed hump installation has serious negative effects. Once installed, residents living near speed humps often complain of an increase in noise as vehicles traverse the speed humps day and night.  Some vehicles may hit the brakes and speed up immediately after the location of the speed hump.  Traffic may divert to adjacent parallel streets in the neighborhood to avoid the speed humps. In addition, emergency vehicle response will be slowed. Finally, there is significant cost for installation and maintenance