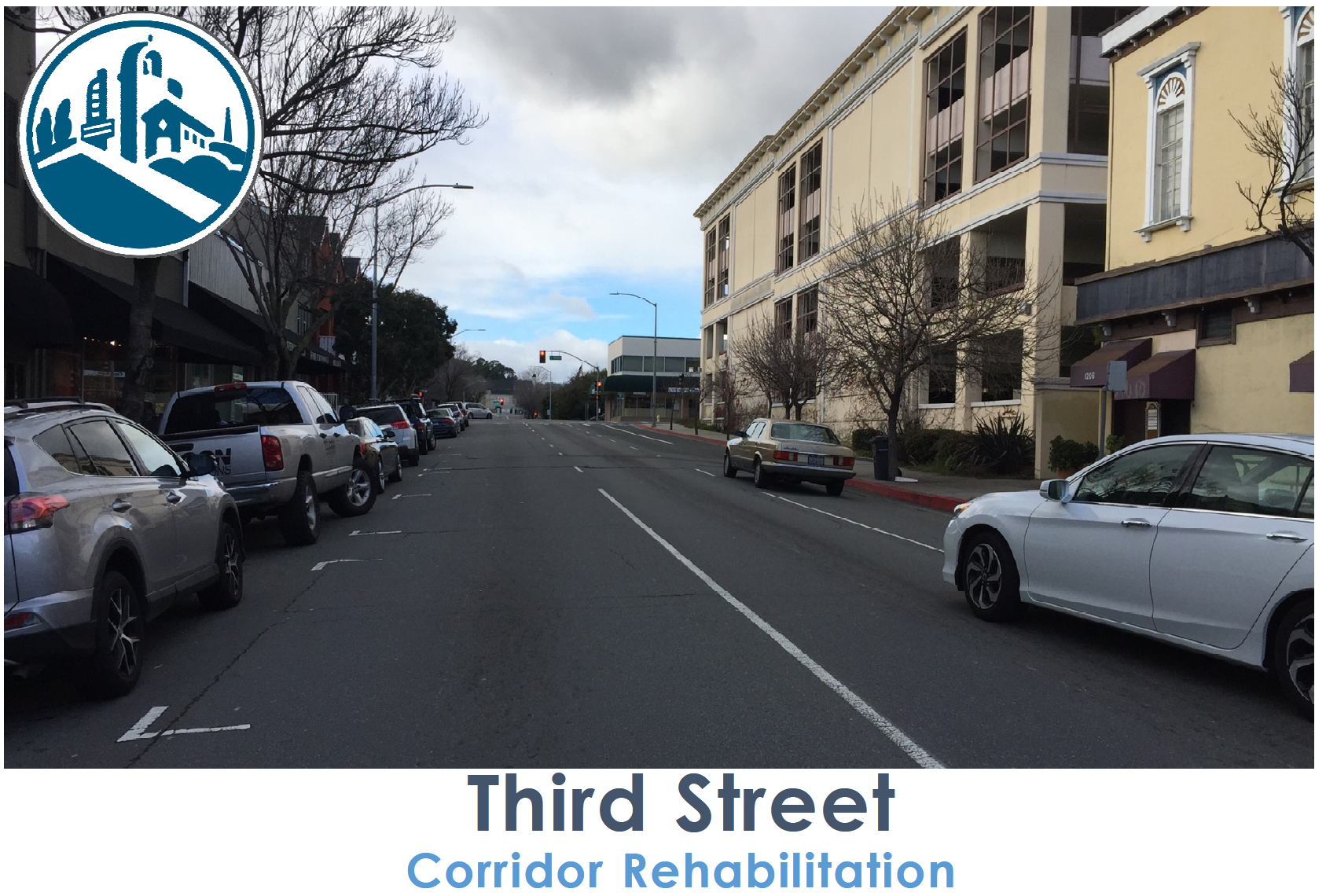 Third Street is a critical component of San Rafael's transportation network serving tens of thousands each day as they travel to work, school, recreation, and retail destinations. The County's busiest transit node, the Bettini Transit Center, brings nearly 9,000 people daily to and through Third Street as they use Golden Gate and Marin Transit services. As SMART continues to grow its system, it could bring thousands more transit users to the corridor. Third Street is not only important to San Rafael, but serves regional need linking Highway 101 and West Marin communities.
The City of San Rafael has an allocation from the Transportation Authority of Marin through the Measure A program to rehabilitate Third Street. The City completed a feasibility study for the corridor and presented to City Council June 2019. Based on funding the City split the Third Street Project into two projects. The Third Street Rehabilitation project is funded through Transportation Authority of Marin (TAM) Measure A funds and Local Partnership Program through the State. The limits of the Rehabilitation Project are from Lindaro Street to just east of the Fourth Street intersection. The Third Street Safety Project is federally funded through Highway Safety Improvement Program (HSIP), locally through TAM Measure A, and state funded through Road Maintenance and Rehabilitation Program State Bill 1 (SB 1).  The limits of the Safety Project are from Union Street to Lindaro Street.
After requesting proposals for the design of the two projects, the City hired a consultant team lead by CSW ST2 to lead the Third Street Rehabilitation Project design and Kimley Horn to lead the Safety Project design. The initial investigations and preliminary engineering concepts have begun. The City and design teams will set up a series of virtual community outreach options for the projects in late summer 2020. These outreach opportunities will review design progress and options based on the preferred alternative from the feasibility study.
The projects will continues to build on existing studies, community input, and city goals of: congestion relief, improving safety, and complete street options for Third Street.

Updated Project General Timeline (July 2020)
Feasibility Study at City Council - June 3, 2019
3rd Street Rehabilitation Final Report
3rd St Rehab Appendix A - Plans and Sections
3rd St Rehab Appendix B - Existing Site Context, Uses, and Conditions
3rd St Rehab Appendix C - Existing Traffic Analysis
3rd St Rehab Appendix D - Future Projects Considered
3rd St Rehab Appendix E - Roadway Crown Analysis
3rd St Rehab Appendix F - Preferred Tree Species List
3rd St Rehab Appendix G - Sidewalk Evaluation
Second Meeting
First Meeting
Related Projects