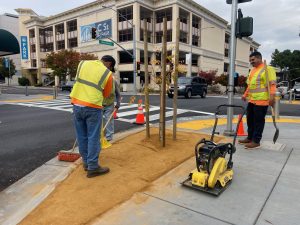 The City of San Rafael will be sending out weekly project updates with construction updates, traffic closure updates, and other relevant information for this project. To receive these updates, please sign up using the form at the left-hand side of the project website.
THIS WEEK   
November 13 – November 17
Construction crews have completed the paving restoration on Second Street and Third Street.
Crews continued planting new street trees on Second Street and Third Street.
Crews worked on activating pedestrian street lights along Second Street.
Crews worked on pouring out miscellaneous sidewalk panels.
NEXT WEEK   
November 19 – November 22
On Sunday, November 19th from 8:00PM to 6:00AM (Monday) crews will work to convert B Street to a two-way street between Second Street and Fifth Avenue. Please be alerted to changed conditions. Crews will be applying new traffic striping and activating new traffic signals to convert B Street to two-way traffic.
Crews will continue to plant street trees on Third Street and median trees on Second Street.
Crews will work on energizing the pedestrian safety streetlights on Second Street between West Street and Miramar Avenue.
Crews will activate new traffic signals at Third Street and Brooks Street and at Second Street and Fourth Street.
No work will be performed on Thursday (11/23) or Friday (11/24)  Happy Thanksgiving!
Watch for TWO-WAY Traffic on B Street, between Second Street and 5th Avenue, beginning Monday, November 20th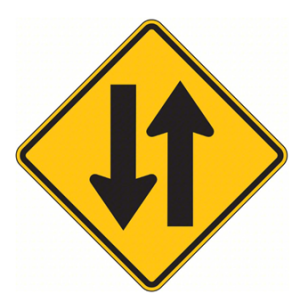 IMPACTS:
Traffic Controls (temporary signs, message boards, traffic cones, delineators and detour signs) will be put in place to direct motorists through the work area.
Street parking spaces will be marked "No Parking." Please move your vehicles overnight.
The daytime hours of work will be 6:00am – 6:00pm and lane closures 6:00am – 3:00pm on Third Street and Second Street westbound, and 9:00am – 6:00pm on Second Street eastbound.