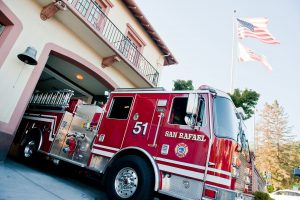 Since 1874, we have been here for you, the community.  Our Mission is to help, delivering exceptional public service from seven San Rafael neighborhood fire stations.
Delivery of fire and rescue services is serious business and as such, we strive to provide the best public fire services available; a service that is capable, compassionate, predictable and sustainable.
Contact
Administrative Office:
1600 Los Gamos Drive
Suite 345
San Rafael, CA 94903
---
Monday - Friday: 8:30 am-5:00 pm
Saturday - Sunday: Closed
Emergency Response: 24/7

Fire Plan Checking
Tuesdays & Thursdays
1400 Fifth Avenue, 3rd Floor
Building Department
8:30 – 11:45 a.m.
---
Follow us on Twitter @SRFD