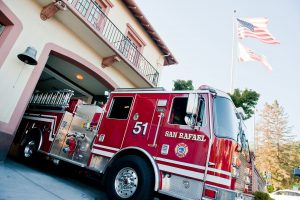 Contact
Administrative Office:
1375 Fifth Avenue
San Rafael, CA 94901
---
Monday - Friday: 8:30 am-5:00 pm
Saturday - Sunday: Closed
Emergency Response: 24/7
---
For Emergencies Call 911
For information on an active emergency, such as a vegetation fire or flood, please visit the Marin County public emergency portal at https://emergency.marincounty.org
---
Fire Prevention, Construction Inspections
The Inspection Section of the Bureau of Fire Prevention inspects the life safety components of new building construction, building remodels, and fire sprinkler & fire alarm systems to ensure compliance with the San Rafael Fire Code.
---
Plan and Prepare for a Wildfire
Over the past few years we have all seen the devastating impact of wildfires. Learn about City initiatives to reduce the risk of wildfire, along with what you can do to protect yourself and your community. 
---
Emergency Alerts
When emergencies strike, public safety officials use timely and reliable systems to alert you. Sign up now.