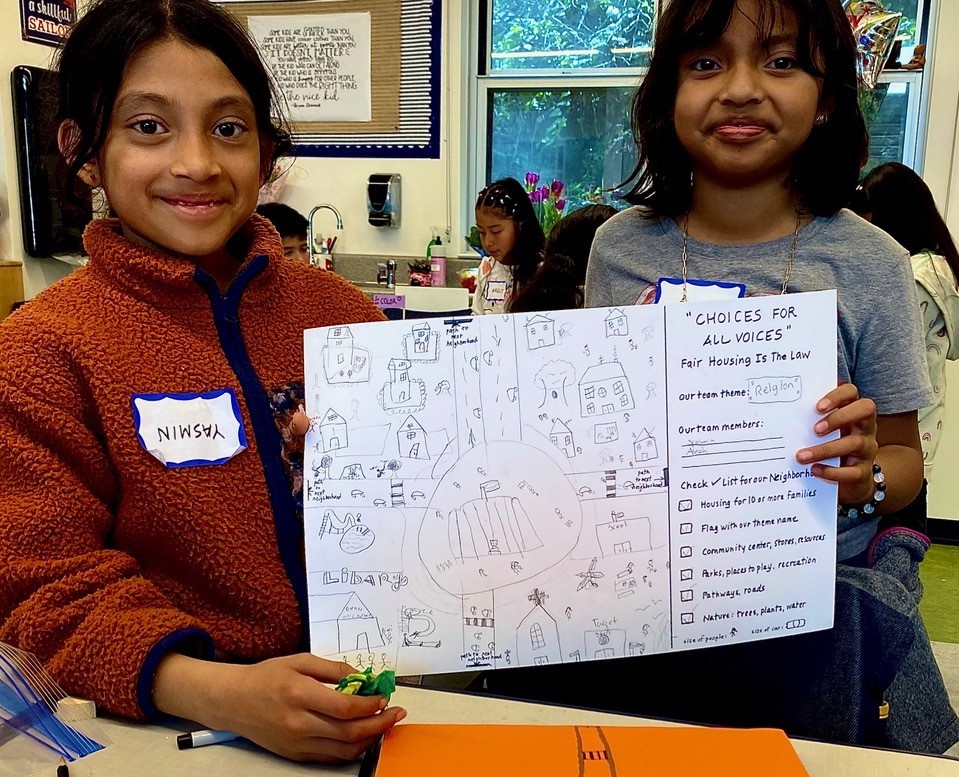 The City of San Rafael is committed to combating housing discrimination, eliminating racial bias, and undoing historic patterns of segregation.
The city has organized policies and programs to implement this commitment in its 2023-2031 Housing Action Plan.  This plan is informed by an analysis of fair housing in San Rafael.  The analysis provides reporting data and trends related to segregation, racially or ethnically concentrated areas of poverty, disparities in access to opportunity, and disproportionate housing needs.
What is Fair Housing?
Fair housing laws are federal and state laws that protect San Rafael residents from discrimination in housing related activities.  These laws are intended to ensure that all individuals have equal access to housing opportunities regardless of race, color, national origin, ancestry, disability, gender, parental status, marital status, religion, participation in Section 8 voucher program or other similar government housing subsidy programs, sexual orientation, gender identity, and age.
Federal and California state fair housing laws prohibit discriminatory practices in areas such as renting, leasing, selling, advertising, financing, redlining, reasonable accommodation and modifications, harassment and negotiating real estate transactions. Listed below are protected classes included in federal and California state fair housing laws.
Federal Law Protections
California State Law Additional Protections

Race, Color, Ethnicity
National origin
Religion
Sex
Familial status
Disability

Marital status
Ancestry
Sexual Orientation
Gender identity and gender expression
Source of income
Genetic information
Medical conditions
Age
Military or veteran status
Local Fair Housing Resources
Fair Housing Advocates of Northern California provides free housing discrimination counseling services, intervention, and complaint investigation to clients of all protected classes, including immigrants, people with disabilities, seniors, families with children, and other clients protected under fair housing law.
Marin Restrictive Covenant Project seeks to educate Marin County on discriminatory policies that led to segregated communities, including enduring racially restrictive covenants in property deeds.
Mediation Services offers the public an alternative to court as a way of resolving disputes in a variety of areas. Professionally trained and experienced mediators help to facilitate resolutions for parties in conflict.
Legal Aid of Marin provides high quality legal representation and advocacy, information, referral, advice, community education, and other assistance to low-income and senior residents of Marin County.
State and Federal Resources
U.S. Department of Housing and Urban Development - Office of Fair Housing and Equal Opportunity - The mission of the Office of Fair Housing and Equal Opportunity is to eliminate housing discrimination, promote economic opportunity, and achieve diverse, inclusive communities by leading the nation in the enforcement, administration, development, and public understanding of federal fair housing policies and laws.
Fair Housing Act - Federally prohibits discrimination by direct providers of housing, such as landlords and real estate companies as well as other entities, such as municipalities, banks or other lending institutions and homeowners insurance companies whose discriminatory practices make housing unavailable to persons because of race or color, religion, sex, national origin, familial status, or disability.
California Fair Employment and Housing Act - Fair Housing Resources for Housing Providers including Source of Income FAQ, Fair Housing and Criminal History FAQ, Harassment Prevention Guide, Discrimination in Shelters, and Webinars on Fair Housing and Preventing Bias.