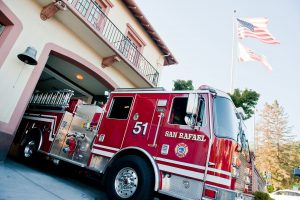 Contact
Administrative Office:
1375 Fifth Avenue
San Rafael, CA 94901
---
Monday - Friday: 8:30 am-5:00 pm
Saturday - Sunday: Closed
Emergency Response: 24/7
---
For Emergencies Call 911
Please call 911 if you:
think anything may be an emergency
see or smell smoke
hear an alarm
smell gas or any unusual smell
have a paramedic emergency
---
Fire Prevention, Construction Inspections
The Inspection Section of the Bureau of Fire Prevention inspects the life safety components of new building construction, building remodels, and fire sprinkler & fire alarm systems to ensure compliance with the San Rafael Fire Code.
---
Plan and Prepare for a Wildfire
Getting prepared can seem overwhelming. But you are probably more prepared than you think and every step you take moves you forward!  
---
Emergency Alerts
When emergencies strike, public safety officials use timely and reliable systems to alert you. Sign up now. 
---
News and Updates from the Fire Department