Compostable Products Guide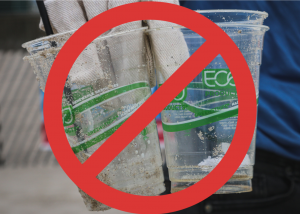 We know that composting and recycling can sometimes be confusing. For example, did you know that Marin Sanitary Service currently cannot actually compost "compostable" plastics? That includes compostable bags, utensils, and cups.
To help guide you maneuver through the complicated world of composting, we've prepared this guide to showcase what types of products are actually compostable in San Rafael.
If you any other questions about what is compostable or recyclable in San Rafael, Marin Sanitary Service has prepared a great web app that can be your guide: Where does it go, Joe? The outreach coordinators at Marin Sanitary Service are also more than happy to help you along. They can be reached at commercialrecycling@marinsanitary.com or 415-456-2601