To facilitate business owners who are interested in locating in San Rafael or for existing business owners who would like to expand, the City of San Rafael is proud to announce the San Rafael Business Permitting Portal.  In partnership with OpenCounter, the launch of the new business portal will be able to provide you with an estimate of the permit fees for expanding or opening your business. Note that this business portal does not cover permit fee estimates for residential projects. Check out our new business permitting portal.
The City of San Rafael is pleased to announce that you can now find your property's zoning designation online. If you are looking for the zoning designation for your property and what it means, you can check your zoning at your leisure, 24 hours a day. Click image below to get started using the San Rafael Zoning Finder tool: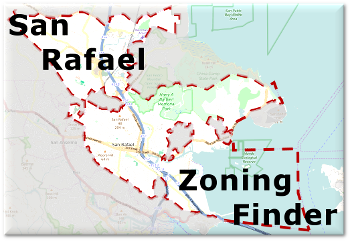 Once you have located your zoning district using our online zoning tool,  you can view the development standards and land use standards for each zoning district below. Please note if your zoning includes an overlay please review both the base zoning district and the overlay zoning district.
*Please verify information found with a City Planner before preparing an application*
Zoning District
Single Family Residential Zoning Districts

(R5, R7.5, R10, R1a, R2a)

Development Standards
Land Use
Duplex Residential Zoning District (DR)
Development Standards
Land Use
Multifamily Residential Zoning District

(MR5, MR3, MR2.5, MR2, HR1.8, HR1.5, HR1)

Development Standards
Land Use
Commercial Zoning Districts

(GC, NC, C/O, O, R/O, FBWC)

Development Standards
Land Use
Downtown Residential Zoning Districts

(4SRC, HO, CSMU, 2/3MUE, 2/3MUW, WEV, 5/MR/O)

Development Standards
Land Use
Industrial Zoning Districts (I, LI/O, CCI/O, LMU)
Development Standards
Land Use
Planned Development District (PD)
Development Standards
Land Use
Marine Zoning District  (M)
Development Standards
Land Use
Public/Quasi-Public Zoning District  (P/QP)
Development Standards
Land Use
Parks/Open Space Zoning District (P/OS)
Development Standards
Land Use
Water District (W)
Development Standards
Land Use
Overlay Districts
Hillside Development Overlay District (-H)
Development Standards
See Zoning District above
Wetland Overlay District (-WO)
Development Standards
Land Use
Eichler/Alliance Homes Overlay District (-EA)
Development Standards
See Zoning District above
Canalfront Review Overlay District (-C)
Development Standards
See Zoning District above
*Please verify information found with a City Planner before preparing an application*
If you have further questions about the zoning, please feel free to contact the planning division at (415) 485-3085 or by email (we will return your call/email within 48 business hours or stop by and talk to a planner on duty during open counter hours (Monday and Thursday from 8:30am to 5:00pm or Tuesday, Wednesday or Friday from 8:30am to 12:45pm)