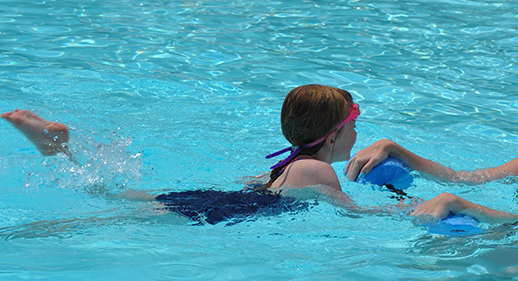 The pools are now closed. Please check back in May 2022 for our swim lessons schedule.

All lessons are 30 minutes and the cost is  $35.00 per lesson.

Open time slots will become available for viewing and registration in May 2022.  To sign-up, please go to our registration site.  If you do not have an account, you will need to create one - learn how here.

Please note that we cannot guarantee that your child will be with the same instructor for each lesson,  and we cannot accommodate requests for specific instructors.

---

PRIVATE LESSONS

These lessons are one instructor with one student. The minimum age is three years old.

---

SEMIPRIVATE LESSONS

These lessons are one instructor with two students. Children must be at a similar skill level. Please register the first student for a private lesson time online. To add a second child of same skill level, please email a completed registration form  to terralindapool@cityofsanrafael.org.  In the email message, please identify the lesson date, time and the name of the first student registered.  We will call you to confirm and to collect payment for the second student. Semi Private lessons must be scheduled a minimum of two working days prior to the lesson. Cost for additional swim lesson student: $15.00.

---

PARENT/GUARDIAN-TOT SWIM LESSONS - AGES 6 MONTH TO 36 MONTHS

These lessons are one instructor with eight students. Parent/guardian participation is required. Lessons  are only available on weekends and session begin in June. Instructors will teach water adjustment through songs and games and will provide instruction on techniques to help your child be more comfortable in the water.  Re-usable swim diapers are required.

---

ENSURING COVID-19 SAFETY PRECAUTIONS AT THE POOL

We screen all participants and instructors before each lesson to confirm they are not experiencing cold or flu-like symptoms and have not been exposed to anyone who has COVID-19. We require everyone to maintain physical distance before, during and after lessons, as well. Face coverings are required for anyone entering or around the pool area but are not required for participants while in the water. Parents may observe from the deck in designated areas and are required to wear a mask. We sanitize high-touch and common use items between each lesson. After a lesson, students and parents will need to exit the pool.