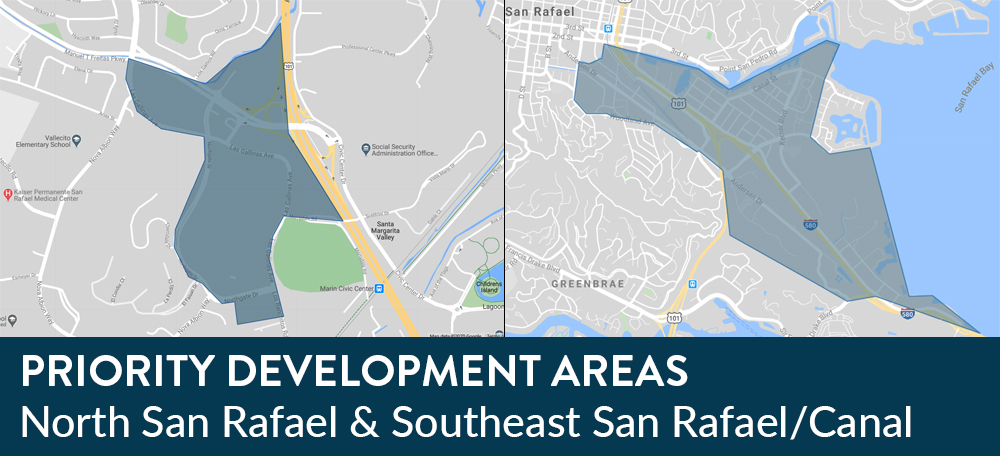 Para traducir esta página, desplácese hasta el final, haga clic en "Translate", y seleccione su idioma.


We want your feedback!
As part of the on-going work for San Rafael's General Plan 2040, City staff has received requests for deeper planning efforts in the Canal neighborhood and around the Northgate Mall area. Planning efforts such as these require grant funding. MTC/ABAG has started developing Plan Bay Area 2050 and has asked jurisdictions for letters of interest for new Priority Development Areas. A designation would bring funding opportunities for community-driven planning efforts. 
San Rafael currently has a Priority Development Area (PDA) in Downtown San Rafael. This designation helped bring $600,000 to San Rafael to fund a community-drive planning process (in progress). 
In the past, PDAs were half mile radius areas around a transit center, but now the ability exists to be much more precise and intentional with boundaries. The designation does not override local control for zoning and development approvals. The designation can be rescinded by San Rafael at any time. 
On Monday, May 18, 2020 the City Council heard an informational report about an upcoming opportunity to designate priority development areas (Watch the Meeting | Read the Staff Report). Now, the City Council wants to hear from you.  
Should the City continue to pursue a PDA-designation and funding for a PDA planning process for Northgate and Southeast San Rafael/Canal?

 

What areas of North San Rafael  and Southeast San Rafael/Canal should and should not be included in a PDA-designation?

 

What topics would you want included in a North San Rafael and Southeast San Rafael/Canal planning process?

 
Need some of the above terms and acronyms defined? Scroll to the bottom of this page for definitions. 
---
How to Participate
Submit your ideas, questions, and comments below on the Neighborland website (Northgate PDA  |   Southeast San Rafael/Canal PDA).

 

Missed a virtual community meeting?

Watch a recording of the meeting at the below links:

Southeast San Rafael/Canal PDA Virtual Community Meetings
Northgate PDA

Ask a question.

 

The City will be continuously updating the Frequently Asked Question section of the webpage below. If you don't see your questions answered, 

let us know

!

 

Attend the 

June 15, 2020 

City Council meeting. You can call in or participate via live chat on YouTube.

 

Send a letter

. You can email your letter to

: 

ethan.guy@cityofsanrafael.org

 

 
---
Frequently Asked Questions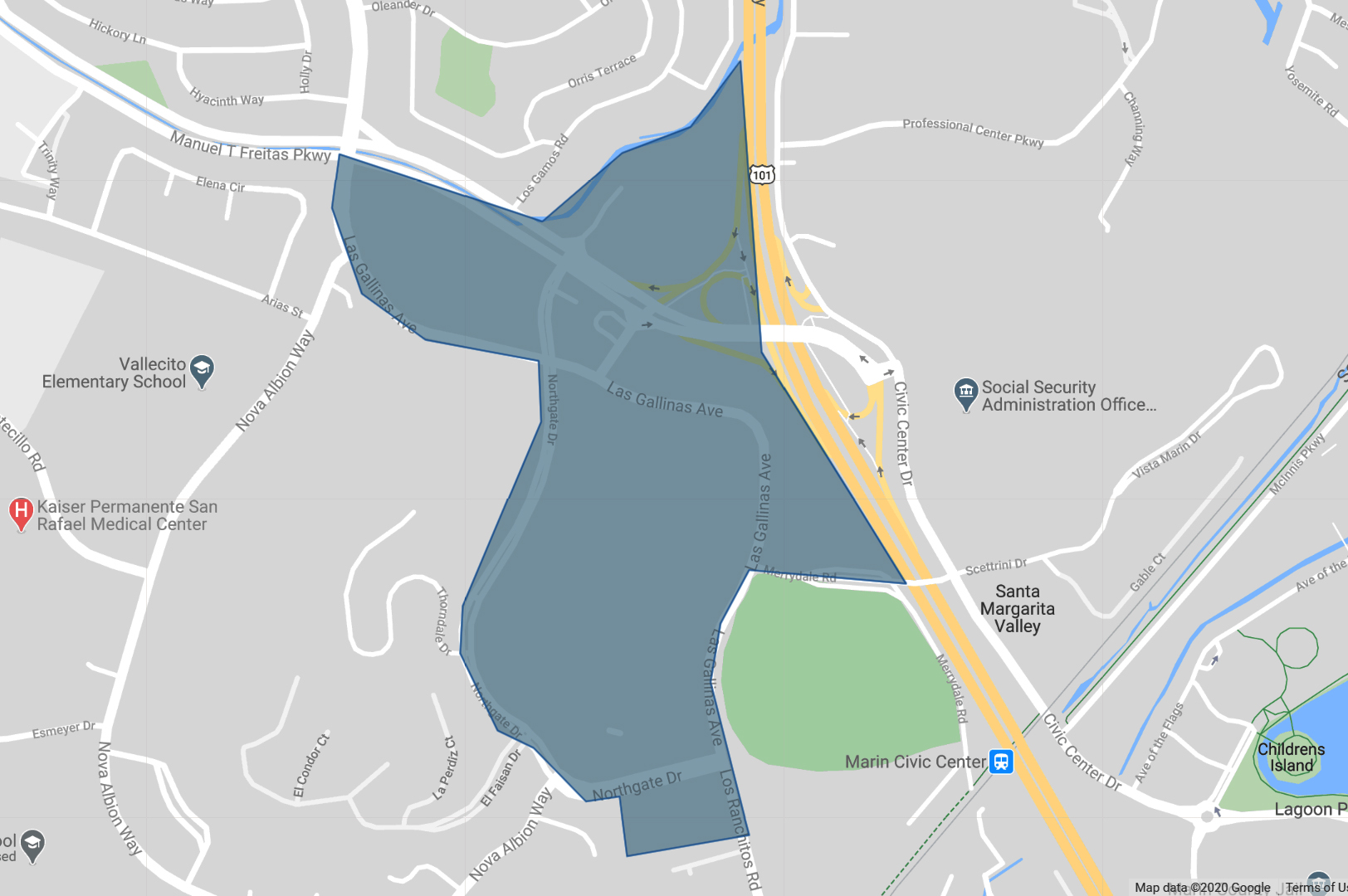 Proposed North San Rafael Priority Development Area
The Proposed Northgate PDA includes only the PDA-eligible areas surrounding Northgate Mall, Northgate III, and the Four Points by Sheraton, and extending to the intersection of Las Gallinas Avenue and Manuel T. Freitas Parkway.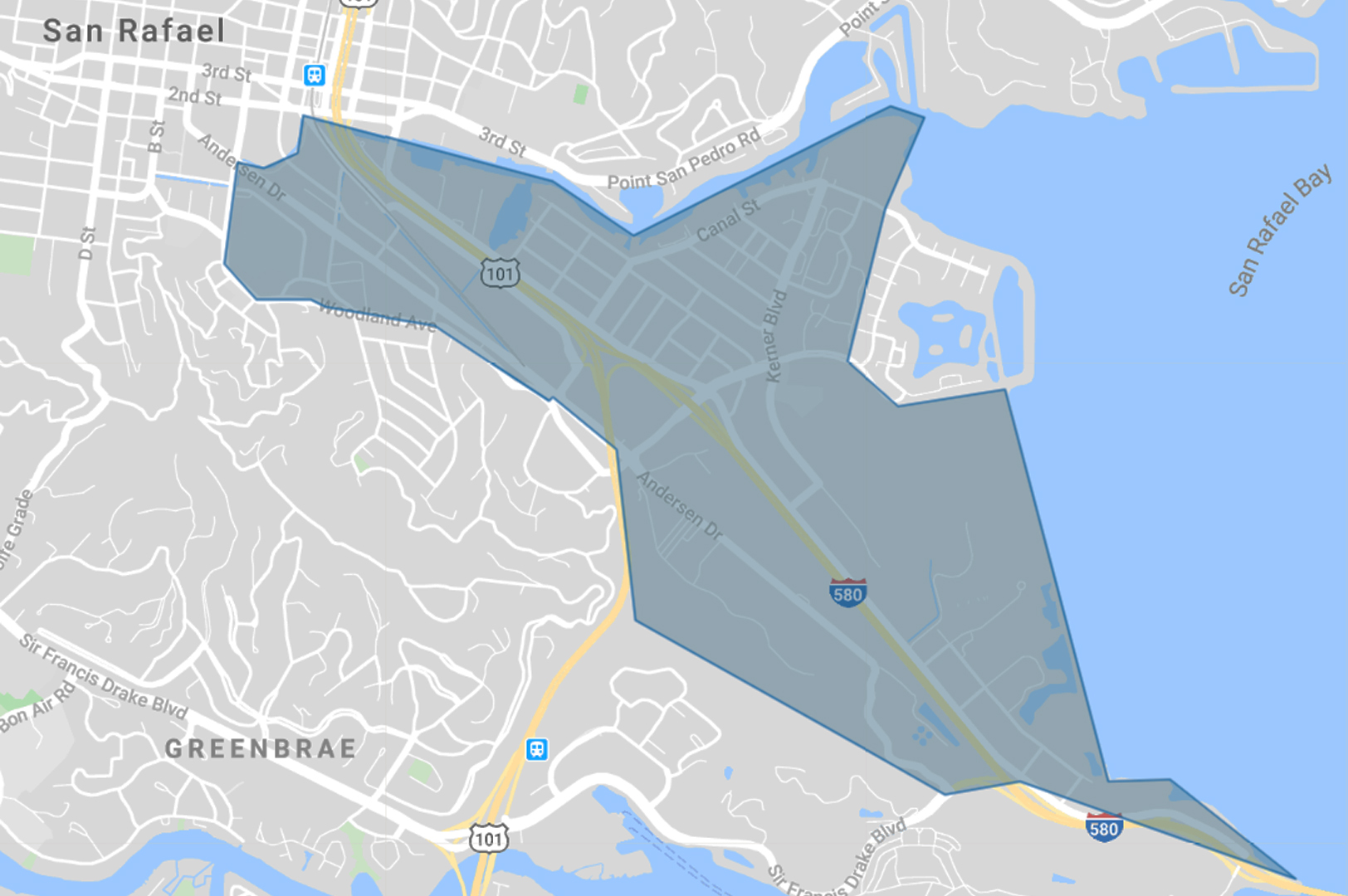 Proposed Southeast San Rafael / Canal Priority Development Area
The Proposed Southeast San Rafael/Canal Priority Development Area (PDA) includes most of Southeast San Rafael/Canal including much of the area east of Hwy 101 and Hwy 580, and the areas along Andersen Dr. and Woodland Ave.
Northgate PDA Community Meetings
Northgate Meeting #1
Northgate Meeting #2
Northgate Meeting #3
Canal PDA Community Meetings
Canal Meeting #1
Canal Meeting #2
Canal Meeting #3
---
Next Steps
Over the next three weeks we will seek feedback from the community though this website and virtual community meetings. On June 15, the City Council will consider the community feedback and a resolution finalizing PDA-nominations for San Rafael. 
---
Acronyms, Terms, & Definitions
MTC/ABAG: MTC/ABAG is the combination of two organizations. MTC stands for Metropolitan Transportation Commission and ABAG stands for the Association of Bay Area Governments. MTC/ABAG is part regional planning agency and part local government service provider. Learn more 
General Plan: State law requires every city and county in California to prepare a "General Plan" for its future growth and development.  A General Plan covers topics such as land use, transportation, housing, open space, natural resources, and public services. Learn more 
Priority Development Area: A Priority Development Area or "PDA" is a place that has convenient public transit service that is prioritized by local governments (cities/counties) for housing, jobs and services. PDAs range from Downtowns to Main Streets to aging shopping malls. 
---
More Resources
---
Project Contact
Ethan Guy
Principal Analyst – Community Development
ethan.guy@cityofsanrafael.org
Submit questions about the project online
---
Related Articles