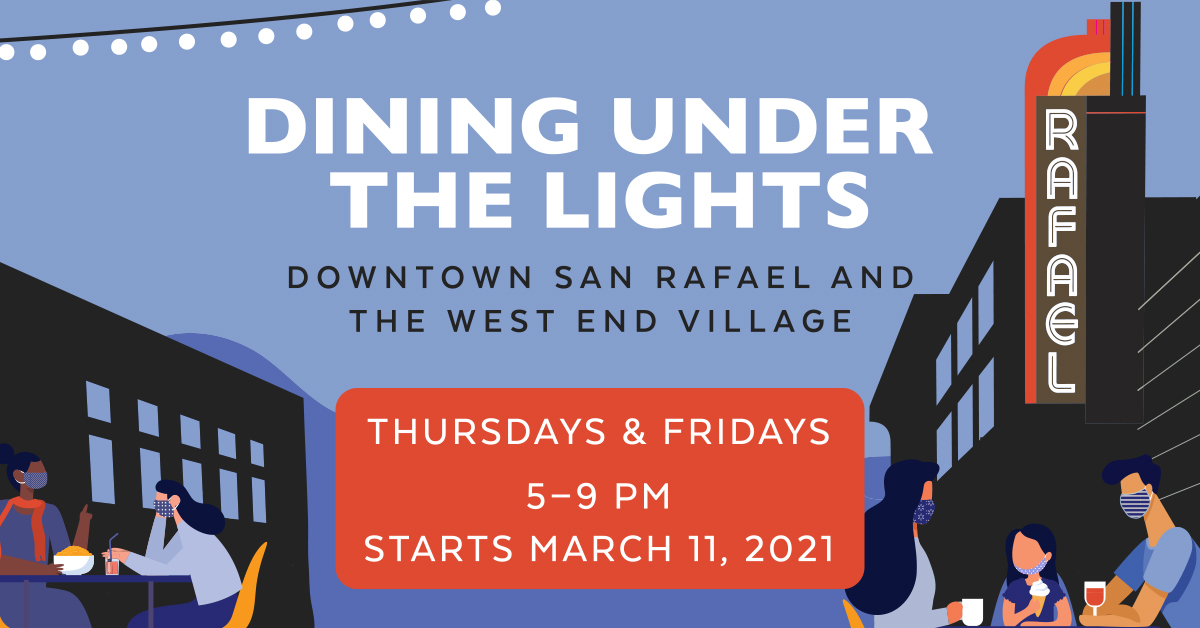 Dining Under the Lights is returning to downtown San Rafael every Thursday and Friday night beginning Thursday March 11!
Launched in summer 2020 in partnership with the Downtown Business Improvement District, the City's Dining Under the Lights program was a direct response to the COVID-19 pandemic to support our downtown restaurants and bars by enabling them to operate safe, distanced outdoor dining directly on 4th Street under newly installed overhead string lights. Masked are required at Dining Under the Lights at all time except while eating or drinking.
The Dining Under the Lights program shut down in November 2020 for both the winter season and the second regional shelter in place order. However, now that Marin County is in the red tier and outdoor dining is once again allowed, and warmer days have returned, we are please to bring back this program that was overwhelmingly supported by the San Rafael community.
Starting March 11, the entirety of 4th Street will be closed from Lincoln Ave to the West End on Thursday and Friday nights from 5-9pm for the Dining Under the Lights program. As of now, the program will continue every Thursday and Friday night in spring and summer 2021, but is subject to change from local health orders.
More than 40 restaurants and bars are participating starting March 11. Additionally, many restaurants and bars that do not ordinarily operate Thursday and Friday evenings will be participating in Dining Under the Lights and be opening their doors (or, adjacent sidewalk and street surfaces) just for DUTL. So please check with your favorite restaurant/bar for hours and reservations – "Know before you go!"
Thank you for supporting our amazing and resilient San Rafael restaurants and bars. Keeping your dollars local never mattered more than it does now!