The City of San Rafael is considering adopting the County of Marin's Reusable Foodware Model Ordinance.  Adoption of this ordinance would reduce the amount of single-use plastics in our waste streams and in our storm drains, creeks, and Bay. This ordinance would apply to all entities selling prepared food to the public in the City of San Rafael, including restaurants, grocery stores and delis, bakeries, carry-out, quick services, farmers markets, food trucks, and any other business with a health permit and require them to do the following:   
Provide compliant compostable foodware for takeout for all food vendors.
Provide reusable foodware for dine-in.
Implement a $0.25 cup itemized charge for all disposable cups.
Require foodware accessories, such as straws and sauce packets, only to be provided upon request.
Require food vendors to provide clearly labeled, separate waste receptacles for solid waste, recyclables, and organics.
Click here for a list of currently exempt items or visit the County's FAQ section for more information.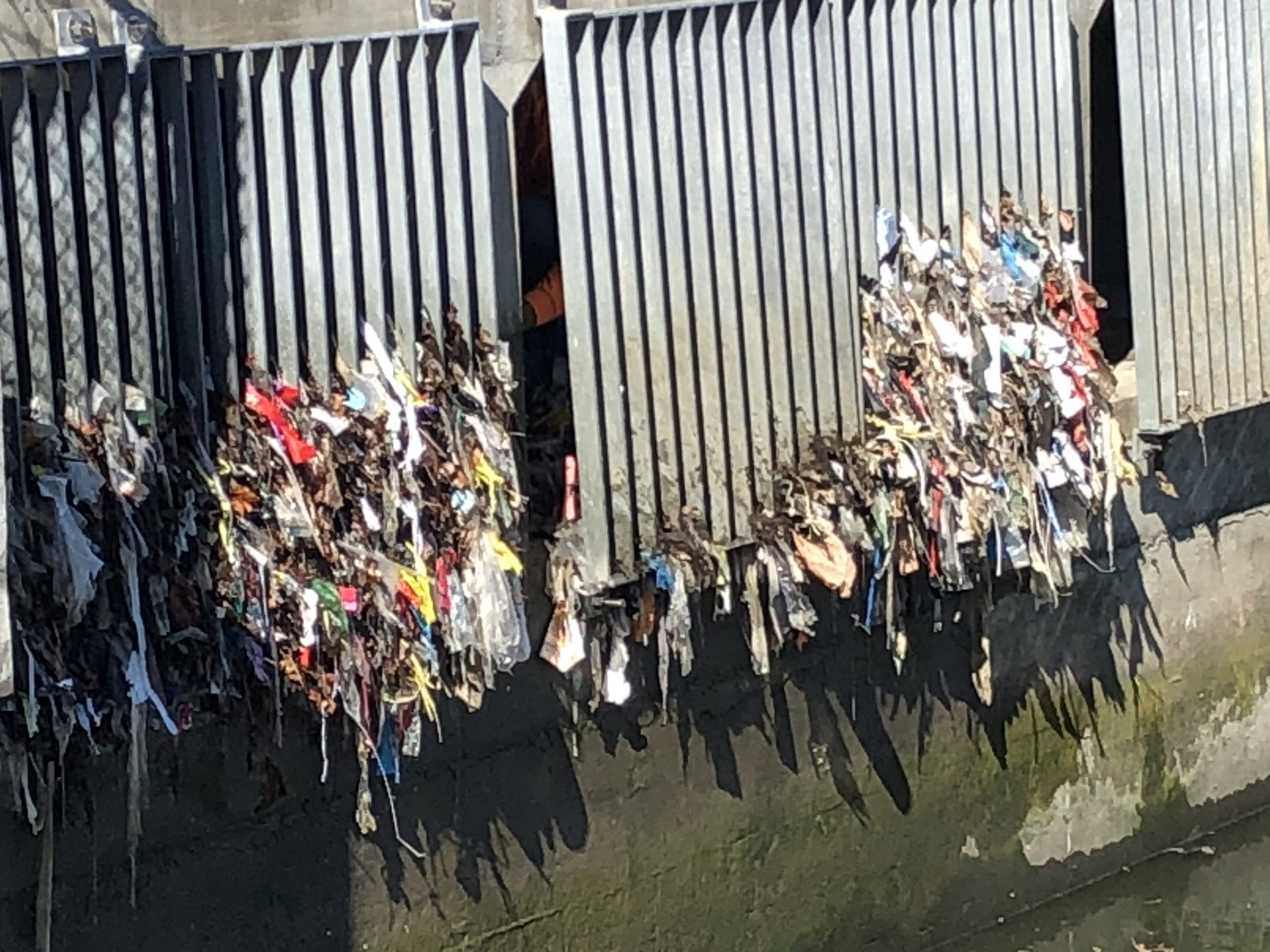 Litter coming out of San Rafael storm drain outfalls.
Timeline
City of San Rafael Conducted Single-Use Takeout Plastics Community Survey

2016

 

County of Marin Project Began

October 2019

 

County of Marin Project Restarted (Post COVID) May 2021

 

Countywide Grant Program Launched (optional reusable Foodware adoption) Fall/Winter 2021

 

County of Marin Produced

Outreach

Update November 2021

City of San Rafael Staff Conducted Outreach to Businesses

Fall 2021

 

County Ordinance Adopted by Marin County Board of Supervisors

May 2022

 

First Hearing for City of San Rafael planned for

 

May 1, 2023, 7pm

 
When will it take effect? 
If the City of San Rafael adopts the County's Reusable Foodware Ordinance model, the County's Environmental Health Services Division (EHS) will implement and enforce the proposed ordinance beginning November 10, 2023.   
EHS's inspection staff will proactively educate all food vendors on the requirements prior to taking any enforcement action. Additionally, the County has hired Plastic Free Marin to provide free technical assistance for businesses transitioning to reusables and/or compliant materials, upon request. 
Countywide Outreach and Public Support
The Marin County Board of Supervisors adopted the Reusable Foodware Ordinance[PDF] on May 10, 2022. Since then,  jurisdictions have voluntarily adopted the Reusable Foodware Ordinance model, provided by the County.
The Towns of Tiburon, San Anselmo, and Fairfax have adopted the model ordinance. The cities of Mill Valley, Novato, Larkspur, and the Town of Ross are on track to adopt the ordinance by May 2023. See here for an updated list of jurisdiction Ordinance Adoption Status. 
Outreach and Engagement
In late 2021 and early 2022, City of San Rafael staff conducted outreach with our local food vendors and businesses to gain a more in-depth understanding of the barriers and possible impacts before implementing a reusable foodware ordinance. City staff conducted over 50 in-person interviews with food vendors throughout San Rafael, including Downtown, Terra Linda, and the Canal neighborhood. Staff interviewed the management and owners of restaurants, coffee shops, grocery stores, specialty drink shops, and other food vendors to hear feedback, assess support and understand better what types of materials were in use.
During this time City staff also sent informational mailers to all San Rafael food vendors and met with other counties and jurisdictions to discuss their strategies and findings related to reusable food ware and reducing single use plastics. Staff provided this feedback to the County as they developed and refined the ordinance. A summary of the City outreach findings can be found here.
The County of Marin has continued its efforts to develop a Reusable Foodware Ordinance and provide outreach to residents and businesses across Marin County.  In 2021, various outreach efforts were conducted by the County to garner feedback from residents and businesses across Marin County.
Highlights from these efforts include: 
56 site visits were completed across all jurisdictions

75 businesses were called across all jurisdictions

97 Food Vendor survey responses
338 resident survey responses
20+ meetings with stakeholders across all jurisdictions
Switching to Reusables 
68% of surveyed Food Vendors do not think it would be difficult to switch to all reusables for dine in (of which 18% would want help from the County or cities)

 

91% of surveyed residents support Marin County requiring all food vendors use foodware that is either reusable or compostable 

 
Support for $0.25 Charge 
Over 50% of surveyed businesses support a $0.25 charge

 

79% of surveyed residents support a County-wide cup charge

 
Reducing Plastics 
95% are in favor of reducing plastic materials from going to landfill 

 
The full summary of 2021 Countywide Outreach can be found here.
For more information on the County of Marin's Reusable Foodware Ordinance, including information on what type of to-go containers are compliant and the grant program available to help businesses comply, visit the County's website .
We want to hear from you! How can we help?
We want to hear from our local businesses — we want to know how this law will affect you! The ordinance is open to public comment during the council meeting on May 1, 2023 at 7:00pm. The public may participate either by attending the meeting in person or by teleconference by visiting  https://www.cityofsanrafael.org/departments/public-meetings/ for the call-in phone number and meeting ID listed on the agenda, or using Zoom app to connect to this meeting ID.  
If you have any concerns, want to show your support, or provide feedback please Contact Sustainability here! 
Do you have more questions? 
Check out the County of Marin's FAQ section on their Reusable Foodware Ordinance homepage to answer questions such as: 
Why Aren't Bio-Plastics a Solution?

 

A tool for finding compliant alternatives

 

 

What is considered compostable? 

 

Who does this ordinance apply to?

 

Why is Plastic a Problem?