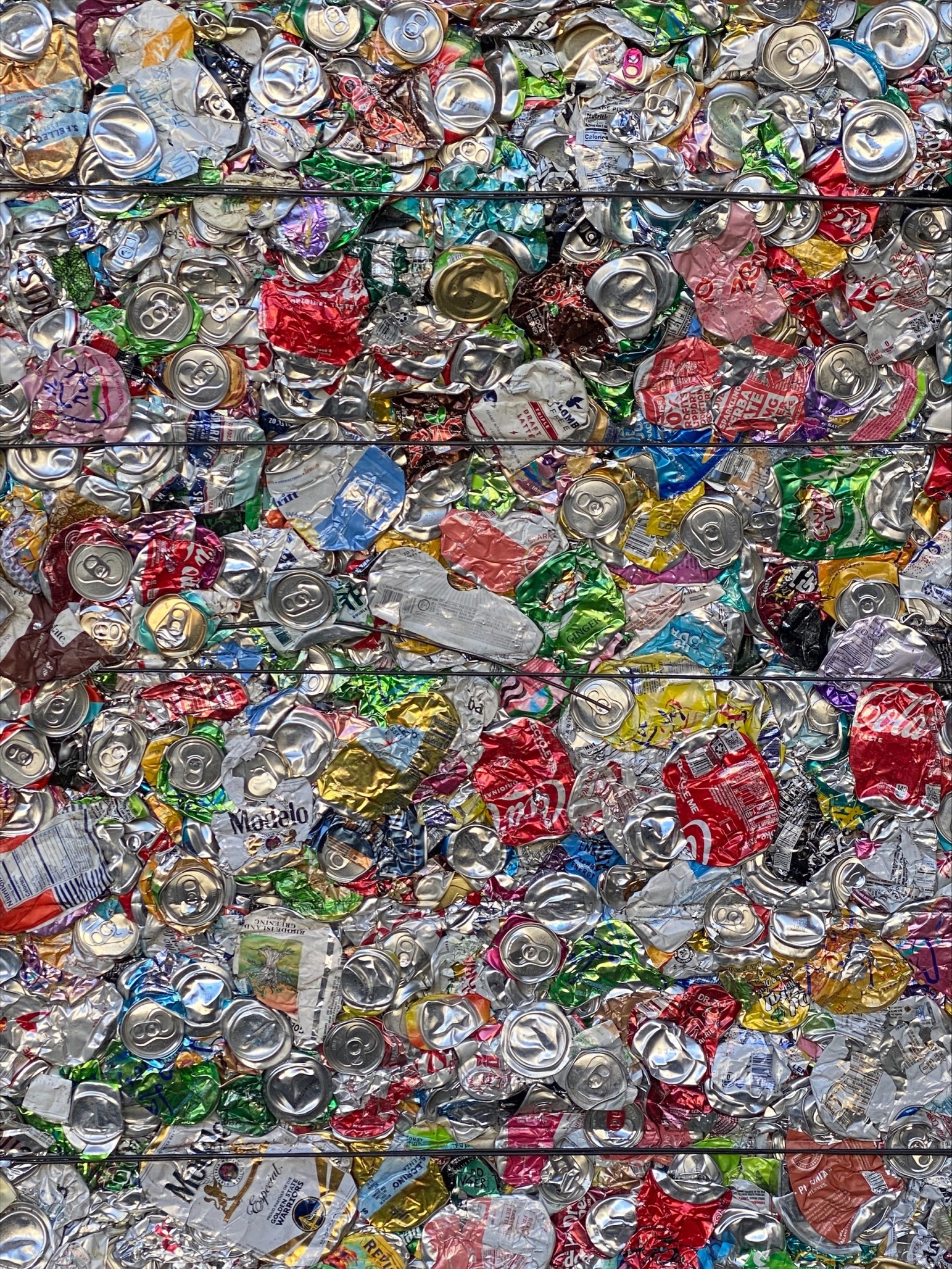 Spotlight Photo
CAPTION: Recycled cans and bottles at Marin Sanitary Service's San Rafael facility, taken March 5, 2022.
PHOTO CREDIT:  Walter Gonzalez, City Manager's Office
Last Quiz Question
Congrats to Brian Johnson for being the first to guess our mystery photo in the last Snapshot Quiz. The photo featured was taken at the Marin Civic Center Lagoon and was shot by our very own intern, Walter Gonzalez. Congratulations Brian, and thanks for reading Snapshot!
Scroll down for this week's quiz and be the first to answer.
San Rafael City News
Fourth Public Hearing on Council District Boundaries
Since transitioning to City Council elections by district in April 2018, the City of San Rafael is now required to redraw City Council district lines following the census every ten years, a process known as redistricting.  At its meeting on Monday, March 21, the City Council will hold the fourth of four required public hearings, at which the Council will again consider draft City Council district maps presented by the City's demographic consultant.  Following this public hearing, if the City Council is satisfied with one of the draft district maps, it may approve a resolution adopting that map to establish the lines of the City Council districts that will apply starting with the next municipal election in November 2022.
The public hearing on Monday, March 21, 2022, will be held at 7:30 p.m. All interested parties are encouraged to attend and participate. Read the staff report and visit the City of San Rafael redistricting webpage to learn more about redistricting.
---
Annual Progress Report and Housing Policy Update
Curious about how San Rafael is addressing housing requirements and goals? At Monday's City Council meeting, Community Development staff will present the annual progress report on all residential development that has been approved and built in 2021. The report will include several housing related updates and will detail the City's progress towards meeting its share of regional housing needs, as well as an update towards implementing the City's housing element programs. Staff will also present an update towards implementing the City Council housing policy priorities for FY 2021-22.
---
City Council to Hear Updates on Community Development Block Grant Funds
On Monday, March 21, the City Council will hear an update on the proposed allocation of Community Development Block Grant ("CDBG") funds. The CDBG program is a federally funded program of the U.S. Department of Housing and Urban Development ("HUD") that provides funds for local community-based projects including affordable housing, community infrastructure or capital projects, and public support services.
The amount of CDBG funding available for the City in 2022-2023 is $485,000. Under a cooperative agreement with the County of Marin, the City Council provides its funding recommendations for the San Rafael planning area to the County of Marin Board of Supervisors ("BOS"). In May 2022, the BOS plans to hold a public hearing on the CDBG funding recommendations.
---
Upcoming Joint Community Conversation and District Community Conversation Meetings
As part of the City Council's effort to increase inclusive community engagement, Mayor Kate and City Councilmembers are hosting community conversation meetings throughout 2022. These gatherings allow community members to request a topic of discussion and meet with their local elected officials in a friendly and accessible environment.
Although our February and March community conversation meetings were held virtually via Zoom, future meetings will be hosted in a variety of formats, from an ice cream social to a local waste clean-up event. Be sure to mark your calendars for the district focused community conversation meetings coming up in April and keep an eye out for them as they are scheduled periodically throughout 2022. The next community conversations are:
District 1 – Councilmember Maika Llorens Gulati
Cleanup for Earth Day, Lunch, and Community Conversation
Saturday, April 23 from 10 a.m. – 1:30 p.m.
Meet at Pickleweed Park for cleanup event, followed by lunch and community conversation at Albert J. Boro Community Center
District 4 – Councilmember Rachel Kertz
Community Conversation
Sunday, April 24 from 4:00 – 6:00 p.m.
Location TBA
District 3 – Councilmember Maribeth Bushey
Community Conversation
Wednesday, April 27 from 5:30 p.m. to 6:30 p.m.
Location TBA
See our community conversations page to learn more about community conversations. Unsure of your district? Find your district here.
---
Resilient Neighborhoods Climate Action Workshop – Registration Open
In this highly recommended, five-session, online workshop presented by Resilient Neighborhoods, you will reduce your carbon footprint and get prepared for climate-linked emergencies with your climate action team. Taking simple actions like trimming energy and waste, conserving water, and making smarter transportation choices can save you money too. You'll achieve measurable results and help build a stronger and safer community. More than 1,700 Marin residents have already reduced more than 10 million pounds of CO2 pollution through the program. Choose from workshops starting on March 30 or April 7. Registration is required. Free for Marin residents!
Click here to sign up.
---
Marin Humane Waives Licensing Late Fees through March 2022
Did you know that a license is the first thing Marin Humane staff look for when a stray dog comes to the shelter? If your pup ever goes missing, a license is the quickest way for staff at Marin Humane to reunite you with your pet. Now through the month of March, Marin Humane is waiving late fees on dog licenses. You can buy or renew your dog's license online or in person at the shelter during open hours to speak with the licensing department.
---
Chipper Days are Back in 2022
The Marin Wildfire Prevention Authority's Curbside Chipper Program (also known as "Chipper Days") is set to return in 2022! Help reduce wildfire hazards in Marin by removing what fuels them.
Want to participate in the Chipper Day program? Follow these 3 steps:
Step 1: Visit the Chipper Day Marin webpage – Review the important rules, guidelines, and FAQs.
Step 2: Make a reservation –You MUST make a reservation on the website to participate.
Step 3: Prepare your pile – Piles need to be at the curb by 8 AM Monday and will be picked up by Friday of the same week.
Questions? Visit the Chipper Day Marin webpage or e-mail for more information.
---
Free Compost Bin Program for Businesses!
The City of San Rafael in partnership with Zero Waste Marin is offering eligible businesses in San Rafael the opportunity to get up to $600 in FREE indoor compost bins! This program continues until the earlier of May 1, 2022 or full fund disbursement.
As per new state law SB1383, all businesses are required to subscribe to organics recycling service and actively teach their employees how to compost correctly to keep food scraps and yard waste out of our landfills (where they produce massive amounts of greenhouse gases!). The City wants to make this transition easier for businesses who do not currently have the equipment necessary to comply with the law.
Eligible businesses include:
Businesses who are not currently enrolled in Marin Sanitary Service's organics recycling service
Businesses who have less than 50 employees
Businesses who are NOT already Food 2 Energy program participants
To get your compost bins:
Contact Marin Sanitary Service to enroll in organics recycling service for your business by calling 415-456-2601 or email MSS. Fill out an application and select what style indoor compost bins you'd like with online form available here. For more information, please visit our compost bins webpage.
---
We Need Lifeguards!
The City of San Rafael continues its recruitment for lifeguards, swim instructors, and head lifeguards for the Terra Linda and Hamilton pools. We need your help to spread the word so we can attract wonderful talent to keep our pools open and safe for the upcoming swim season.
Never been a lifeguard or need to get retrained? We will provide certification. You do not have to be a competitive swimmer to be a lifeguard. Prospective applicants should be people-oriented, safety minded, and enjoy swimming. The minimum age to apply is 15. The deadline to apply is July 1, 2022. For more information, please email here or call (415) 485-3344.
Rate of pay is $17.00-$29.86. Flexible shifts are available seven days a week from early mornings to mid days and evenings.
Click here for more information on lifeguard and other pool jobs.
---
COVID–19 Updates
As of Saturday, March 12th, masks are strongly recommended but no longer required to be worn by all students and staff while indoors, regardless of vaccination status. This recent mask guidance change made by the California Department of Public Health (CDPH) has prompted the Marin County Office of Education, together with the Marin County Public Health Department, to update the Marin County School Guidelines to reflect these changes.
Schools and districts may choose to enforce their own universal face covering policies. In addition, businesses may elect to implement indoor face covering policies that are stricter than current CDPH masking guidelines (e.g., requiring all patrons and employees to wear a mask).
Despite these recent changes, masks remain strongly recommended while indoors regardless of vaccination status, especially for residents who are more vulnerable to infection or more at risk of severe outcomes from COVID-19.
Everyone must still wear masks in the following settings, regardless of vaccination status:
Public transit
Healthcare settings
Long-term care facilities
Homeless shelters
State and local correctional facilities and detention centers
COVID-19 booster shots and vaccination appointments continue to be offered at all Marin vaccine clinics. If you need transportation assistance to get vaccinated, please visit the following links about Lyft's Vaccine Access Program and GoGoGrandparent. As always, if you are experiencing any COVID-19 like symptoms, please get tested as soon as possible, even if you are fully vaccinated.
---
TALES OF THE CITY – Construction Underway on Fire Stations 54 and 55
In November 2013, San Rafael voters passed Measure E. Funds from that measure were allocated to repair our aging essential facilities, including Fire Station 54 located at 46 Castro Avenue and Fire Station 55 located at 955 Point San Pedro Road. Built in the 1960s, these facilities were outdated and in need of a complete retrofit.
Since January 2022, the City's selected general contractor, Wickman Development and Construction, has been hard at work to construct seismically safe, code compliant, and modernized fire station facilities. Improvements include upgraded living quarters, Americans with Disabilities Act (ADA) accessibility, and flood protection. Our new and improved essential facilities make San Rafael a safe place for our emergency personnel and for the community overall.  Find more information on construction progress and all updates for Fire Stations 54 and 55 here.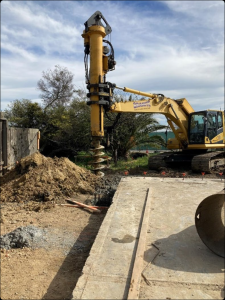 ---
AT THE LAST COUNCIL MEETING on March 7, 2022
Due to Executive Order N-29-20, we no longer offer an in-person meeting location for the community to attend public meetings. In an effort to provide remote community participation for our City Council meetings, we are piloting real-time virtual public comment on agenda items.
At the March 7th regular City Council Meeting, the Council:
Approved consent calendar items
Presented a proclamation Supporting Women's History Month
Presented a proclamation recognizing Stephen Mizroch, who retired from the San Rafael Fire Commission
Approved resolution authorizing the expenditure of funds of the 2021 Affordable Housing Notice of Funding Availability (NOFA)
Approved resolution amending the "Cannabis Business Operator License Program" (CBOL), and restating it in its entirety
Received a Fiscal Year 2021-2022 interim financial update and adopted resolution for amendments to the 2021-2022 budget and approving mid-year personnel changes
City Council meetings are held every first and third Monday of the month. City Council meetings that fall on a holiday are rescheduled for the following Tuesday.
---
Events
Upcoming Community Conversation Events 
Join Mayor Kate and your local Councilmembers for upcoming community conversation events! Learn more about local and citywide updates and happenings and submit your inquiry or question to staff for the opportunity for discussion at upcoming community conversations events to be held periodically in 2022.
---
District 1 Community Conversation & Canal/East San Rafael Cleanup for Earth Day with Councilmember Maika Llorens Gulati
Saturday, April 23 | 10 a.m. – 1:30 p.m.
Meet at Pickleweed Park for cleanup event followed by lunch and community conversation at Albert J. Boro Community Center
---
District 4 Community Conversation with Councilmember Rachel Kertz
Sunday, April 24 | 4:00 p.m. – 6:00 p.m.
Location TBA
---
District 3 Community Conversation with Councilmember Maribeth Bushey
Wednesday, April 27 from 5:30 p.m. to 6:30 p.m.
Location TBA
See our community conversations page to learn more about community conversations. Unsure of your district? Find your district here. 
---
Mobile COVID-19 Vaccination Unit
Tuesday, March 29 | 3:00 p.m. – 7:00 p.m.
Albert J. Boro Community Center Art Room
The City is supporting the Marin County Mobile Vaccination Unit by providing use of the Albert J. Boro Community Center's Art Room for pop-up COVID-19 vaccination clinics. Appointments are recommended but walk-ins are welcome. Must be five years old or older (Pfizer), 18 year or older (J&J and Moderna). Vaccines are free regardless of immigration and insurance status.
To schedule an appointment, click here or call (833) 422-4255.
---
Learn How to Help After a Disaster:
Community Emergency Response Team (CERT) San Rafael Basic Training
Tuesdays – April 26th, May 3rd, May 10th and May 17th | 5:00 p.m. – 8:00 p.m.
Saturday, May 21st | 8:30 a.m. – 5:30 p.m.
Saint Luke Presbyterian Church
10 Bayview Drive South, San Rafael
Cost: $50 per person
Hours Required for Course Completion: 20 hours
Learn how to care for your family and neighbors following a disaster through hands-on training including first aid, triage, light search & rescue and more.  No experience necessary. All ages over 16 are welcome. For additional information call (415) 319-1534 or e-mail read.alzaher@cityofsanrafael.org. This is a volunteer program and limited scholarships are available. Registering for the first day of class will automatically register you for the additional class dates.
Register at San Rafael CERT – Basic Training.
---
Quiz
In honor of Women's History Month: Who was the City of San Rafael's first female city councilmember, and in what year were they inaugurated?