Located along Spinnaker Point Drive, Schoen Park is a small playground serving the Canal and Spinnaker Point communities. After considering the community's needs and following extensive upgrades to playground equipment located at the nearby Pickleweed Park, the City has decided to repurpose the Schoen Park area. In the near future, the playground equipment will be removed to accommodate two planned projects as follows:  
The creation of additional on-street parking,

 

lead

 by the City, 

 

Modifications to the existing Bay levee, 

lead

 by the Marin Audubon Society. 

For more information, please visit http://www.tiscorniamarshp.org/
The Schoen Park Modifications project will benefit the overall community by creating approximately 20 new parking spaces for nearby residents.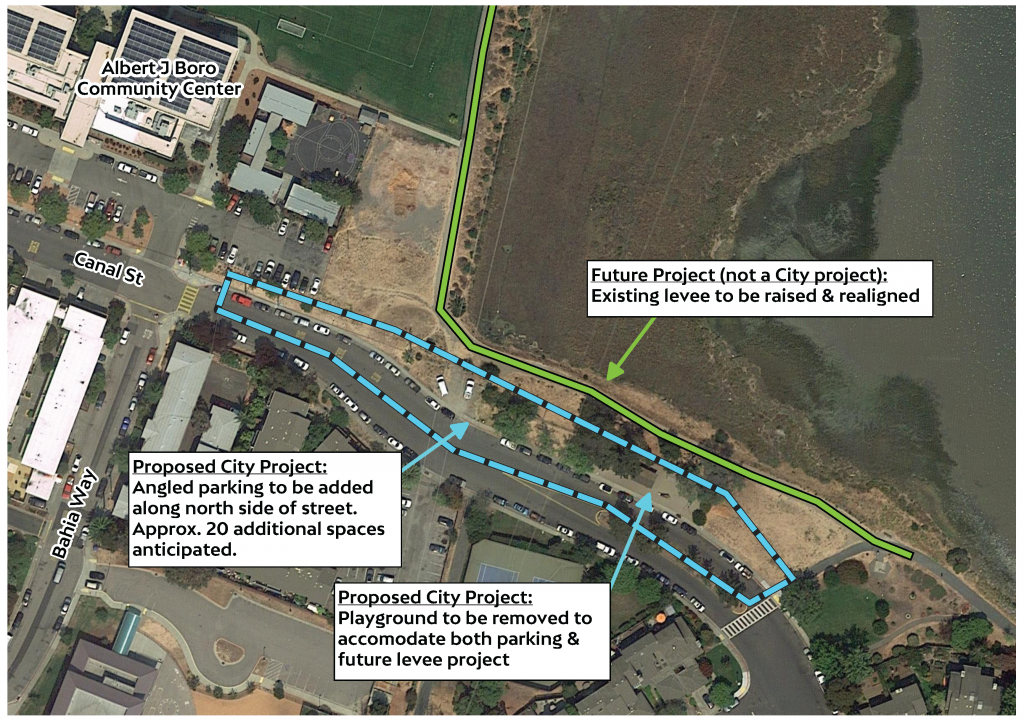 Goals for Project
Create additional parking spaces along the northern side of Spinnaker Point Drive
Realign the sidewalk in anticipation of the Tiscornia Marsh Project (headed by Marin Audubon Society) that will create a larger levee in this area.
Minimize construction expenses by utilizing City staff to assist with the demolition of the playground area
Overall Objective
Create additional parking spaces to help alleviate the lack of parking issue within the canal area
Project Plan
Present the proposed project to the community
Hire a consultant to facilitate the final design and environmental/regulatory permits
Hire a contractor to construct the project
Construction Timeline

Public Presentation: 6pm on September 23, 2019 at the Albert J Boro Community Center
Hiring of consulting engineering firm: Proposals due Oct 2nd
Final Design & Regulatory Permits: Estimated Completion TBD
Advertise Construction Project: TBD
Award Contract: TBD
Project Completion: TBD