2023 Art Exhibition Schedule
Winter Invitational
Curated by Susan Press and Michael Friedland
January 13 - February 24
 Variety of Bay Area Artists 
"Articulation" - The Art of Playing with Forms 
March 10 - April 21
Terra Linda Ceramic Artists
Marin Open Studios
May 5 - June 9

Artists: Deepa Bala, ChingJu Tsao, Nathalie Worthington
TBD
July 14 - August 25

TBD


September 8 - October 20
TBD
November 10 - December 15
Welcome. We look forward to seeing you at a current or upcoming art exhibit. Please check with us before visiting as the galleries are not available during a private event.
---
Current & Upcoming Art Exhibits
Marin Open Studios
Artists: Deepa Bala, ChingJu Tsao, Nathalie Worthington
May 5 - June 9
MOS Weekends:  May 6, 7 & 14 | 11am - 6pm
*May 13 Falkirk and Galleries will be closed for a private event*
Opening Reception | Thursday, May 4 | 5:00-8:00pm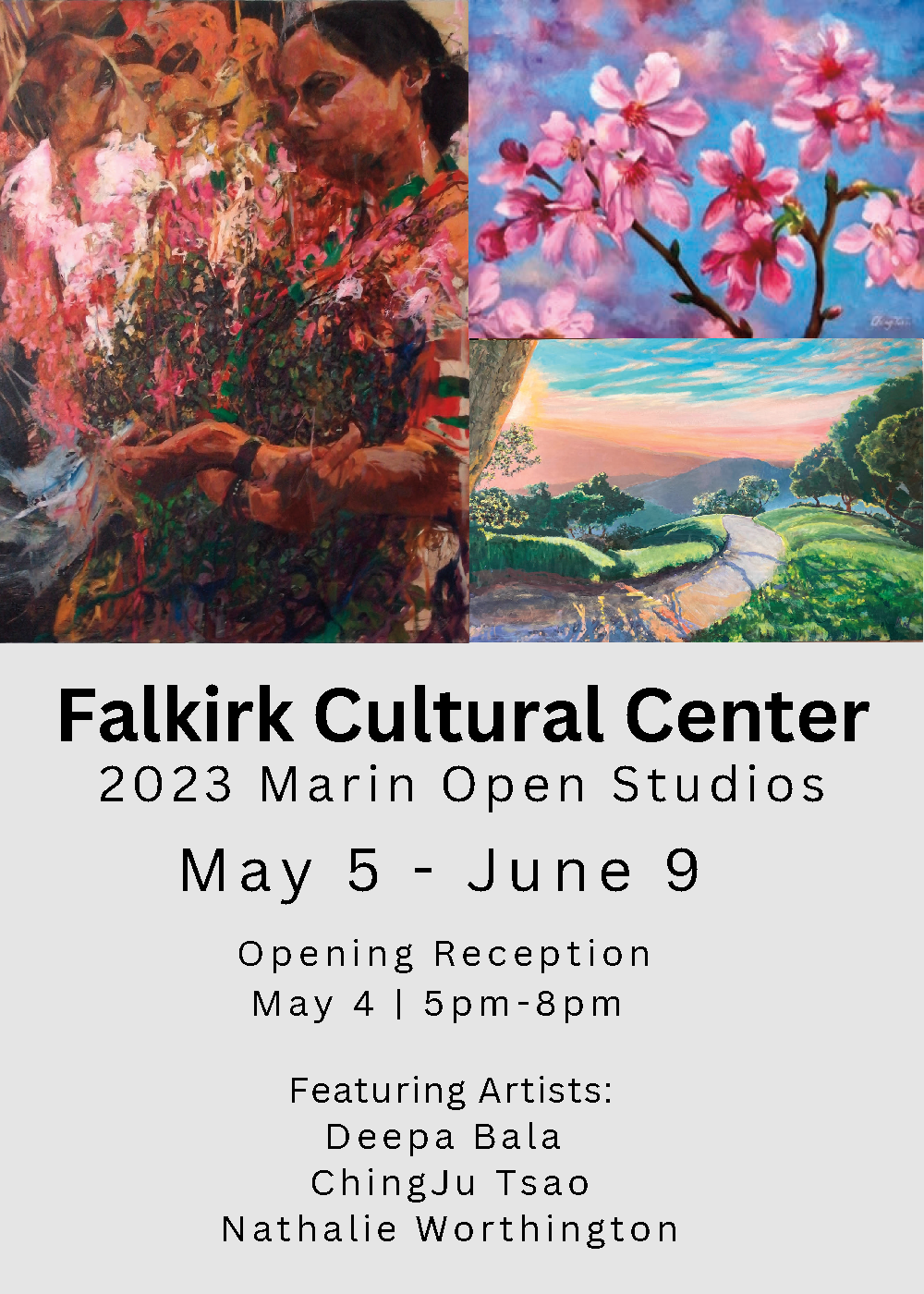 ---
Open Hours
Tuesdays - Fridays | 1:00pm - 4:30pm
Saturdays | 10:00am - 2:00pm
*Please call ahead of time as we are closed during private events.
(415) 485 - 3328 | falkirk@cityofsanrafael.org
Falkirk has exhibited the work of Bay Area collective groups such as the California Watercolor Association, California Society of Printmakers, BayWood Artists, the Association of Clay and Glass Artists, Guerrilla Girls, Terra Linda Ceramics and many more.
---
Exhibit Proposals
Falkirk welcomes exhibition proposals on an ongoing basis. Proposals should include a brief, one-page description of the exhibition explaining its overall theme and scope. Include sample images in digital form, along with bios and any relevant information about the artist(s) or the group you are representing. Please review the Exhibition Guidelines before submitting your proposal.
---
Email proposal to: falkirk@cityofsanrafael.org 
Mail proposal to: San Rafael Library & Recreation Department
ATTN: Falkirk Cultural Center- Exhibition Program
618 B Street
San Rafael, CA 94901