2022 Art Exhibition Schedule
Winter Juried Show
January 14 - February 18
Click HERE to view the virtual gallery!
Terra Linda Ceramics
March 11 - April 15
Marin Open Studios
Harvey Abernathey, Mansoor Assadi, Litcita Fernandez & Elaine West
April 28 - June 10
Opening Reception Thursday, April 28- 5-8pm
Closing Reception/Art Walk - Friday, June 10- 5-8pm
Kendall C. King
June 24 - July 29
Opening Reception - Friday, June 24 - 5-8pm
Closing Reception - Friday, July 29 - 5-8pm

Art to Amuse & Delight
Juried Exhibition curated by Susan Press
ENTER HERE
August 12 - September 23
Opening Reception/Art Walk - Friday, August 12 - 5-8pm
Closing Reception - Friday, September 23- 5-8pm
California Watercolor Show
October 14 - November 18
Opening Reception/Art Walk - Friday, October 14 - 5-8pm
Closing Reception - Friday, November 18- 5-8pm
Visiting the Galleries
Please check back here and on our Facebook page for information regarding future exhibits.
Current & Upcoming Art Exhibits
Kendall C. King | A Life in Art
Selected Paintings | 1960s -2021
June 24 - July 29
Open Hours
Tuesdays - Fridays | 1:00pm - 4:30pm
Saturdays | 10:00am - 2:00pm
*Excluding private events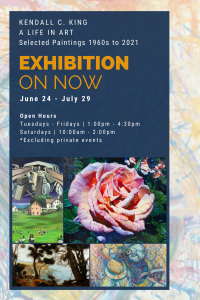 ---
Call for Artists  -
Deadline is July 18
Theme: Art to Amuse & Delight
We enjoy viewing art for a variety of reasons. We may be seeking inspiration, stimulating our imaginations or even looking for new ways of seeing our world.  For this exhibit, artists with work, either abstract or realistic, that might elicit feelings of amusement and or delight are invited to apply.  The goal for this exhibit is to provide an uplifting experience for those visiting the show.
Exhibition Dates: August 19- September 23, 2022
Entry Deadline: July 18, 2022 (11:59pm Mountain Standard Time)
CALL FOR ENTRIES & ELIGIBILITY
Falkirk Cultural Center invites artists residing within the nine counties of the San Francisco Bay Area to submit up to three separate pieces of original work completed in the past two years, not previously shown in a Falkirk Cultural Center exhibition.  Please provide at least one digital image per 2D work AND/ OR 3D work.
Open to all media except jewelry or videography. Only digitally uploaded images will be accepted. Digital entries, payment, and entry form must be received on or before midnight MST, Monday, July 18, 2022.
AWARDS
Friday, August 19, 2022 5-8:00pm. Opening Reception & San Rafael's Art Walk. Award ceremony will begin around 6pm.
Awards: First Place $100 - Second Place $75 - Thirds $50
Friday, September 23, 2022 5-8:00pm. Closing Reception & People's Choice Awards - No monetary value. Voting accepted throughout exhibition.
ENTRY FEES
A non-refundable entry fee of $40 for one entry is required. $10 for a second entry and $5 for a third. Three entries total are allowed. Diptychs and triptychs count as one piece; use only ONE image of entire diptych or triptych. 3D Artists should submit ONE image for each artwork submitted, if interested in submitting three separate pieces for entry.
---
Visit the Falkirk Art Galleries at
Falkirk Cultural Center
1408 Mission Avenue
Open Tuesday through Friday, 1:00pm - 4:30pm and Saturday 10:00am - 2:00pm
*CLOSED May 26,  27, June 4, 17, 24 and 25  for private events.
*Please call ahead of time as we are closed during private events.

(415) 485 - 3328 | falkirk@cityofsanrafael.org
Falkirk has exhibited the work of Bay Area collective groups such as the California Watercolor Association, California Society of Printmakers, BayWood Artists, the Association of Clay and Glass Artists, Guerrilla Girls, Terra Linda Ceramics and many more.
Exhibit Proposals
Falkirk welcomes exhibition proposals on an ongoing basis. Proposals should include a brief, one-page description of the exhibition explaining its overall theme and scope. Include sample images in digital form, along with bios and any relevant information about the artist(s) or the group you are representing. Please review the Exhibition Guidelines before submitting your proposal.
Exhibit Proposals
Email proposal to: falkirk@cityofsanrafael.org 
Mail proposal to: San Rafael Library & Recreation Department
ATTN: Falkirk Cultural Center- Exhibition Program
618 B Street
San Rafael, CA 94901