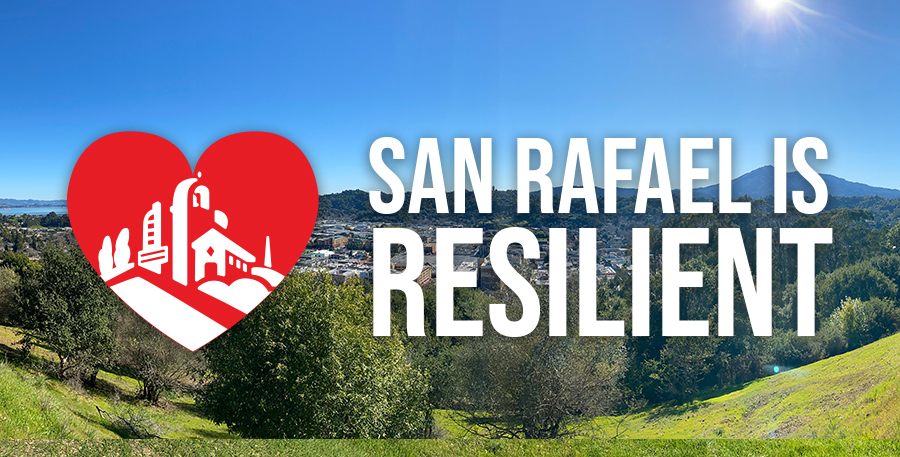 DESPLAZARSE HACIO ABAJO PARA ESPAÑOL
Adjusting to these new conditions in response to the COVID-19 pandemic has been difficult for most, and even though we're separated during this time doesn't mean we can't find creative ways to come together. As we head into the weekend, let's help spread words of encouragement and brighten up each other's days in our neighborhoods by sharing rainbows in your windows.
Inspired by the children of Spain and Italy posting artwork in their windows and hanging banners from their balconies, the movement caught on in the United Kingdom and now is in Brooklyn and spreading throughout the United States.
California is on the map now! Check out the Rainbow Connection Map to find rainbows in other U.S. states. See the full story.
---
Reminder:  Parks Open for Passive Use Only, No Gatherings or Sports
Please remember that parks are only open for passive use like walking or jogging. You should only be going to parks you can walk or bike to per the County Health Department order. Parks are closed to vehicular access with limited exceptions. Playground structures and bathrooms are closed or roped off to help reduce the spread of disease. Gatherings, sports, and pickup games are not allowed. Walk or bike there with members of your household or by yourself and maintain a social distance of 6-feet from others. Thank you for helping to be a part of "flattening the curve" and slowing the spread of the virus.
---
Bay Area School Closures and Student Dismissals Extended
Schools will remain closed through May 1, 2020 in seven Bay Area counties as a result of the COVID-19 emergency. Earlier this month, seven Bay Area county health officers closed school doors until April 7th in response to the Public Health Order. On Wednesday, March 25, 2020 this closure was extended through May 1 following the statewide shelter in place order that went into effect on March 19, 2020 and is in place until further notice.
In response, San Rafael City Schools have begun deploying Chromebooks to 6th-12th grade students who do not have access to a device at home to support their remote studies an ensure all students have access to the tools they need to be successful.
If you have a student in 6th-12th grade and is in need of a device, check out San Rafael City School's Chromebook deployment news release to access the permission slip, schedule, and pick up locations.
---
Low Cost Internet Access
Many internet service providers are providing free and low-cost internet access during COVID-19. In addition, over 550 companies across the country have made their hotspots open and free. We are working closely with San Rafael City Schools to help get students connected during this time. In the coming days/weeks, our City's Department of Digital Service and Open Government will be working with our partners on ways to expand access to people who need it.
---
Business Resources
The City of San Rafael is working closely with the San Rafael Chamber of Commerce and Business Improvement District to develop resources for businesses impacted by COVID-19 emergency. We recognize how stressful these times are. Visit our website for information and resources related to the gig economy, manufacturers, unemployment insurance, business loans, and more. Together we can get through this.
Open for business? Let us know so we can add you to the open business directory.
---
Recycle & Waste Collection
Marin Sanitary Service continues to provide regular waste and recyclables collection services to the community.  They are taking precautions to keep drivers healthy and working in San Rafael.  Residents are reminded to continue placing carts at the curb by 6am on collection day and to leave 3 feet between carts and 5 feet from other objects (cars for example).  This will help limit exposure of the drivers by allowing them to remain in their truck and reduce the time they are on their route.
Household Hazardous Waste and Marin Resource Recovery continue to be open to the public.  Document shredding service and the Buyback center are currently closed.
Marin Sanitary Service's office is closed to the public, but customer service representatives are still answering the phones.  Residents and businesses are encouraged to submit questions and inquiries online.  Customer Service hours have temporarily been modified to Monday through Friday 8am-4pm.
---
PG&E Discount Programs
Pacific Gas & Electric Company has two discount programs available that you may be eligible to take advantage of: California Alternate Rates for Energy Program (CARE) and Family Electric Rate Assistance Program (FERA).
CARE – Discount on gas and electric rates
FERA – Discount on electric rates only for households of 3 or more people
Both discount programs help eligible customers pay their energy bills. Find out if you qualify!
---
Reminders
Did you get the Census 2020 letter in the mail? Fill it out to ensure everyone in San Rafael gets counted.
Property Taxes due on Friday, April 10, payments can be made:
By phone: 800-985-7277
By mail postmarked by Friday, April 10
---
Updates on Coronavirus in Marin County
For the most up-to-date information on COVID-19 in Marin County please visit the Marin Health and Human Services Website:  https://coronavirus.marinhhs.org/
Watch Video Updates from Marin HHS:
COVID-19 Video updates from Marin HHS are available on YouTube. Subscribe to be alerted when they post a new video.
COVID-19 Updates  and FAQs 
---
COVID-19 Hotline and Public Health Email
Call: 415-473-7191
Email: COVID-19@marincounty.org
---
City of San Rafael Coronavirus Information
https://www.cityofsanrafael.org/coronavirus
---
City of San Rafael COVID-19 Business Resources
https://www.cityofsanrafael.org/coronavirus-business-resources/
---
Viernes, 27 de M

arzo

 

de 

2020

 



La adaptación a estas nuevas condiciones en respuesta a la pandemia de COVID-19 han sido difíciles para la mayoría, y a pesar de que estamos separados durante este tiempo, no significa que no podamos encontrar formas creativas para estar juntos. Ahora que iniciamos el fin de semana ayuda a difundir palabras de aliento que animen nuestros días en nuestras comunidades, compartiendo arco iris en nuestras ventanas.
Inspirado por los niños de España y Italia quienes han compartido obras de arte en sus ventanas y colgando pancartas de sus balcones, el movimiento se popularizo en el Reino Unido y ahora está en Brooklyn y se esta expandiendo en los Estados Unidos
California está en el mapa ahora! Echa un vistazo al Mapa de Conexión de Arco Iris para encontrar el arco iris en otros estados de los Estados Unidos.
---
Recordatorio: Parques Abiertos para Uso Local Solamente, no se Permiten Deportes Organizados
Por favor, recuerde que los parques están abiertos sólo para uso local como caminar o correr. Sólo debe ir a los parques cerca de usted al que pueda llegar caminando o en bicicleta, bajo la orden por el Departamento de Salud del Condado. Los parques están cerrados al acceso de vehículos con excepciones limitadas. Las estructuras de juegos y los baños están cerrados o obstruidos con cuerda para ayudar a reducir la difusión de la enfermedad. Reuniones, deportes y juegos de pick up no están permitidos. Camine o vaya en bicicleta y juegue solo con miembros de su familia inmediata o por usted mismo y mantener una distancia social de 6 pies de los demás. Gracias por ayudar a ser parte de "aplanamiento de la curva" y frenar la difusión del virus.
---
Cierre de Escuelas y Asistencia de Estudiantes Extendido en el Área de la Bahía
Las escuelas permanecerán cerradas hasta el 1 de mayo de 2020 en siete condados del Área de la Bahía, como resultado de la emergencia COVID-19. A principios de este mes, Siete funcionarios de salud del condado del Área de la Bahía ,cerraron las puertas de la escuela hasta el 7 de abril en respuesta a la Orden de Salud Pública. El miércoles 25 de marzo de 2020 este cierre se amplió hasta el 1 de mayo siguiente al la orden de refugiarse en su lugar de todo el estado que entró en vigor el 19 de marzo 2020 y está en su lugar hasta nuevo aviso.
En respuesta, las escuelas de la ciudad de San Rafael han comenzado a desplegar Chromebooks a los estudiantes de 6 a 12 grado que no tienen acceso a un dispositivo en casa para apoyar sus estudios a distancia y asegurar que todos los estudiantes tengan acceso a las herramientas que necesitan para tener éxito.
Si usted tiene un estudiante en el grado 6 a 12 y está en necesidad de un dispositivo, echa un vistazo al comunicado de prensa acerca de la implementación Chromebook del Distrito Escolar de la Ciudad de San Rafael para acceder a la hoja de permiso, el horario, y los lugares donde puede recogerlos.
---
Acceso a Internet de bajo costo
Muchos proveedores de servicios de Internet están proporcionando acceso gratuito y de bajo costo a Internet durante COVID-19. Además, más de 550 empresas en todo el país han hecho sus puntos de acceso abierto y gratis. Estamos trabajando estrechamente con las escuelas de la ciudad de San Rafael para ayudar a los estudiantes conectados durante este tiempo. En los próximos días / semanas, estaremos trabajando con nuestros socios en la manera de ampliar el acceso a personas que lo necesitan.
---
Recursos para Negocios
La Ciudad de San Rafael está trabajando estrechamente con la Cámara de Comercio y Distrito de Mejoramiento Comercial de San Rafael para desarrollar recursos para las empresas afectadas por la emergencia de COVID-19. Reconocemos lo estresante que estos tiempos son. Visite nuestro sitio web para obtener información y recursos relacionados con la economía, fabricantes, seguro de desempleo, préstamos comerciales, y mucho más. Juntos podemos salir de esto.
¿Tu negocio esta abierto? Haznos saber para poderlos añadir al directorio de negocios abiertos.
---
Reciclaje de la colección y Residuos
Marin Sanitary Service continúa proporcionando servicios de recogida de residuos y materiales reciclables regulares para la comunidad. Ellos están tomando precauciones para mantener a los conductores sanos y trabajando en San Rafael. Se les recuerda a los residentes que continúen colocando lo basureros en la banqueta para las 6 de la mañana el día de recolección y dejar 3 pies entre los basureros y 5 pies de otros objetos (por ejemplo, coches). Esto ayudará a limitar la exposición de los conductores por lo que les permite permanecer en su camión y reducir el tiempo que están en su ruta.
Residuos Peligrosos del Hogar y Recuperación de Recursos de Marin siguen estando abiertos al público. El servicio de trituración de documentos y el centro de recompra están actualmente cerrados.
La oficina del Servicio Sanitario Marin está cerrado al público, pero los representantes de servicio al cliente todavía están respondiendo a los teléfonos. Se le recomienda a los residentes y negocios a enviar sus preguntas en línea. Las horas de servicio al cliente temporal se han modificado de lunes a viernes de 8 a.m. a 4 p.m..
---
PG & E programas de descuento
Pacific Gas & Electric Company tiene dos programas de descuentos disponibles al que usted puede ser elegible y tomar ventaja: California Alternate Rates for Energy Program (CARE) y el Family Electric Rate Assistance Program (FERA).
CARE – Descuento en las tarifas de gas y electricidad
FERA – Descuento en las tarifas eléctricas sólo para las familias de 3 o más personas
Ambos programas de descuento ayudan a los clientes elegibles a pagar sus facturas de energía. Averigüe si usted califica!
---
Recordatorios
¿Recibió la carta de censo de 2020 en el correo? Llenalo para asegurar que todos en San Rafael sean contados.
Los impuestos de propiedad se vencen el viernes 10 de abril, los pagos se pueden hacer:
Por teléfono: 800-985-7277
Por correo con el sello con fecha de el viernes 10 de abril de 2020
---
Actualizaciones sobre Coronavirus en el Condado de Marin
Para obtener la información más actualizada sobre COVID-19 en el condado de Marin, visite el sitio web de Marin Health and Human Services: https://coronavirus.marinhhs.org/
Ver actualizaciones de vídeo de Marin HHS:
 
 COVID-19 Actualizaciones de vídeo de Marin HHS están disponibles en YouTube. Suscríbete para recibir alertas cuando publiquen un nuevo vídeo.
Actualizaciones de COVID-19 ?  Preguntas frecuentes
---
Línea directa COVID-19 y correo electrónico de salud pública
Llame al: 415-473-7191
Correo Electrónico: COVID-19@marincounty.org
---
Información de la ciudad de San Rafael Coronavirus
 https://www.cityofsanrafael.org/coronavirus
---
Ciudad de San Rafael COVID-19 Recursos Empresariales
  https://www.cityofsanrafael.org/coronavirus-business-resources/