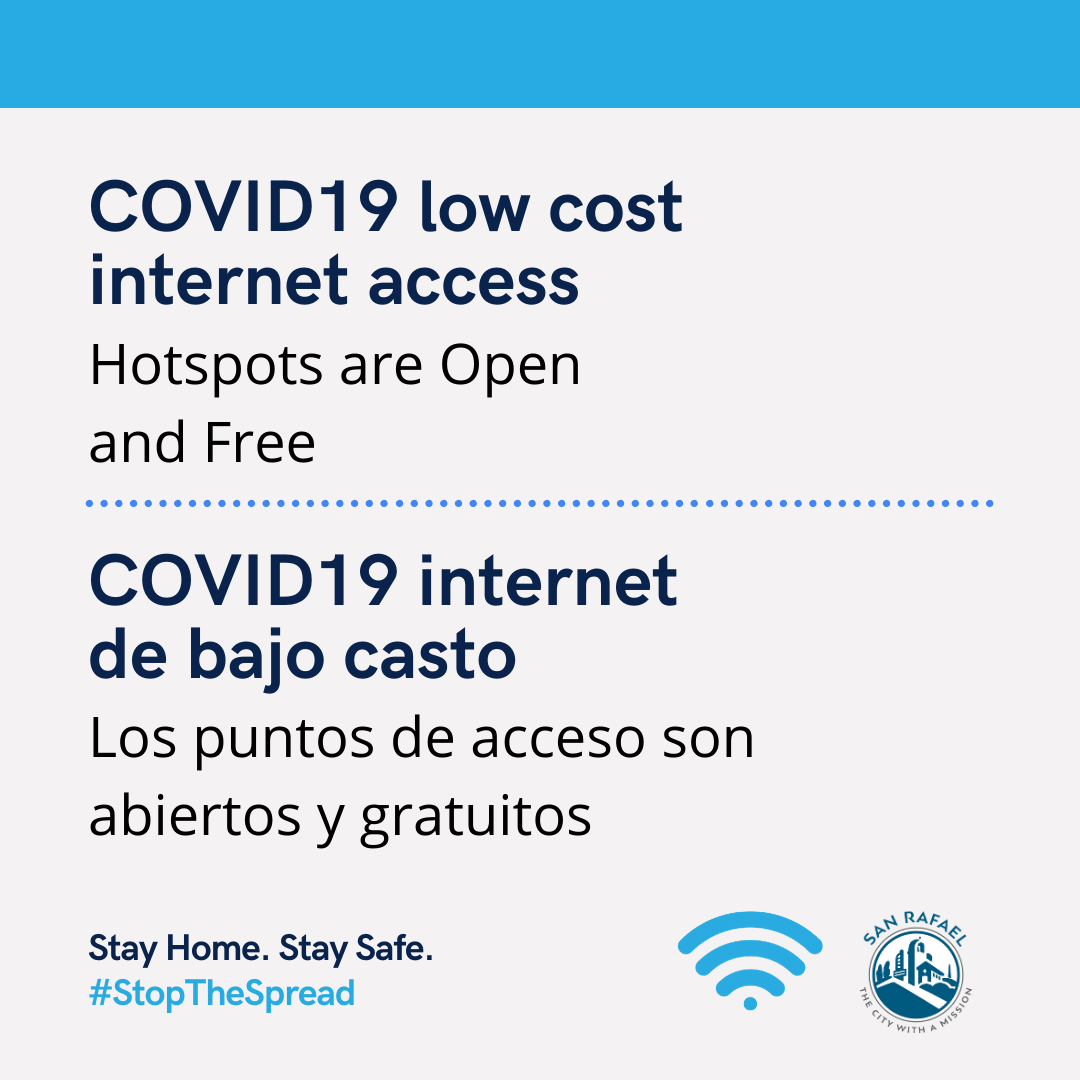 Hotspots are Open and Free 
Over 550 companies nationwide have opened their Wi-Fi hotspots to anyone who needs them.  
If you're on a computer, find the Wi-Fi menu on your device. (It's an antenna icon at the bottom right of your screen on Windows PCs and at the top right on Macs).  
With your phone, you can usually find available networks through your Settings page.  
Learn more: www.fcc.gov/keep-americans-connected 
Find hotspots near you through www.wefi.com/wefi-app 
Comcast Internet Essentials
Two months of free high-speed internet

 
No term contract

 

No credit check

 

No installation fee

 
Learn more: internetessentials.com/ 
AT&T Access
2 

months of free service to new Access customers who order by April 30, 2020. 

 

Expanding eligibility based on income and to h

omes 

participating in National School Lunch Program/Head Start

 

Waiving all home internet data overage fees

 
Learn more: m.att.com/shopmobile/internet/access/ 
Sonic
T

hree months of free internet access and unlimited nationwide home telephone service to households with K-12, college students, or senior citizen

s

 

No data caps

 

No contract

 
Free equipment rental

 

Free installation

 
Learn more: www.sonic.com/cov19 
COVID19 internet de bajo casto

Los puntos de acceso son abiertos y gratuitos
Los puntos de acceso son abiertos y gratuitos Más de 550.
Si estás en una computadora, busca el menú de Wifi en tu dispositivo (es un icono de antena).
Con su teléfono, generalmente puede encontrar redes disponibles a través de su página de  configuración.
Obtenga más información: 
fcc.gov/keep-americans-connected  
Encuentre hotspots cerca de usted a través de: wefi.com/wefi-app
Comcast Internet Essentials
Dos meses gratis de Internet de alta velocidad 

Sin contrato 

Sin revisión de crédito 

Sin cargo por instalación
Aprende más: internetessentials.com
AT&T Access Offering
Ofreciendo dos meses de servicio gratuito a los nuevos clientes de Access que soliciten antes del 30 de abril de 2020.  

Expander la elegibilidad basada en el ingreso y en los hogares que participan en el Programa Nacional de Almuerzos Escolares / Head Start 

Sin cargos adicionales por uso excesivo de datos de Internet durante los dos meses gratis
Aprende más: m.att.com/shopmobile/internet/access
Sonic 
Tres meses de acceso gratuito a Internet y servicio telefónico residencial ilimitado en todo el país para hogares con K-12, estudiantes universitarios o personas mayores

Sin límite de datos

Sin contrato 

Alquilación de equipos gratis
Aprende más: sonic.com/cov19