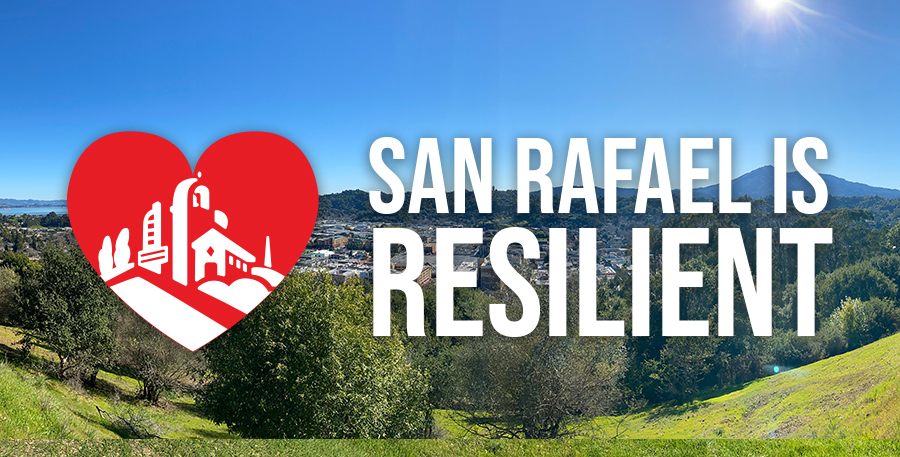 The coronavirus pandemic is not a wildfire, it's incomparable to a natural disaster confined in time and space; it has affected many aspects of our daily lives, including turning a simple task like going to the grocery store into a possibly nerve-wracking experience for some and simply unsafe for the more vulnerable members of our community (this includes anyone over the age of 65 or people with compromised immune systems). But there are small ways we can help ourselves and each other as we navigate these times.  
Vice Mayor Kate Colin initiated a Neighbor2Neighbor Toolkit for all of us to help by reaching out and offering support. These actions can range from picking up groceries, walking the family pet for someone who has mobility issues, or making a phone call just to check in.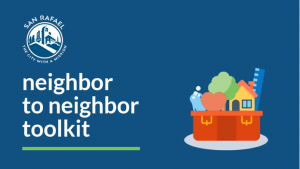 Additionally, there are a number of volunteer opportunities to get involved with, from bilingual assistance to volunteering at a food pantry. If you still want to help, but don't have the extra time to do so, consider donating—that's anything from personal protective equipment (our book drops are still open for face covering donations) to monetary donations to a non-profit. 
---
Shop & Dine in San Rafael
We encourage the community to support our local businesses – while also taking great care to minimize risk of exposure by wearing masks and keeping 6-feet apart and limit interactions with others to the extent possible. Businesses are required to refuse service to anyone who does not comply. 
Food
As you may have heard, indoor dining is not allowed for at least through the end of the month, but you can still dine outdoors (especially during Dining Under the Lights) or grab some takeout to bring home. Use this map to find out who's open for pick-up, delivery, or outdoor dining. While out getting food, always wear a mask and stay 6 feet away from other people. 
Shop
Many of our retailers have begun reopening for curbside pickup and even indoor retail. Shops may have occupancy rules, time limits, or require appointments so be sure to call ahead before you head out. And don't forget your mask! 
---
Community Conversation: COVID-19 response and 
MarinRecovers
Update
WHAT: Community Conversation: COVID-19 response and Marin Recovers updates
WHEN: Friday, July 10, 2020 at 4:00 PM 
Why are we experiencing outbreaks? What is the status of the reopening progress and Marin Recovers work group?  Join the County for a community conversation as some of Marin's top experts in public health and the phased reopening process answer your questions about this important topic. 
FEATURED SPEAKERS: 
Angela Nicholson, Emergency Operations Center Director

 

Matt Willis, M.D., Public Health Officer

 

Max 

Korten

, Marin Recovers Director

 
HOW TO PARTICIPATE: 
Submit Questions in Advance – the County will only be fielding questions prior to the Town Hall. Please submit your questions by 6 p.m. on Thursday July 9. 
---
COVID-19 Testing
COVID-19 testing is free, easy, and safe. If you've continued working during the COVID-19 pandemic and are frequently coming into contact with the public, we strongly encouraged you to get tested. 
There are several ways to get tested in San Rafael. You can call your medical provider to see if they offer testing; most do. If you don't have health insurance, you can get tested for free by calling 1-888-634-1123 or visiting lhi.care/covidtesting to make an appointment. Multilingual staff are available to assist with both appointment scheduling and testing. 
Marin Public Health is providing FREE COVID-19 testing at the following locations: 
San Rafael – Canal area: Tuesday – Saturday appointments available,

 

schedule online

 or by calling 888-634-1123.

 

San Rafael – Civic Center area: Monday – Friday appointments available,

 

schedule online

 
---
Marin County Office of Education
—Join 
the Discussion
The Marin County Office of Education (MCOE) continues their series of discussion webinars to talk through portions of the Reopening Guidelines issued for schools.   
A live Spanish translation phone-in option is available at (866) 866-2244, enter code 6292696#. This is a listen only feed and will be recorded.  
These webinars will be recorded and posted to the MCOE Facebook page as well as MCOE's Rethinking Schools web page.   
---
Reminders