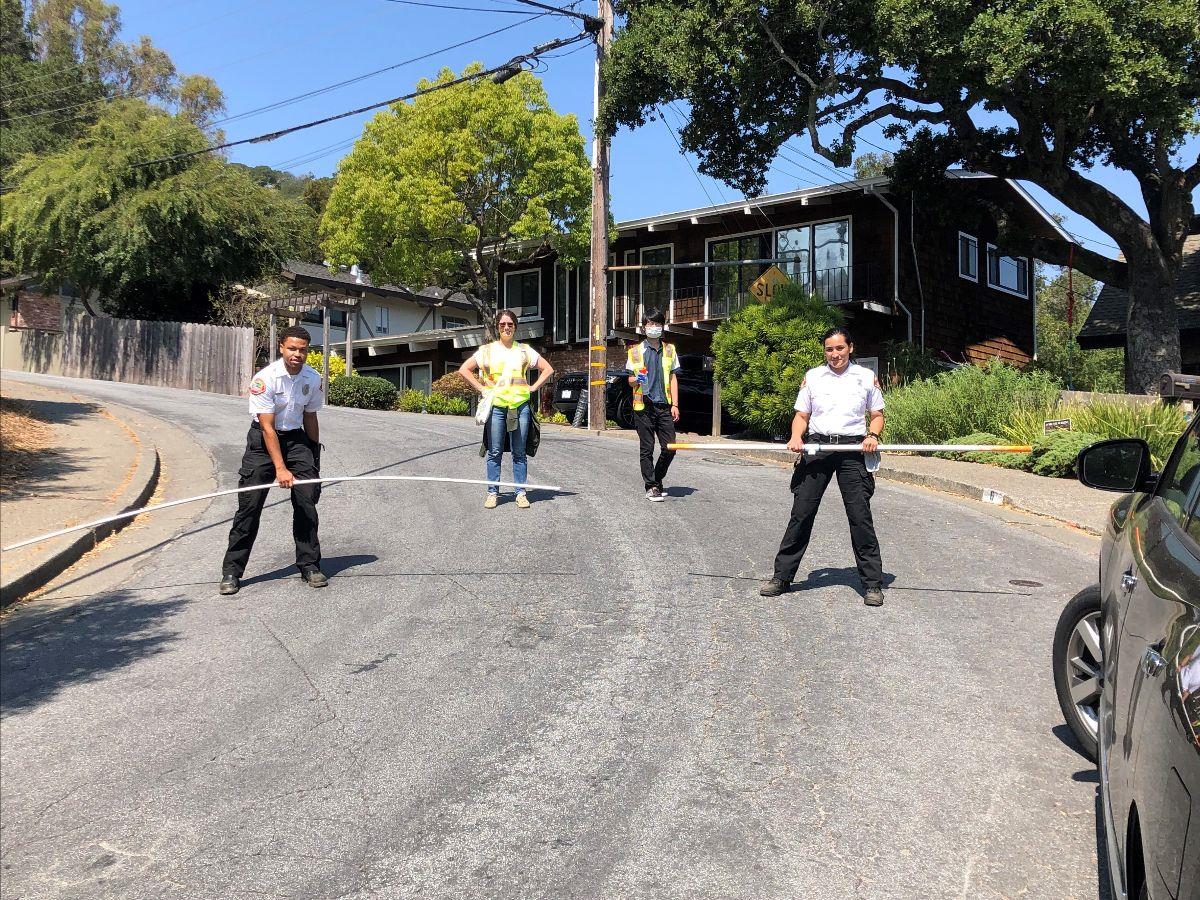 Spotlight Photo
Staff members from Fire and Public Works have completed walking all the streets in the Lincoln Hill neighborhood to identify designated parking boxes to help make San Rafael more fire safe. Pictured are Vegetation Management Specialists Mary Skramstad and Jesiah Goree, along with DPW Traffic Engineer Lauren Davini and DPW Intern Justin Lin.  
PHOTO CREDIT: Quinn Gardner, Emergency Operations Manager
Last Quiz Question
Congrats to Jay Workman for being the first to correctly respond to our mystery photo in the last Snapshot Quiz. The quiz featured a photo of B Street in San Rafael in 1915. Check out this historic article covering a kitchen fire that was pictured in the background of the mystery photo. Congratulations Jay and thanks for reading Snapshot!   
Scroll down for this week's quiz and be the first to answer.  
San Rafael City News
Transit Center Relocation – Draft Environmental Impact Report
The relocation of the Bettini Transit Center in downtown San Rafael is a significant, regional project that impacts thousands of daily riders and commuters. We have worked in coordination with the Golden Gate Bridge Highway & Transportation District (GGBHTD, Transportation Authority of Marin (TAM), Sonoma Marin Area Rail Transit (SMART), and Marin Transit over the past few years on alternative solutions for the new transit center which is proposed to be relocated due to the construction of the SMART line.  
On Monday evening, the San Rafael City Council will review the City's proposed comments and recommendations on the Draft Environmental Impact Report and preferred location of the new transit center.  
We want to know what you think! There is still time to send your comments or questions on the draft EIR to SRTC@goldengate.org by October 12, 2021. 
---
Citizen of the Year Award
In 2001, J. Michael Maloney, a Marin County resident, established an endowment with the Marin Community Foundation in honor of former San Rafael Planning Commissioner Dick O'Brien to fund an annual Citizen of the Year award. The intent of this award is to recognize a San Rafael community member who has made exceptional contributions to the City. In addition to a $2,500 cash award from the Marin Community Foundation, the annual recipient is recognized at a City Council meeting and at the annual State of the City dinner. On Monday evening, the City Council will present a Resolution of Appreciation to the Citizen of the Year recipient. Who do you think it will be? 
If you know someone who you think should be recognized as a future Citizen of the Year, review the eligibility criteria and complete a nomination form on our website. 
---
National Disability Employment Awareness Month
On Monday evening, the City Council will present a proclamation recognizing October as National Disability Employment Awareness Month. National Disability Employment Awareness Month highlights the importance of ensuring that people with disabilities have full access to employment and community involvement during the national recovery from the COVID-19 pandemic. October is the month to celebrate the contributions of people with disabilities in our workplaces and economy.  
---
101 NB Full Weekend Off-Ramp Closure October 22-25
The California Department of Transportation (Caltrans) will be fully closing the 101 NB Central San Rafael off-ramp for the 101 NB Off-Ramp Bridge Replacement project. The closure will start on Friday, October 22 at 10 pm and reopen on Monday, October 25 at 5 am. During this closure Caltrans will be constructing the approach slabs for the new bridge, roadway excavation and installation, pavement striping, and installation of concrete barriers. 
Please familiarize yourself  with the roadway detours that will be in place during the closure. Motorists are advised to drive with caution and follow all posted directional signs. Residents and businesses may temporarily experience increased noise levels during this operation. 
Additionally, on Monday evening, Caltrans will make a special presentation on the October 22nd closure during the City Council meeting. Tune in to learn more about this project's progress! 
---
Community Engagement Status Report
Local government thrives when all constituents are engaged. It is vital to the San Rafael City Council and staff that all residents and businesses have an opportunity to view and provide feedback on community issues. During the June 21, 2021 City Council meeting, Mayor Kate highlighted a number of factors that have evolved in recent years, including district based elections, increasing use of technology, and issues pertaining to racial and social equity. These evolving factors have yielded a review of our current engagement practices. On Monday evening, the City Council will hear an informational update that identifies goals and milestones to improve inclusive resident engagement. 
---
Traffic Mitigation Fee
Traffic mitigation fees help fund citywide traffic improvements and have been implemented in San Rafael since the 1980s. Upcoming, significant transportation infrastructure improvements have raised awareness that these fees should be adjusted for inflation (which has not occurred in 17 years).  On Monday evening, the City Council will review a report that highlights and recommends options to gradually increase Traffic Mitigation Fees over time to accommodate the increasing cost of delivering needed transportation improvements.  
---
New Water Use Limits & Penalties Coming December 1
st
Marin Water will implement new water use restrictions beginning December 1, 2021. Because Marin Water uses a two-month billing cycle, customers will begin seeing penalties on their February bills.  
Looking for ways to save water? Marin Water has partnered with the County of Marin to open a recycled water filling station on Armory Drive here in San Rafael! Marin Water customers are asked to bring their own container to the filling station that can hold at least 5 gallons. The filling station is open Mondays, Wednesdays and Fridays from 10 a.m. – 2 p.m. through the fall. Days and hours of operation may be adjusted depending on demand. 
There are also a number of other rebates and programs available to help customers save money on lawn replacement, graywater systems, high-efficiency toilets, and more. 
---
Fire Prevention Week
Fire Prevention Week is October 3-9, 2021! This year's Fire Prevention Week is focused on "the sounds of fire safety" and aims to educate everyone about the different sounds the smoke and carbon monoxide alarms make. Recognizing an alarm, whether it's a chirp or a beep, is critical to know what type of action needs to be taken next. On Monday evening, the City Council will recognize the week of October 3rd-9th as Fire Prevention Week.  
---
Roadside Vegetation Clearance Beginning October 11
th
Starting October 11th, the City's contractor, West Coast Arborists, Inc., will perform roadside clearance in the West End and Gerstle Park neighborhood. Towards the end of October and beginning of November, the contractor will continue clearance work in the Bret Harte, Picnic Valley, and Fairhills neighborhoods. 
The vegetation work, which is entirely funded by Measure C, will include work alongside and overhead of the roadway. The focus will be removing branches, thinning, and removing vegetation. The purpose of the project is to improve the safety of San Rafael roadways for routine use, emergency access, and emergency evacuation throughout neighborhoods, particularly in our hillsides. 
LEARN MORE: https://www.cityofsanrafael.org/extensive-roadside-vegetation-clearance-to-begin-october-11/ 
---
COVID-19 Updates
Booster Shots 
The County of Marin is coordinating with local health care providers, pharmacies, and others to begin administering the Pfizer-BioNTech booster shot. Pharmacies will be a primary access point for booster shots in Marin County. Chain pharmacies such as CVS, Lucky, Pharmaca, RiteAid, Safeway, and Walgreens plan to offer the booster shot in the coming days, and many locations are already accepting appointments. 
A Pfizer booster shot is recommended for the following groups of people who received the Pfizer COVID-19 vaccine series at least six months ago: 
Additionally, a special clinic for people 75 and older will be established at the Northgate Shopping Center in partnership between Safeway and Marin County. For more information about the COVID-19 vaccine, including locations offering a booster dose, visit GetVaccinatedMarin.org. 
Free COVID-19 Testing Kiosk in Novato 
Yesterday, a new Curative COVID-19 testing kiosk opened at the Novato Gymnastic Center in downtown Novato. The fully automated process will be free and results will be returned in two days or less. The testing kiosk will be open Tuesdays through Saturdays from noon to 6 p.m.  
Walk-up testing is available and welcomed, but appointments are preferred at cur.tv/gymnastics. 
---
Prescription Drug Takeback Month
Too often, unused prescription drugs find their way into the wrong hands. In Marin County alone, opioid overdoes rose 14% in 2021. Earlier this month, the Marin County Board of Supervisors proclaimed October 2021 as Prescription Drug Take Back Month. Drug drop-off sites are open year-round at Marin pharmacies and law enforcement offices. Free and anonymous drug take-back kiosks are open during the facility's regular hours of operation. Medications are accepted in their original containers or a sealed bag. A full list of the 30 locations is available on the RxSafe Marin website.   
---
Marin County Mails Property Tax Bills
The County of Marin mailed out 2021-22 property tax bills last week—91,854 of them! The first installment is due November 1st and must be paid on or before December 10th to avoid penalty, so keep an eye out for them in the mail. The payment deadline for the second installment is April 10, 2022.  
You can make you payments online at www.marincounty.org/taxbillonline or by phone at (800) 985-7277 using the tax collector's secure phone and internet portal, and there is no service fee when paying with an electronic check (e-check). 
Property Tax Postponement 
The State Controller's Office will begin accepting new Property Tax Postponement (PTP) applications beginning October 1. To be eligible for PTP, you must: 
be at least 62, or have a disability;

 

own and occupy the home as your primary place of residence;

 

have a total household income of $45,810 or less;

 
have at least 40% equity in the property; and

 

not have a reverse mortgage.

 
---
TALES OF THE CITY—Local City Intern Shines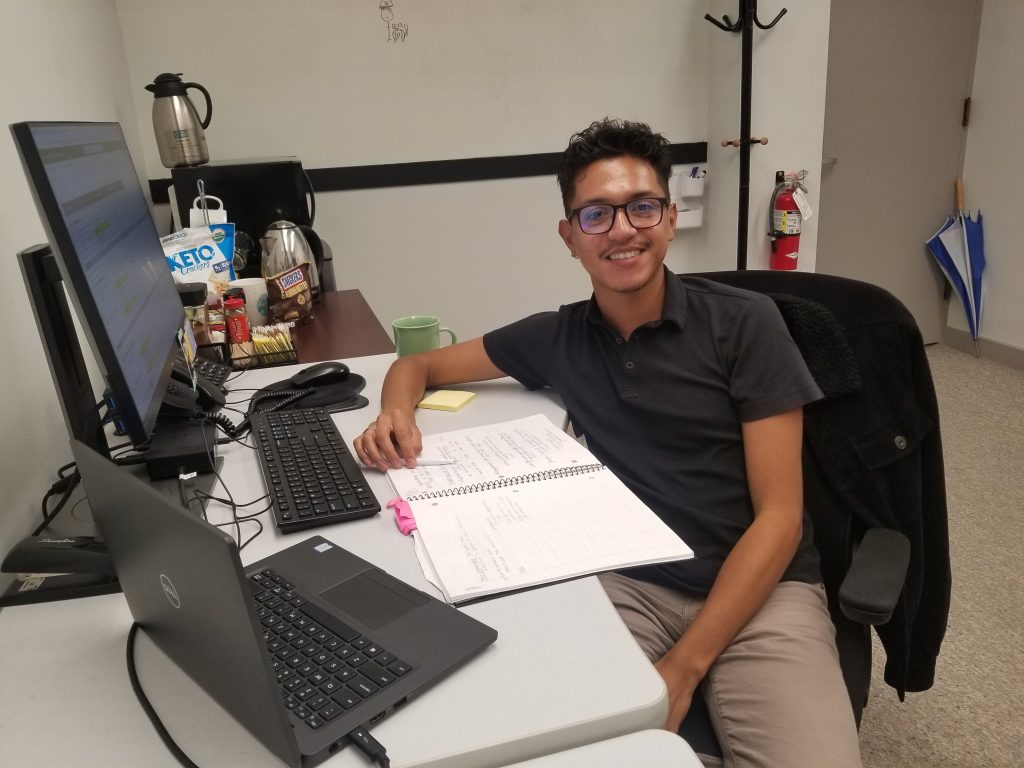 It's not every day that an intern hits the ground running, but that's exactly what Walter Gonzalez Valdez did when he started in the City Manager's Office earlier this year. Walter, a graduate of San Rafael High School, graduated from the University of California – San Diego this year with a B.S. in Political Science International Relations. Having grown up in San Rafael, Walter brings an exceptional knowledge and understanding of the community, one that we have relied on in multiple important projects. Walter has lead community engagement efforts in the Canal neighborhood, worked on public policy, and helped write grants for the City. He hopes to continue his education and is currently applying for graduate schools this fall, but until then, we are grateful that he remains an invaluable member of our team, and a great example of San Rafael's finest. 
---
AT THE LAST COUNCIL MEETING on September 20
th
Due to Executive Order N-29-20, we no longer offer an in-person meeting location for the community to attend public meetings. In an effort to provide remote community participation for our City Council meetings, we are piloting real-time virtual public comment on agenda items. 
At the September 20, 2021 regular City Council Meeting, the Council:   
Approved consent calendar items

 

Adopted resolution adopting a Climate Emergency Declaration and establishing a new long-term target for greenhouse gas reductions

 

Adopted a resolution approving and authorizing the Mayor to execute the City of San Rafael's final response to the 2019-2020 Marin County Civil Grand Jury Report Entitled, "Climate Change: How Will Marin Adapt?

 

Adopted amendments to fiscal-year 2020-2021 budget.

 

Heard a special presentation recognizing September as National Suicide Prevention and Awareness Month

 

Heard a special presentation recognizing September as National Hispanic Heritage Month

 

Passed an Ordinance to print for the Ground Lease to Centertown II, LP of 855 C Street

 
City Council meetings are held every first and third Monday of the month. City Council meetings that fall on a holiday are rescheduled for the following Tuesday. 
Events
Fleet Week
Fleet Week will return to the San Francisco waterfront for 2021, with this year's air shows taking place from noon to 4:00 p.m. on Friday, October 8, Saturday, October 9, and Sunday, October 10. Flights of the Blue Angels are scheduled for 3:00 to 4:00 p.m. each day. The Parade of Ships through the Golden Gate will begin at 11:00 a.m. on Friday, October 8. 
---
6
th
 Annual Bay Day Trail Challenge!
October 1st-31st | San Rafael Bay Trail
Save The Bay (and TRAC) invites you to join the 6th annual Bay Day Trail Challenge by walking, jogging or cycling 25 miles of the Bay Trail during the month of October. Everyone who completes the Challenge will be entered to win a grand prize $300 gift certificate from REI and a  one-year membership to AllTrails Pro. Ten runners up will receive a one- year membership to AllTrails Pro and AllTrails swag to help guide their next trail adventure. 
---
Senator McGuire Climate Crisis Town Hall
Wednesday, October 6th | 6:30 p.m.
Zoom 
This will be the first in a series of Town Halls hosted by Senator McGuire in the coming year on the Climate Crisis and California. The series will feature some of the top climate scientists and wildfire experts in the nation, and focus on the root causes of the climate crisis as well as the bold solutions that will be needed in the months and years to come. 
REGISTER: https://sd02.senate.ca.gov/climate-crisis-town-hall 
Community Drought Webinar
Monday, October 11th | 5:00 – 7:00 p.m.
Zoom 
Join Marin Water for a community conversation on all things drought on Monday, October 11th  from 5 – 7 p.m. They will provide an update on the status of our water supply and share information about water-saving rebates, incentives, and tips. Marin Water staff will be available to answer your questions and provide resources. 
REGISTER: https://zoom.us/meeting/register/tJcud-6trDovHtLm31wBvTW7WWSj3qtXNaW7 
Dining Under the Lights
Every Thursday & Friday | 5:00 p.m. to 9:00 p.m. 
Nice weather is expected through the weekend, so this is a great opportunity to get out and enjoy drinks and dinner at Dining Under the Lights!  Enjoy live music under twinkling lights draped all the way down Fourth Street. Snap a selfie or a photo of your food and tag us on Instagram @sanrafaelawesome! 
Please check with your favorite businesses for hours and if reservations are advised.  
---
Quiz
Can you guess how many pounds of trash were collected during the September 18th Clean-Up Day along the Shoreline Path?