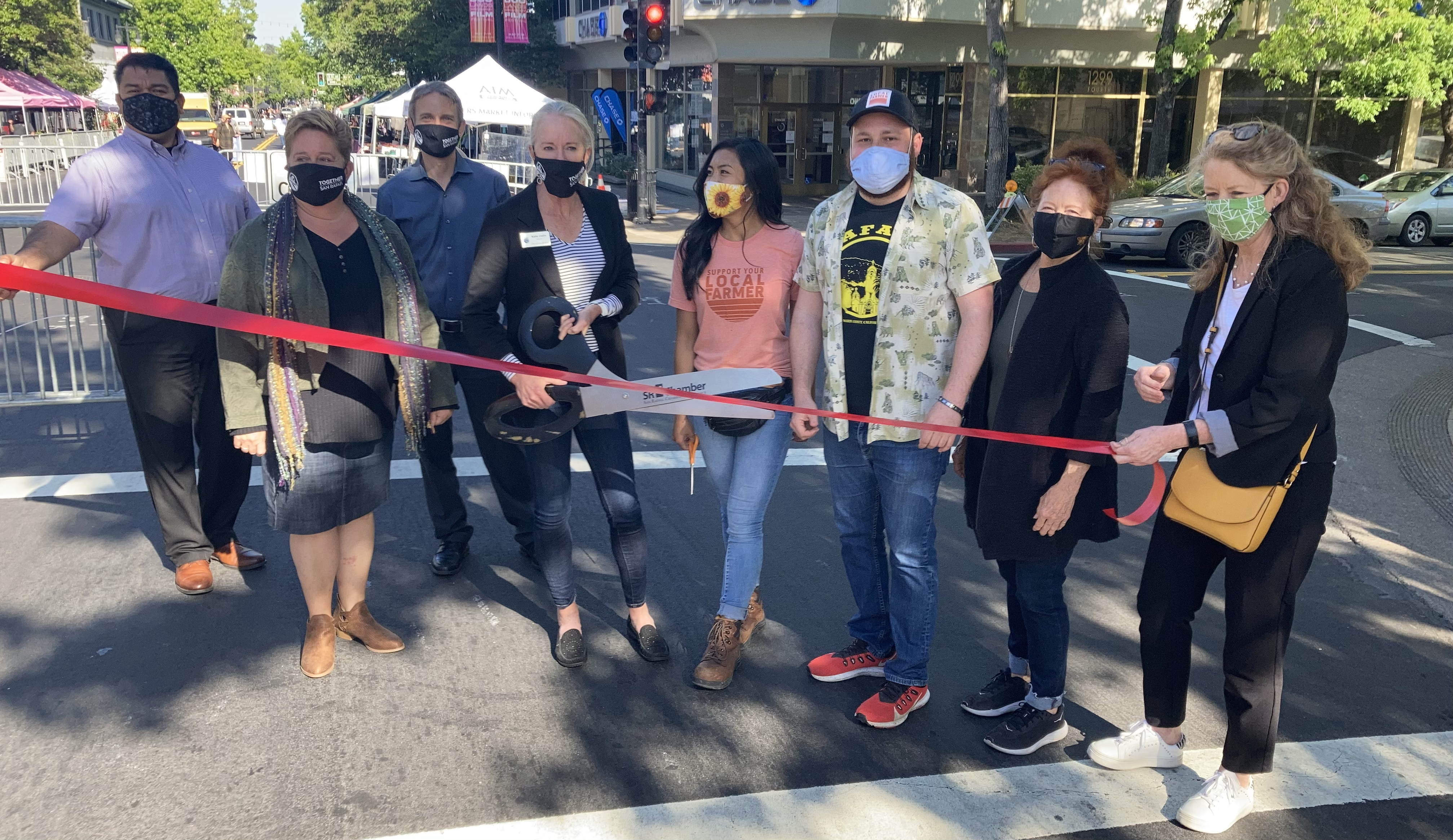 Mayor Kate cuts the ribbon on this year's San Rafael Summer Farmers' Market which continues on Thursday evenings on Fourth Street through the summer. Mayor Kate is joined by Councilmember Kertz, and representatives of the Agricultural Institute of Marin, Chamber of Commerce, Business Improvement District, and me. 
Photo Credit: Mike Wolpert 
Last Quiz Question
Congrats to Joseph Cillo for being the first to correctly respond to our mystery photo in the last Snapshot Quiz. The photo featured was of the temporary San Francisco Opera stage at Marin Center. Congratulations Joseph and thanks for reading Snapshot!   
Scroll down for this week's quiz and be the first to answer.  
San Rafael City News
San 

Rafae

l Makes Progress on Greenhouse Gas Reduction and Outlines

 Priority Plan for Sustainability

 Initiatives
While the attention of the world has been focused on coronavirus in the past year the climate crisis has not gone away. The City Council has made sustainability and our response to climate change a priority focus area with the aim of reducing greenhouse gas emissions while mitigating and adapting to climate change. By 2019, the City of San Rafael had a 27% reduction in greenhouse gas (GHG) emissions from 2005 levels, and a 14% reduction from 1990 levels. On Monday, the Council will hear an update on the City's greenhouse gas inventory and review priority initiatives that aim to continue the drawdown of emissions citywide. Join us to hear more about our planned sustainability actions and let us know what you think.
---
Public Works Week – 

Recognizing the Team that Maintains 

Our Parks, Streets

, and Drains 
Sometimes, its easy to take for granted when things just work. When we drive, bike, or walk down the street; when rains and tides surge; or when we watch children play in a park; our Public Works team is behind the scenes to make it all work effortlessly. In celebration of Public Works week, May 16 – 22, the City Council will recognize the hard work of the team that protects our health, safety, comfort, and quality of life.
---
Economic Development Symposium
Last week, Mayor Kate Colin and San Anselmo Mayor Brian Colbert, co-chairs of the MCCMC Economic Recovery Committee, hosted an economic development symposium on "Collaborative City-Making and Restaurant Trends." This was the first of a series of symposiums that will take place throughout the year. This one was very interesting regarding post-COVID "Marin Economy 2.0." 
---
Vacancies on the Marin Women's Commission
Passionate about advancing women's equality and empowerment? You might be the right candidate for a seat on the Marin Women's Commission (MWC). The commission envisions "a diverse, fair and equitable Marin, where all women and children have the resources to live happy healthy and productive lives." The Commission advises the Board of Supervisors, residents as well as County, State, and Federal officials concerning matters related to discrimination against women and the violation of women's rights.
---
Marin Municipal Water District 

Adds Additional Restrictions to Reduce Water 

Use
Last week, the Marin Municipal Water District (MMWD) added additional water reduction measures in response to drought conditions in the County.  The goal of the mandatory restriction is to achieve a 40 percent reduction in overall water use districtwide.   
Limit spray irrigation to no more than two days per week.

 

Limit drip irrigation to no more than three days per week.

 

Covers are required for all pools and spas to reduce evaporation.

 
If you see water waste, let MMWD know. You can report water waste using this online form, email Conservation@MarinWater.org or call 415.945.1523. 
---
FIRESafe

 Challenge: 

Seven

 Days to a Fire Safe Home
With the return of drought and dry, windy weather, fire season is starting early this year. Its never too soon to be prepared and know what to do before, during, and after a wildfire. FIRESafe Marin has a collection of resources to help residents and businesses take actions that could save lives, protect loved ones, and prevent homes and our community from burning. 
---
Overnight Northbound US-101 Lane/ Full Ramp Closures at Sir Francis Drake
Lane Closure: Thursday, May 13  |  2:30 AM to 7:00 AM
Ramp Closure: Monday, May 17  |  9:00 PM to Tuesday, May 18, 6:00 AM 
Caltrans will perform overnight lane and ramp closures of northbound US-101 off-ramp to Sir Francis Drake Boulevard, in Larkspur on Thursday, May 13 and Monday, May 17 as part of the bicycle/pedestrian bridge project connecting to the San Rafael/Richmond Bridge. Drivers are advised to consider alternate routes during these hours. 
---
Emergency Broadband Benefit Now Available
The Federal Communications Commission launched a temporary program to help families and households struggling to afford internet service during the COVID-19 pandemic. The Emergency Broadband Benefit provides a discount of up to $50 per month toward broadband service for eligible households and up to $75 per month for households on qualifying Tribal lands. Eligible households can also receive a one-time discount of up to $100 to purchase a laptop, desktop computer, or tablet from participating providers.  
Eligible households can enroll through a participating broadband provider or directly with the Universal Service Administrative Company using an online or mail in application. 
You can learn more about the benefit, including eligibility and enrollment information, by visiting www.fcc.gov/broadbandbenefit, or by calling 833-511-0311. 
---
TALES OF THE CITY
—
Community 
Volunteers and  San Rafael Fire Department 
Work to Reduce Fire Risk on Shoreline Trail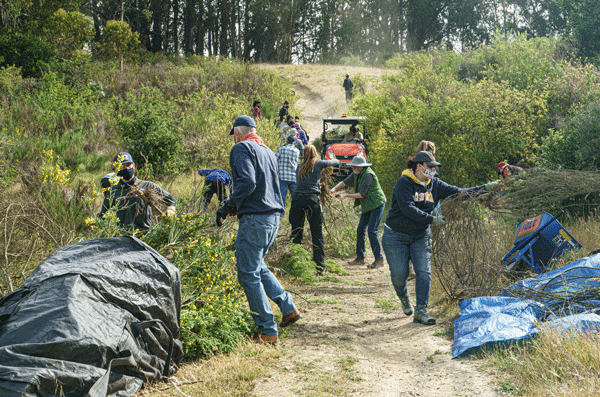 In celebration of Earth Day, the Point San Pedro Road Coalition lead an invasive weed pulling event in collaboration with the San Rafael Fire Department, the Center for Volunteer and Non-Profit Leadership (CVNL), and Friends of China Camp (FOCC). Volunteers removed invasive combustible fuels such as French and Scotch Broom to mitigate fire risks from both sides of the Shoreline Trail. Volunteers continued their way up the Shoreline Trail from Biscayne Drive, eventually meeting up with FOCC volunteers at the State Park boundary which runs through Peacock Court HOA open space and China Camp State Park. 
Interested in organizing an event like this for your neighborhood? The San Rafael Fire Department is here to support all volunteer events that reduce wildfire risk through vegetation removal! 
---
OVERVIEW OF 
LAST COUNCIL MEETING
on May 3rd
Due to Executive Order N-29-20, we can no longer offer an in-person meeting location for the community to attend public meetings. We are offering two remote ways to participate: watching on YouTube or calling in from your phone.  
At the May 3, 2021 regular City Council Meeting, the Council:   
Approved consent calendar items.

 

Adopted a Resolution approving the first anniversary annual report for the Executed Development Agreement

 with BioMarin

 (Ordinance 1982).

 

Passed an Ordinance approving Marin History Museum's lease of Boyd Gate House at 1125 B Street, San Rafael. 

 

Adopted a Resolution approving the Measure A Work Plan for Proposed Expenditure of Measure A Funds for July 1, 2021 – June 30, 2022; 

and accepted a 

Report on

 San Rafael's

 Preliminary Three-Year Capital Improvement Program

.

 

Adopted a resolution authorizing Bolt Mobility to operate shared electric bicycles within City limits

 and authorizing the City Manager to implement a Regional Bike Share Program.

 

Adopted a Resolution accepting

 a report on

 the Third Street Rehabilitation Project and 

d

irecting 

s

taff to 

r

equest 

c

onstruction 

f

unding from the Transportation Authority of Marin

.

 
City Council meetings are held every first and third Monday of the month. City Council meetings that fall on a holiday are rescheduled for the following Tuesday. 
---
EVENTS
Prepare for a Wildfire with the California Coastal Conservancy
Monday, May 17  |  12:00 p.m.
In 2021 alone, the State of California has invested $1 billion in wildfire prevention and preparedness. On Monday May 17 at noon, join Senator Mike McGuire and the California Coastal Conservatory for a meeting on the Conservancy's role on wildfire prevention and the millions they'll be funding in wildfire prevention grants (dead and dying tree removal, vegetation management around communities, firebreaks and more).  
Ask questions in advance and register for the meeting in advance! 
---
Bridging the Digital Divide in a Post-Pandemic Marin
Friday, May 21  |  11:30 a.m. – 12:30 p.m.

On Friday, May 21st from 11:30 a.m. – 12:30 p.m., San Rafael will be co-sponsoring a virtual panel discussion with Canal Alliance, Digital Marin, and other community partners to discuss solving the digital divide. Panelists will cover the work of Digital Marin, internet service provider competition in Marin and servicing low income communities, and how other rural cities have taken on this challenge. 
The event will be streamed bilingually, and audience members will be able to ask questions in real time—don't miss it!
---
San Rafael Summer Market
Every Thursday  |  5:00 p.m. to 8:00 p.m. 
Take a stroll down Fourth Street through San Rafael's Summer Farmers' Market every Thursday from 5:00 p.m. to 8:00 p.m. between B Street & D Street. New and returning vendors will be selling seasonal fresh fruits and vegetables, honey, wine, baked goods, flowers, cured meats, and so much more.   
Shop local at the farmers' market and then enjoy a meal at participating restaurants through Dining under the Lights.  
---
Dine Under the Lights

 Every Thursday & Friday
Treat yourself and support our local businesses! Enjoy 50+ participating restaurants, cafes, and bars with on-street alfresco dining under the sparkling lights in Downtown San Rafael through the West End Village! Make San Rafael your GO-TO spot on Thursdays & Fridays! Please check with your favorite businesses for hours and if reservations are advised. Please remember to wear your mask and respect others' space. 
---
QUIZ
What's being built here?