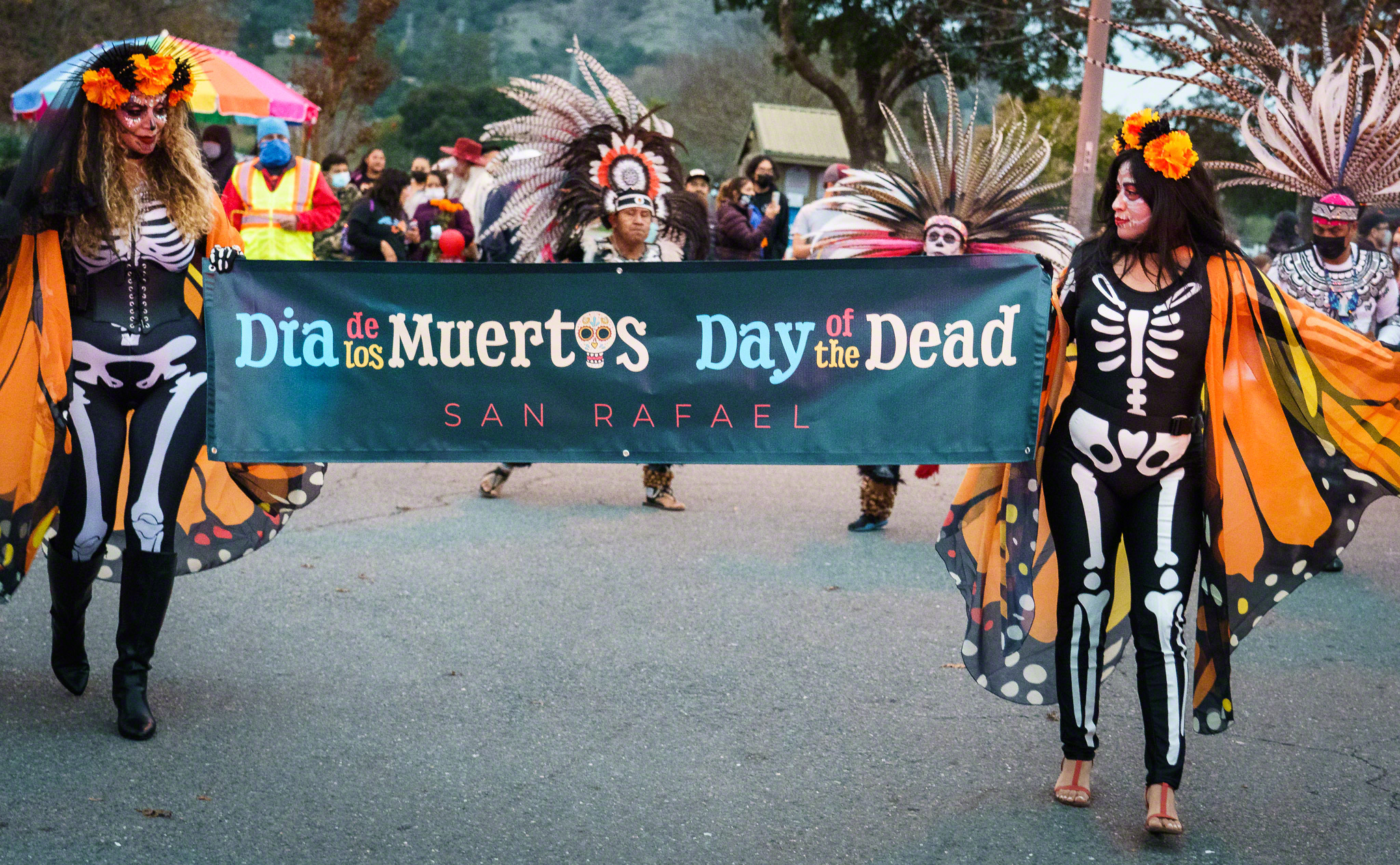 Spotlight Photo
Walking procession for Día de los Muertos celebration on Saturday, November 6 in the Canal neighborhood. 
PHOTO CREDIT: Doug Kaye, probonophoto.org 
Last Quiz Question
Congrats to Kevin Smead for being the first to correctly respond to our mystery photo in the last Snapshot Quiz! The picture was of the Turtleback Hill Trail in China Camp. Did you know that China Camp has 15 miles of multi-use trails? Check out Friends of China Camp website for things to do and get exploring! Congratulations Kevin and thanks for reading Snapshot! 
Scroll down for this week's quiz and be the first to answer.  
San Rafael City News
2021-2022 City Council Redistricting Process Continues
Since transitioning to City Council elections by district in April 2018, the City is now required to redraw district lines following the census every ten years, a process known as redistricting. On Monday evening, the City Council will hear an informational report with demographic recommendations for each of the City's four districts. The report will take place about 7:30pm and is a public hearing. You are invited to share your thoughts on the current boundaries and what changes you would like to see, if any. There will be additional public hearings in the first few months of 2022 as the City Council needs to adopt a redistricting plan by April 2022.  
---
Accessory Dwelling Unit Ordinance
Due to rising costs and demands of housing in the Bay Area and statewide, many cities have adopted an Accessory Dwelling Unit (ADU) ordinance to guide local policies on these smaller housing units. Also referred to as "granny flats" or "in law units," ADUs have been recognized by public and industry housing experts as an affordable option to increase the housing supply in our community to meet our growing demands. ADUs can take the form of a converted garage or a new structure that includes its own separate entryway, bathroom and kitchen. The City of San Rafael's Accessory Dwelling Unit Ordinance will update the previously approved Emergency ADU ordinance that the City Council passed at the October 18th City Council meeting.    
---
United Against Hate Week officially arrives November 14 – 21
To commemorate our City's commitment to fighting hate, discrimination and implicit bias, City Council has passed a 'United Against Hate Week' proclamation that kicks off this week across the City. During the week of November 14 – 21, community members will begin to see banners and posters throughout our City that reaffirm our commitment to United Against Hate. See our events section below for this month's virtual book club, which includes a book inspired by the theme "United Against Hate." 
---
Council Recognizes Native American Heritage Month
This Monday, the San Rafael Council recognizes Native American Heritage Month. In 1990 President George H. W. Bush approved a joint resolution designating November 1990 "National American Indian Heritage Month." Several parks and museums in Marin tell the story of native peoples of the region whose history stretches back in time for thousands of years.
---
Partial Northbound 101 Off-Ramp Evening Lane & Ramp Closures
Starting last night, November 9th, the California Department of Transportation (Caltrans) will conduct lane and full ramp closures through Saturday, November 13th at the Central San Rafael off-ramp from northbound US 101. The ramp lane closures are from 9:00 p.m. to 7:00 a.m., and full ramp closures are from 11:00 p.m. to 6:00 a.m. Please plan your routes accordingly, drive with caution and follow all traffic directional signs. Please keep in mind, these dates and times are subject to change and is dependent on weather conditions.  
For 24/7 traffic updates, follow 511.org. For real-time traffic, visit the Caltrans QuickMap. For questions and inquiries, please contact Caltrans Branch Chief, RocQuel Johnson at caltrans_d4@dot.ca.gov or (510) 501-0446.  
---
Be Prepared for More Storms and Potential Flooding
When you hear on the radio or TV that there is a "Flood Watch" or a "Flood Warning" it may be too late to begin preparing for the high water. Please prepare for the possibility of flooding ahead of time by raking leaves around your home, getting sandbags before it starts raining, and signing up for emergency alerts to stay in the know. Learn about local resources for storm preparedness, including sandbag locations in San Rafael, on our Storm Readiness and Response page. 
Visit Marin County's Emergency Portal to learn more about stream gauges, king tides in our area, and how to prevent mold or deal with it once it appears.  
---
Update on Homelessness in San Rafael + Clothing Donation Drive!
The City of San Rafael continues to successfully operate the temporary Service Support Area (SSA) for those experiencing homelessness. The rain has certainly had an effect on the SSA, but the City and local partners have been quick to help keep the area dry. City staff are assisting by building platforms to keep tents elevated and out of puddles with lumber donated by Golden State Lumber, re-routing drainage, and providing plastic bins to keep individual's personal belongings from getting damaged by rain.  
"Clothes & Cards" Donation Drive  
The "Clothes and Cards" Donation Drive is a great opportunity to donate items to individuals experiencing homelessness. The drive begins November 15th and runs through December 31st. Donations being accepted include: 
Gloves

 

Hats

 

Long Underwear (new in package)

 

Gift Cards (for food vendors only) – Drop of 

only

 at Police Headquarters at 1375 5

th

 St.

 
Items can be dropped off at 
**Please note, no items are to be dropped off at the current SSA. Items will NOT be accepted.  
---
COVID Updates
New Mask Guidelines 
On November 1st, Marin County lifted the local indoor mask mandate, which required everyone to wear face coverings in indoor public places, regardless of vaccination status. 
With the removal of the mask mandate, Marin is now following California masking guidance, which requires those who are unvaccinated or not fully vaccinated to mask in all indoor public settings. California masking guidance also requires everyone, regardless of vaccination status, to wear a mask in the following indoor settings: 
Public transit

 

Hospitals

 

Long-term care facilities

 

Homeless shelters

 

Indoors in K-12 schools, childcare, and other youth settings

 
Additionally, businesses reserve the right to require visitors to wear masks. 
Vaccinations for Ages 5-11 
Marin County children ages 5-11 are now eligible to receive the Pfizer COVID-19 vaccine, following confirmation from Governor Gavin Newsom on November 3rd. Children 5-11 will receive one-third the dose that adolescents and adults receive. The pediatric vaccine comes in different vials and packaging than the adult version, including smaller needles. Children 5-11 will receive two doses, three weeks apart, just like adolescents and adults.  
This follows recommendations by the FDA, CDC, Western States Scientific Safety Review Workgroup, and the California Department of Public Health. 
Booster Shots 
Booster shots for people who received the Johnson & Johnson and Moderna COVID-19 vaccines are now available in Marin County, in addition to the already-available Pfizer vaccine boosters.
All people 18 or older who received the one-dose Johnson & Johnson vaccine at least two months ago are eligible for a booster shot.
For those who received two doses of the Moderna or Pfizer vaccine at least six months ago, the following groups are eligible for a booster shot: 
65 or older

 

18+ who live in long-term care settings

 

18+ who have underlying medical conditions

 

18+ who live or work in high-risk settings

 
The CDC has also allowed for "mixing and matching" COVID-19 vaccine booster doses.
---
Continue Conserving Despite the Rain
Can you believe all this rain we've been getting? October 2021 has been the wettest October in more than 130 years for Marin County. According to Marin Municipal Water District's (MMWD) data, their seven reservoirs in the Mount Tamalpais watershed increased from just 32% to nearly 50% of total capacity after a weekend of rain. Despite the rain, the drought is not nearly over.  Marin's mandatory water restrictions (aiming for a 40% reduction) remain in place and new penalties will be implemented December 1, 2021.  
Visit MMWD's website for ways to conserve water, rebates and programs, and the new water restrictions beginning next month.
---
City celebrates 33
rd
 annual Día de los Muertos event in Canal Neighborhood
On Saturday, November 6th, several local community organizations hosted a Día de los Muertos Celebration at the Albert J. Boro Community center. The festival included a viewing of 20 alters, art workshops and musical, cultural, and dance performances, followed by a walking procession (see Spotlight photo above).  A crowd favorite was a new feature, "Valentina" – a 12-foot tall la calavera who also posed for photos in front of the Center, and even took part in the walking procession! 
This incredible event culminated from several months of planning and preparation from staff and dedicated community members, who worked tirelessly to support the annual festivity that means so much to so many in our community. Read more about the event, our performers, and our sponsors, and be sure to mark your calendars for next year's Día de los Muertos festival! 
---
City Offices Closed in Honor of Veteran's Day
The City's administrative offices in City Hall, the San Rafael Public Library, and the City's community centers will be closed on Thursday, November 11th, in observance of the holiday, and will reopen on Friday, November 12th.
24-hour operations will remain in effect for the Police and Fire Departments.
---
TALES OF THE CITY—Police Department Heroic Seal Save goes Viral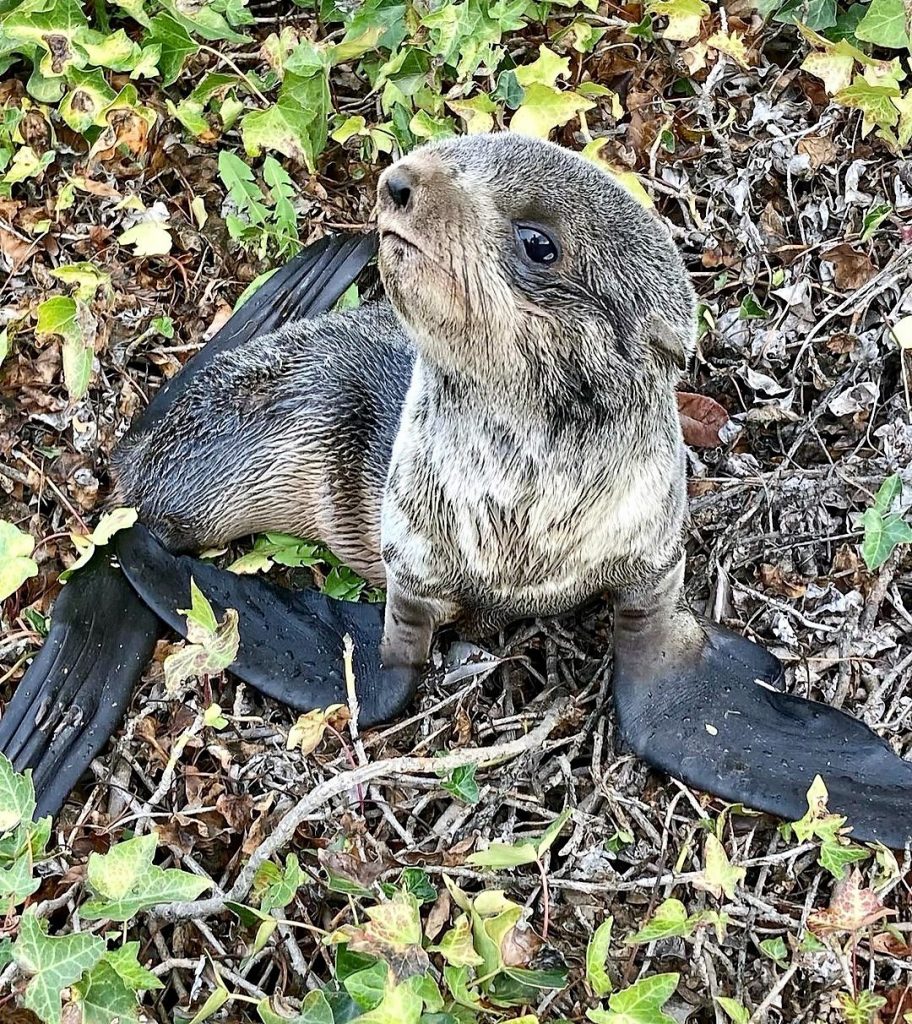 On Saturday, October 30th, members of our Police Department responded to a call from a community member about an otter in the road near East Francisco Boulevard and Grange Way. To their surprise, our officers found a malnourished young Northern Fur Seal pup! Northern Fur Seals are listed as a threatened species and are typically found 600 miles off the coast and spend life at sea. It's unknown how Ivy ended up at this location.  
With assistance from Marine Mammal Rescue, a veterinary team soon identified Ivy as a young male sea pup who had likely been separated from its mother. Ivy is now on a diet to restore his weight and hydration and will hopefully join his family in the open ocean once he's recovered. His rescue and recovery journey have gone viral – highlighting the great work of our city employees and local animal resources!  
Learn more about local animal humane resources at marinhumane.org. 
---
AT THE LAST COUNCIL MEETING on November 1st
Due to Assembly Bill 361, the City will continue to hold all public meetings remotely. Members of the community may comment and participate virtually  on all agenda items. 
At the November 1, 2021 regular City Council Meeting, the Council:   
Heard City Manager and Councilmember reports

 

Approved consent calendar items

 

Hear a Proclamation Supporting 

United Against Hate Week

 and 

Not in Our Town

 

Heard a special presentation by Marin County on Furthering Fair Housing 

 

Heard a special presentation by Caltrans on a Proposed Roundabout at the Freitas Parkway Off-Ramp

 
Heard an Informational Report on the Status and Scope of City of San Rafael Notice of Funding Availability for affordable housing projects

 

Passed a Resolution Approving a Memorandum of Understanding Pertaining to Compensation and Working Conditions for SEIU Local 1021 Child Care 

 
City Council meetings are held every first and third Monday of the month. City Council meetings that fall on a holiday are rescheduled for the following Tuesday. 
---
Events
Veterans' Day Event
Thursday, November 11th | 9:00 a.m. 
Marin Civic Center Parking Lot
Those who served in the armed forces will be honored in a small outdoor ceremony at Marin Center on Thursday, November 11th. The event will begin at 9:00 a.m. adjacent to the military memorials on Avenue of the Flags. Seating will be more separated than usual for visitors, who are recommended to be vaccinated, wear face coverings, and sit near members of their own household. This year's Veterans' Day ceremony is hosted by the Marin County United Veterans Council and the Marin County Veterans Service Office. 
---
United Against Hate Week Virtual Book Club
The City of San Rafael commits to standing against all forms of hate in our communities. United Against Hate brings together Bay Area communities every year to reaffirm that commitment. This month's Virtual Book Club will read All American Boys by Jason Reynolds & Brandon Kiely. The book tells the story of two teenage boys, Rashad Butler and Quinn Collins, as they handle racism. 
---
Outdoor Antique French Market
Sunday, November 14 | 9:00 a.m. – 3:00 p.m.
Marin County's popular antique market brings together shoppers, treasure hunters, collectors, decorators, and dozens of quality vendors with booths filled to the brim with great bargains and unique collectibles. Whether you are a passionate antique enthusiast, a collector of vintage oddities, or redecorating, it will not let you down. 
---
Quiz
From what pathway or trail was this marvelous sunset view taken?  Answer before anyone else!