Spotlight Photo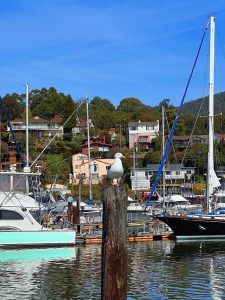 Sunbathing Seagull
Photo Credit: Walter Gonzalez, City Manager's Office
Last Quiz Question
Congrats to Kay Karchevski for being the first to answer our latest Snapshot Quiz. The photo featured was taken after City staff completed the Resilient Neighborhoods program. Learn more about the program and be part of the climate solution here.  Congrats Kay and thanks for reading Snapshot. Scroll down to see this edition's quiz and be the first to answer!
---
San Rafael City News
City of San Rafael to Name City Manager Cristine Alilovich
I am extremely pleased to announce that on Monday night, the City Council will be considering the agreement to appoint our next City Manager, Cristine Alilovich, effective June 1, 2023. Cristine has been the Assistant City Manager since summer 2015. She has served the City extremely well since that time and has tackled many of our most complicated projects and issues. She has also established strong and lasting relationships with local businesses, stakeholders, community-based organizations, residents, and employees of the City.
When I announced my retirement last fall, the City Council opened a nationwide recruitment conducted by Bob Murray and Associates to identify the best possible candidate to lead the city into the future. After examining a highly qualified candidate pool, Mayor Kate and the City Council unanimously agreed that the skills and experience that Cristine brings are the right fit at the right time. Cristine previously worked for the counties of Marin and Sonoma and in the private sector. She has a master's degree in public administration (MPA) from the University of Southern California and a bachelor's degree from Rutgers University. Read more about it here for the press release and here for the staff report.
---
Citywide Parks and Recreation Master Plan
At the Monday night Council meeting, the City Council will consider adopting the Citywide Parks & Recreation Master Plan (CPRMP). The CPRMP is the culmination of a year-long process that involved a thorough assessment of the City's current park and recreation system, extensive community engagement, and an evaluation of the needs of the community. The plan includes overarching goals, policies, and objectives of the CPRMP and a site-by-site analysis of the most critical infrastructure, amenity, and policy needs within San Rafael's park and recreation system.
The CPRMP was developed based on community input and system needs. The City Council provided feedback on the plan in February 2023, which has been incorporated into the final CPRMP. If adopted, the Citywide Parks and Recreation Master Plan will serve as the official guiding document for the development, maintenance, and management of San Rafael's parks and recreational facilities.
Read the proclamation Here
---
Paramedic Tax Rate for Fiscal Year 2023-24
At the Monday, April 17, City Council meeting, the City Council will consider an ordinance to amend the Paramedic Service Special Tax rates within the voter-approved limit for residential units in San Rafael. The proposed $4.00 per residential unit increase is to cover the projected expenses for the paramedic program for the Fiscal Year 2023-24. This proposed increase will provide additional revenue stability and support emergency medical services in San Rafael.
Read the Staff Report Here
---
Third Street Improvements  
During this week (April 10 – April 14):
Crews will continue removing curb ramps at the southeast corners of Third Street and E Street, D Street, and C Street. This work will require curb lane closure and no parking adjacent to the intersections.
Crews will continue constructing the new median islands on Second Street from West Street to G Street. The work will require a lane closure and traffic lane shift.
Crews will replace the sanitary sewer main on Ritter Street. This work will require a lane closure on Ritter Street.
IMPACTS:
Beginning April 17, 2023, the Crews will be replacing the sanitary sewer lateral on Third Street between Lincoln Avenue and Irwin Street. This work will be performed at night (7:00 pm to 6:00 am)
The stairway from Second Street to Jessup Street (south of Ida Street) is closed.
For the Lane Shift on Second Street, the posted speed limit is 25 mph. Drivers should be aware of changed conditions and be alert.
Traffic Controls (temporary signs, message boards, traffic cones, delineators, and detour signs) will be put in place to direct motorists through the work area.
Curb parking spaces will be marked "No Parking."
The daytime hours of work will be from 6 am to 6 pm, with lane closures from 6 am to 3 pm on Third Street and Second Street westbound. Lane closures will also be in effect from 9 am to 6 pm on Second Street eastbound.
CLICK HERE FOR AN INTERACTIVE MAP
VISIT THE THIRD STREET IMPROVEMENTS PROJECT WEBPAGE
---
TALES OF THE CITY—SAFE Team Launch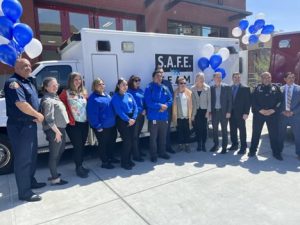 San Rafael has proudly announced the launch of the SAFE (Specialized Assistance for Everyone) Team, a new crisis response, prevention, and intervention program for the City's most vulnerable community members. In partnership with the Petaluma People Services Center, San Rafael joins the cities of Petaluma, Rohnert Park, and Cotati in implementing this innovative model for making a positive difference regarding such issues as mental health, substance abuse, and homelessness. The SAFE Team is made up of civilian first responders who will provide specialized assistance to those in need, relieving the burden on traditional emergency services and healthcare providers. San Rafael's official launch and ribbon-cutting ceremony took place on Wednesday, April 5th, at the San Rafael Public Safety Center Plaza. Police Chief David Spiller, Mayor Kate, and other City officials expressed enthusiasm for this new partnership and its potential to enhance services for the community.
How Can I Reach the SAFE Team?
Call (415) 485-SAFE, where​ an emergency dispatcher will answer and determine if your situation requires the SAFE team, first responders such as police, fire, or paramedics, or a combination of both.
---
At the Last Council Meeting on April 3, 2023
Beginning with the April 18, 2022, City Council meeting, the City Council has returned to in-person meetings combined with virtual real-time public comment.
At the April 3, regular City Council meeting, the Council:
Held open time for public expression.
Heard City Manager and Councilmember reports.
Approved the consent calendar.
Held a special presentation of Appreciation to Public Service Award Recipient, Melissa Prandi.
Accepted a report on Notice of Funding Availability (NOFA) for Affordable Housing.
Accepted a report on Countywide Fire Dispatch Changes.
City Council meetings are held every first and third Monday of the month. City Council meetings that fall on a holiday are rescheduled for the following Tuesday.
---
Events
Wyland National Mayor's Challenge for Water Conservation
Mayor Kate has signed on to the annual Wyland National Mayor's Challenge for Water Conservation again this year! Although we have had a very wet winter, it won't be long before we are in the dry summer season again and climate change over the years has made droughts more prevalent across our state. It benefits all of us to revisit our water use and keep up good conservation practices to help preserve our water supply. By adopting water conservation practices, we can all help ensure that we have enough for everyone's needs, especially during times of drought.
Join Mayor Kate and take the pledge HERE. Let's all do our part to conserve and keep our reservoirs full as long as possible!
---
Downtown Clean & Green
Friday, April 21, 10 am-12 pm
Join other awesome volunteers and business members in sprucing up downtown San Rafael for Earth Day! Volunteers will remove graffiti, polish up parking meters and sidewalk fixtures, pull spring weeds, beautify downtown intersections, and remove litter. Together, volunteers will help beautify the downtown corridor in partnership with the local businesses that make San Rafael such a wonderful place to live. Don't forget to Shop Local for Earth Day all week long! Volunteers can sign-up to participate here.
---
Earth Day Neighborhood Clean-ups
Saturday, April 22, 9 am- 12 pm
Celebrate Earth Day by beautifying our local neighborhoods! Several litter clean-ups are planned around San Rafael, and these events are great opportunities to connect with neighbors and enjoy the great outdoors while making our community cleaner and safer for all. Community members may join an existing clean-up or organize one of their own. So far, locations include:
Surf Sports 101
Shoreline Path behind Pickleweed Park
Sun Valley Neighborhood
For more information, click here.
---
HeadsUp Carnival
Saturday, April 29, 2023, 11:00 am-3:00 pm Davidson Middle School: 280 Woodland Avenue
The HeadsUp Carnival is back and better than ever. This annual event brings together all of the schools in the area for a day filled with fun and celebration. With a variety of exciting activities and attractions, there is something for everyone to enjoy. Come and cheer on the marching bands as they parade through the carnival, or groove along to the beat with dancing mascots. Kids will love getting their faces painted and indulging in delicious pupusas, while adults can relax and soak up the festive atmosphere. Best of all, admission is completely free, making it the perfect way to spend a Saturday with the whole family.
---
33rd Annual May Madness Car Show Classic Car Show & Parade
Saturday, May 6th, 2023, 12:00 noon – 6:00 pm
The May Madness Car Show is a beloved community tradition, and this year promises to be the best one yet. The action will be centered on Fourth Street, from Lincoln to D Street, where you'll find an incredible array of classic cars, hot rods, and custom vehicles on display. From vintage muscle cars to sleek sports cars, there's something for every car enthusiast to admire. But the excitement doesn't stop there. You won't want to miss the spectacle of these classic cars cruising through the heart of downtown San Rafael, parade starts at 5:00 pm.
---
Taste of San Rafael – State of the City Awards
May 10, 2023, 5:00 pm- 7:30 pm 
Hosted by the San Rafael Chamber of Commerce and the City of San Rafael, this event will take place on May 10, 2023, from 5:00 pm to 7:30 pm.
Guests will have the opportunity to savor the flavors of San Rafael's finest restaurants, wineries, and breweries, while mingling with local business owners and community leaders. We will also be announcing the 2023 Business of the Year honorees, including Small, Large, Downtown, and Green Business categories, and the City of San Rafael's Employee of the Year. This year, we are thrilled to be recognizing and celebrating the 2023 Public Service Award honoree, Melissa Prandi.
Don't miss out on this incredible event – and join us for a night of gourmet food, community spirit, and recognition of San Rafael's outstanding businesses and public servants.
---
Quiz
Where is this?