There has been a request for an All-Way Stop at the intersection of Professional Center Parkway and Channing Way (south) intersection to facilitate improved pedestrian crossings across Professional Center Parkway. The purpose of this letter is to ask the users of this intersection if they:
Support an All-Way Stop at Professional Center/Channing (south)
Do not support an All-Way Stop
Undecided about the All-Way Stop
https://www.surveymonkey.com/r/HH3D3ZX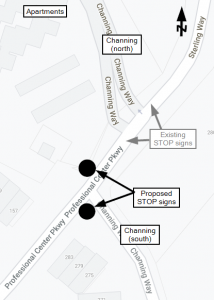 Public Works is asking residents in this area to take this on-line survey https://www.cityofsanrafael.org/traffic-issues/  or mail back a response to the address below by June 1, 2021.
The City appreciates your participation in this survey. If you have any additional questions or wish to discuss this with me further, please do not hesitate to reach out using this form https://www.cityofsanrafael.org/contact-public-works/ or calling (415) 485-3355.