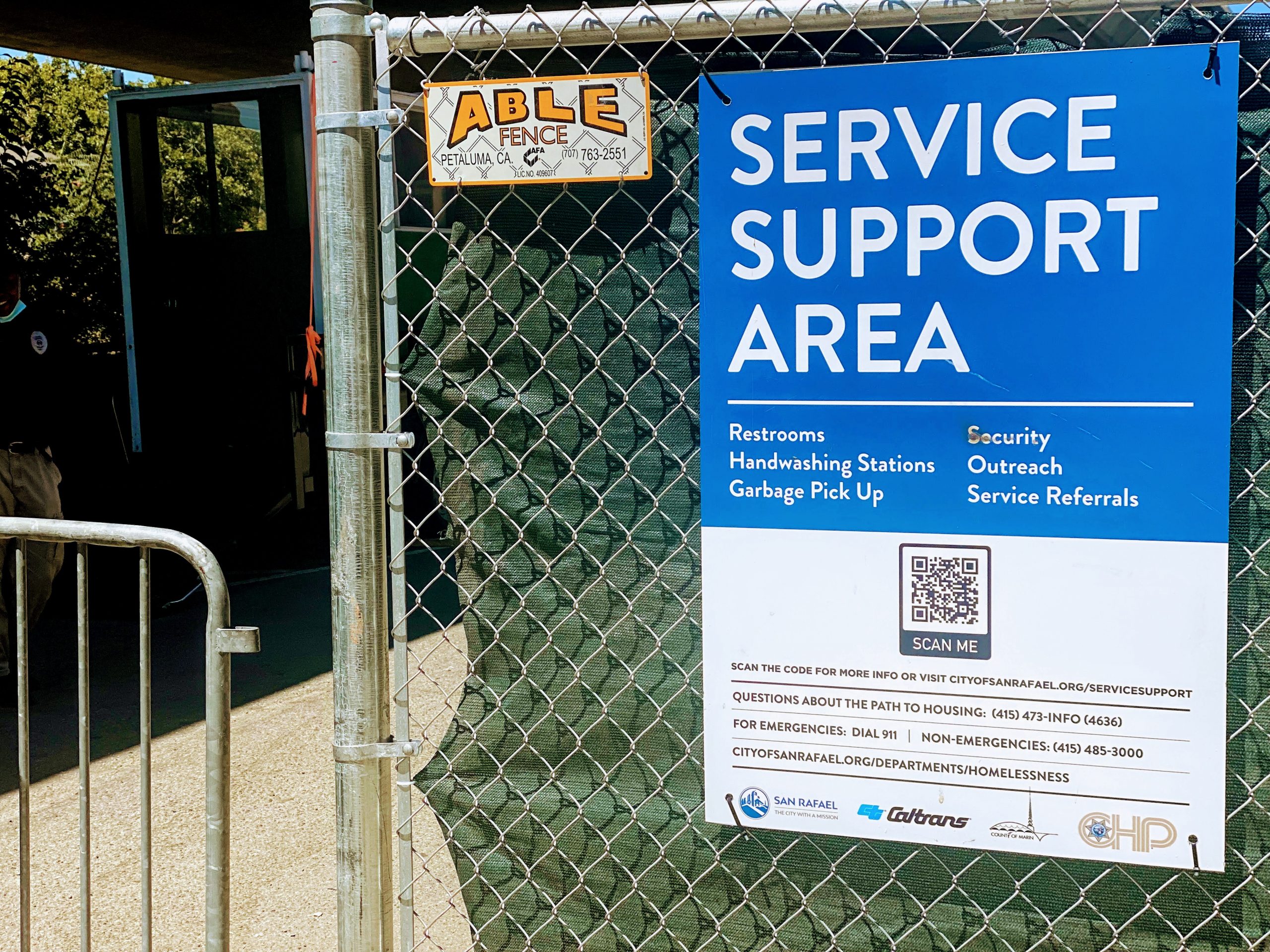 The City of San Rafael is pleased to announce expanded services for those experiencing homelessness. As part of the collaboration with Caltrans, the County of Marin, CHP, and multiple service organizations the city is providing a designated "service support area" that will launch Tuesday, July 6th. This designated space will provide security, restrooms, handwashing stations, garbage pick-up, regular outreach and service referrals, and other quality of life amenities. It will also allow for the continuing of work with local partners to identify permanent paths to housing.
Beginning in 2020 there has been a significant increase in encampment activity throughout the county, including in San Rafael. One of the largest encampments is currently located under the Central San Rafael 101 viaduct, in the park and ride area that is owned and managed by Caltrans.
Beginning July 6th, Caltrans will begin the process of consolidating the encampment activity under the viaduct while these supportive services remain in place. The Caltrans consolidation will be a phased approach, to allow for continued shelter, housing, outreach, and case management resources, either on or off-site.
For persons remaining in the area, these service support areas will be providing security, restrooms, garbage pickup, regular outreach and service referrals, and other quality of life amenities, all while continuing to identify permanent paths to housing.
San Rafael continues to be a countywide leader in the development of new housing options for people experiencing homelessness.  This includes:
City Council allocated $1.3M in funding to support the County's purchase of 3301 Kerner Boulevard through the State's Project Homekey initiative. (which will create 44 units of permanent supportive housing)
City Council authorized up to $260,000 in funding for additional social workers to help in housing placement and directed staff to continue to vet the idea of a safe sleeping pilot.
The County of Marin is leasing hotel rooms in San Rafael to provide interim shelter for people experiencing homelessness through the State's Project Roomkey initiative.
Read our Press Release about this new "service support area" and learn more about the immediate, short, and long terms plans have in place to support those experiencing homelessness.
Questions about the Support Service Area can be directed to Officer Kaitlin Maley at: 609@srpd.org or (415) 485-5063 ext 1609.