On Monday June 7th, the San Rafael City Council approved a set of new actions for how our community can continue to proactively address homelessness over the coming days, weeks, and months. From the Supreme Court upholding Martin v. Boise to the COVID-19 pandemic to the emergence of significant encampments in our community, the past 18 months have created many challenges that these actions are intended to help:
Immediate – Keep getting people into available shelter / housing units
Summer 2021 – Hire more social workers to help people get housed
Summer 2021 – Pilot a safe sleeping / camping program
2nd Half 2021 – Create even more housing units with new State funding
Immediate – Get People into Available Units
The City of San Rafael has been a countywide leader in the development of new housing options for people experiencing homelessness. In November, for example, the City Council allocated $1.3M in funding from the Affordable Housing Trust Fund to support the County's purchase of 3301 Kerner Boulevard through the State's Project Homekey initiative, which has created 44 units of interim housing. Additionally, the County of Marin is currently leasing hotel rooms in San Rafael to provide interim shelter for people experiencing homelessness through the State's Project Roomkey initiative.
The City is working closely with the County and local service providers to try to get more vulnerable people into these rooms, including advocating for an expansion of the Roomkey program.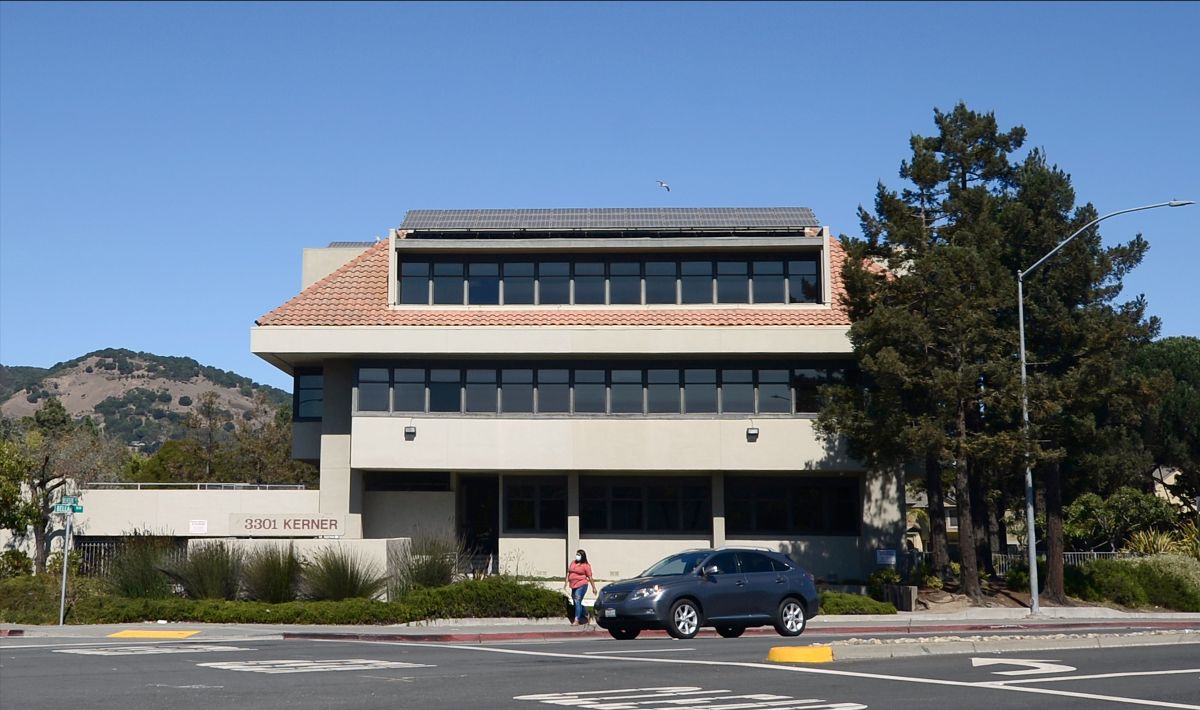 In November of 2019, the City of San Rafael contributed
over $1.3 million to support the purchase of 3301 Kerner for 44 units of
permanent supportive housing. (photo courtesy of Marin IJ)
Summer 2021 – Hire More Case Managers
One of the ironies of the last year, especially considering the emergence of large encampments such as the one under the Central San Rafael 101 Viaduct, is that since October of 2017, our local system of care has housed 339 people experiencing long-term, chronic homelessness. 94% of these people are still housed. This is a major accomplishment.
In response to an infusion of new federal housing subsidies to our community, on Monday night the San Rafael City Council voted 5-0 to allocate up to $260,000 in one-time stimulus monies to support the hiring of additional case managers (i.e. social workers who help people secure and maintain housing). Importantly, staff has been discussing a regional approach with every city and town in the county, and on Tuesday night, the Novato City Council also voted 5-0 to allocate up to $240,000 to this effort.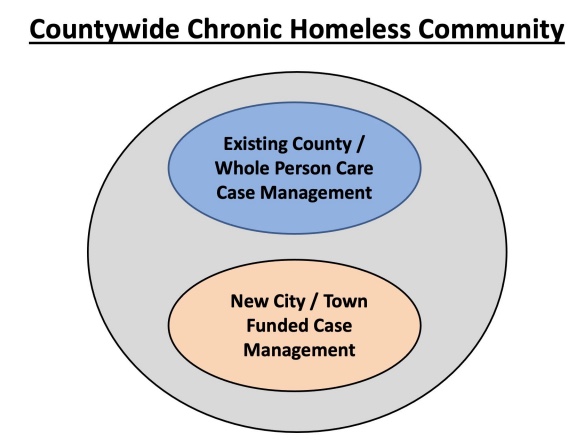 "City-funded Case Management" would dramatically accelerate our ability to house people experiencing chronic homelessness.
Summer 2021 – Pilot a Safe Sleeping Program
In San Rafael, we're finding that 90%+ of the people currently residing in large encampments are chronically homeless. The overwhelming majority of these individuals are long-time Marin residents (at least 70%), and ironically, being able to find people in the encampments has helped us accelerate the process for getting them housing and services. In the viaduct alone, of the approximately 40 people residing there, 25% have already gotten new case management, and 90% have gotten the COVID-19 vaccine.
At the same time, the health and safety conditions inside the encampments are not good for the residents, and they are not good for the surrounding neighbors and businesses, so on Monday night, the City Council directed staff to launch a pilot safe sleeping program.Communities throughout the state and country have been launching similar programs, which provide clean camping facilities, restrooms, and storage.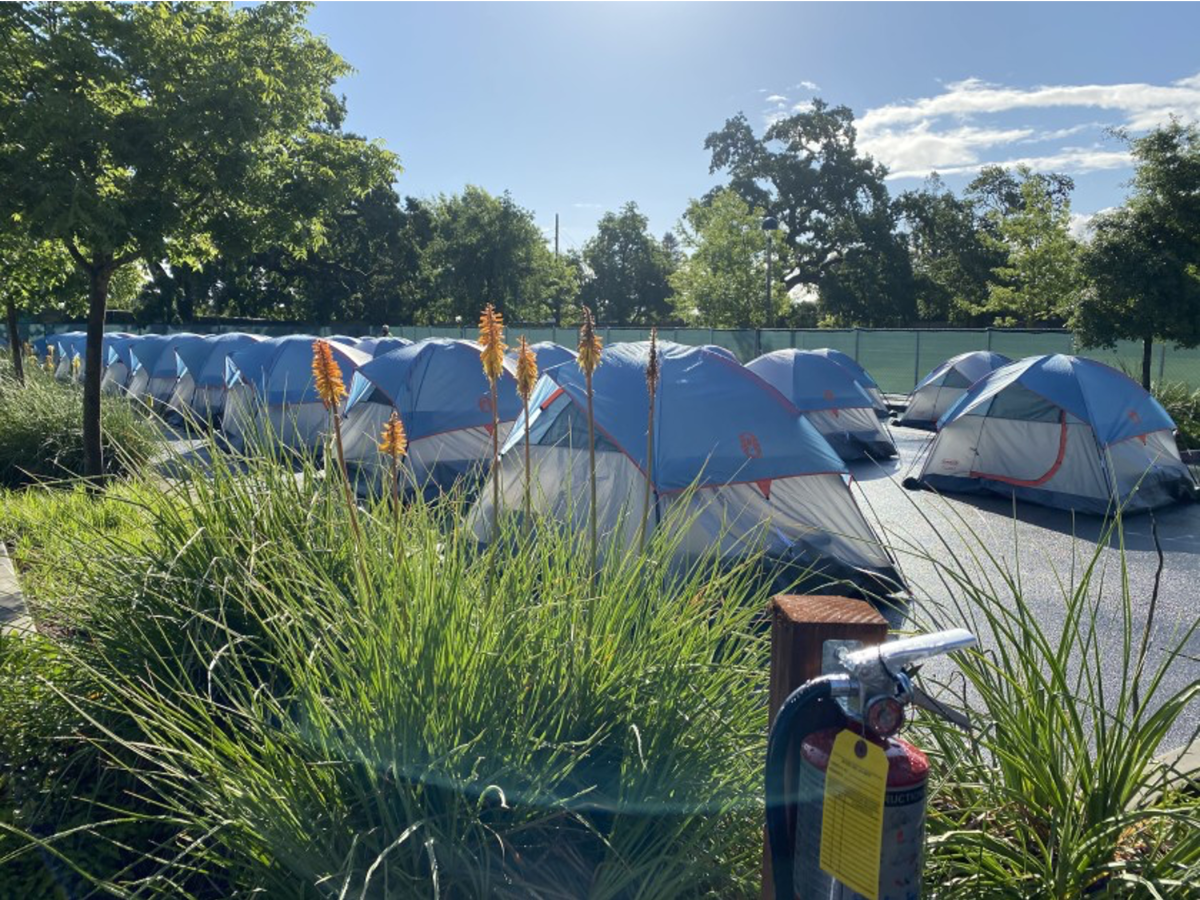 A safe camping program in Sonoma County (photo courtesy of the LA Times)
2nd Half 2021 – More Money, More Housing
The State of California is currently proposing historic levels of financial investment to help local communities address the homelessness crisis. Based on the State's FY21-22 May Budget Revise, local communities could see:
$2.75 billion for additional Homekey acquisitions
$1.75 billion to support shovel-ready affordable housing projects
$300 million for preservation of affordable housing units
$475 million to rapidly rehouse families
$150 million to help Project Roomkey participants secure housing
$50 million for an encampment strategy 
In Marin, Homekey 1.0 created 63 new units of housing. There is no reason that Homekey 2.0 could not create 100, 200, even 300 new units of housing. Given the expedited timing of Homekey and the requirement that units be occupied within 90 days of acquisition, even on an interim basis, Homekey 2.0 could create hundreds of new housing opportunities over the next 6-12 months.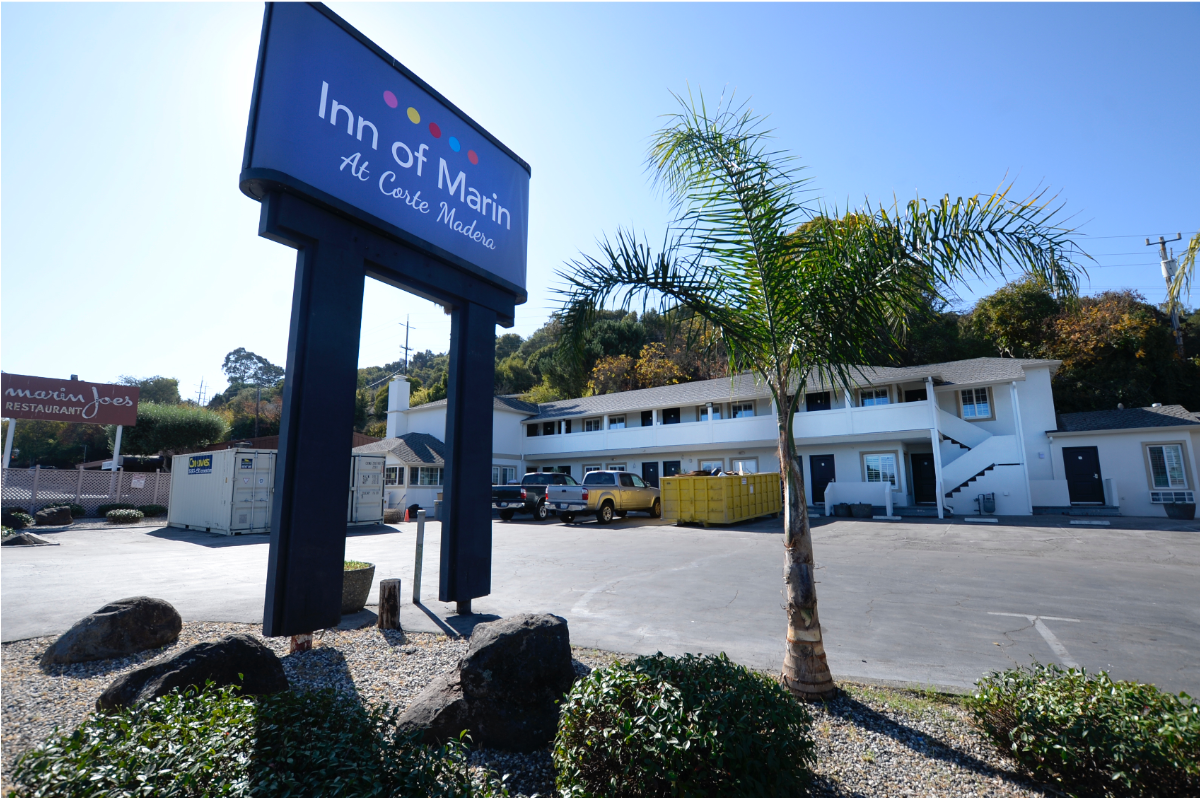 "The Casa Buena", Marin's other Homekey 1.0 projected. It created 19 new units in Corte Madera. (photo courtesy of the Marin IJ)
New Leadership at the City
Lastly, breaking the fourth wall, I am also writing to let you know that this is my final newsletter with the City. I started with the City of San Rafael in March of 2016 as a fixed-term employee, and in June of 2020, I transitioned to a one-year, part-time professional services contract, as my goal was to begin taking on new projects throughout the region, state, and country, leveraging everything we've learned here in San Rafael. Locally, you will likely still see me through my ongoing work with Opening Doors Marin, which is a public private partnership working to create more affordable housing.
It has truly been my honor to serve the San Rafael community, and I am incredibly proud of the strategies and programs we've implemented the last five years. The HOT Team, Coordinated Entry, mobile showers, job fairs, the City's COVID response, new renter protections, strengthened relationships with local service providers, strengthened relationships with the County and other cities, a lot of new housing, and new educational resources, the City is in a much stronger place than it was five years ago, and I am very confident about what the future holds, especially with the plan outlined above. 
The City is currently recruiting for a new Homeless Programs Manager, and if you're interested and passionate about this work, I would strongly encourage you to apply. San Rafael has been an amazing place to work, and thank you again to the community for such a wonderful experience.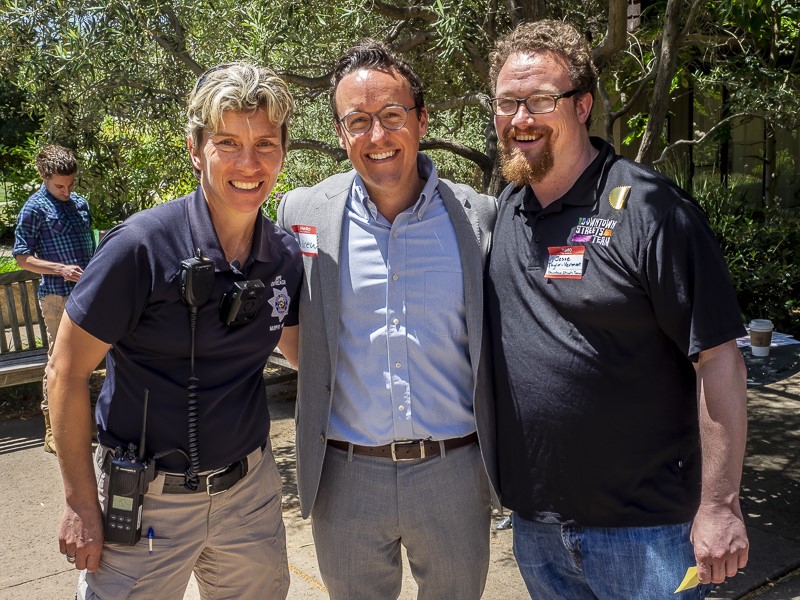 Andrew Hening is leaving his role with the City at the end of June 2021.