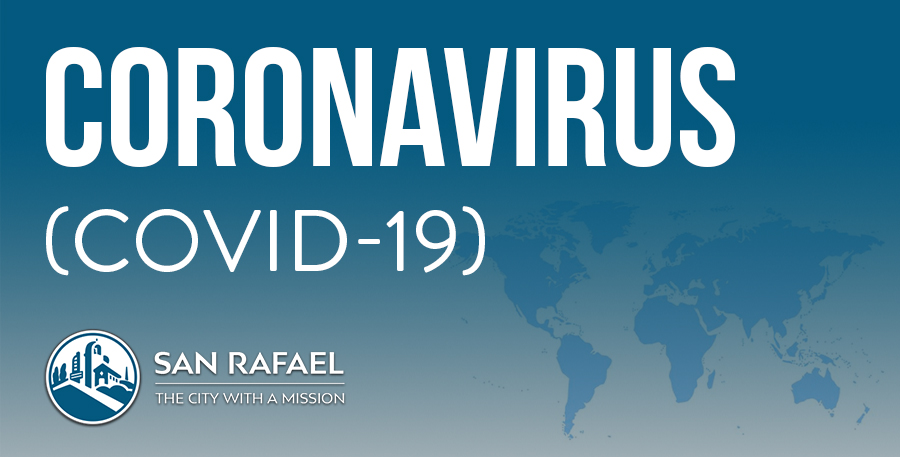 DESPLAZARSE HACIO ABAJO PARA ESPAÑOL
Staying healthy means more than washing your hands and social distancing. As we all cope with adjusting to sheltering-in-place it is important to remember self care and finds ways we can exercise our body, mind, and soul through this event.  Our Library and Recreation Department has set up a Virtual Recreation and Resource Center with a few ideas to help you stay active and stay connected.  
Library and Recreation staff are forming a working group that will be regularly updating our Virtual Library & Recreation Center to share activities and resources with our community throughout the shelter-in-place order.  Stay tuned by following the team on Facebook and/or Instagram.  
---
San Rafael

 City Council 

Holds its

 First 

Virtual

 

Council 

Meeting
On Monday, the San Rafael City Council held a virtual City Council meeting, allowing the Council to conduct the important business of government while protecting the health of the public, staff, and Councilmembers. Members of the public were asked to participate via commenting in YouTube Live or by virtually raising their hand on a conference line.   
The meeting had over 100 participants. Among other items, the Council heard an update on the City's response to COVID-19 and also approved Resolutions and Ordinances required for the BioMarin/Whistlestop development projects to move forward. The Council and staff are proud that we can continue to professionally carry out City business while also respecting the shelter-in-place order and social distancing.  
Our City Clerk and the Council will continue to learn from last night's meeting (our first ever YouTube Live City Council meeting) and work on improving these processes to increase participation opportunities during these challenging times. 
The City Council will continue meeting in this format for the duration of the shelter-in-place order. For more information on how to participate in these meetings visit the live commenting page on our website.
---
Board of Supervisors Meeting

 Highlights
This morning, Tuesday, March 24 during the Board of Supervisors meeting the Board heard a request for moratoriums on evictions during the COVID-19 emergency, as well as, a safety net relief fund in response to the COVID-19 emergency.  
Adopted: The moratorium on evictions during the COVID-19 emergency is intended to guard residents and business owners from the possibility of eviction due to the sudden loss of income as a result of the COVID-19 pandemic. The goal is to provide temporary protection to renters and commercial lease holders whose residency and businesses may be jeopardized by the loss of income as a result of the COOVID-19 pandemic. The adopted resolution will temporarily supplement the County's existing ordinance which limits the reasons why a landlord can end a residential tenancy. 
Appropriated: The County of Marin and the Marin Community Foundation partnered to create a $1 million dollar COVID-19 Response Fund to assist Marin's most vulnerable populations. Both partners contributed funds of $500,000 for safety net response efforts. The fund received the green light for appropriations to be allocated over the next two months to soften the social and economical impacts of the pandemic.  
---
Census 2020

 Has Officially Started
Social distancing is one of the ways to help your community, another is completing your census online! Census 2020 is our once-a-decade opportunity to count every person living in the United States. The 2020 count will shape how tax dollars are shared over the next decade until the next count occurs. Census numbers help guide how funding is distributed for schools, roads, and other public services in our local communities. Census enumerators (the people who help count us for the census) have an even harder job than normal due to the impacts of COVID-19 and social distancing orders, so if you are able, please complete it online.  
Every person counts—regardless of citizenship or immigration status. 
Need help completing your Census? Maybe you have a quick question—no worries! The Census Bureau has toll free numbers that are open seven days a week 4:00 AM – 11:00 PM. 
---
Want to Help?

 Here's How.
Volunteering Resources 
Established Volunteer Opportunities 
All volunteer needs will be posted to the Center for Volunteer & Nonprofit Leadership (CVNL) website and updated as needs arise. We strongly encourage you to volunteer with existing organizations and activities and follow their guidelines as well as those from the County Health Department. 
Medical Professionals 
If you are a licensed healthcare professional, you may become part of the Marin Medical Reserve Corps or the Marin County "Surge" Unit.
If you are an  unlicensed healthcare retiree  you are welcome to join the Marin Medical Reserve Corps. Please note that priority will be to onboard licensed healthcare professionals during COVID-19. 
Neighbor-to-Neighbor Assistance 
There are some ways to check on your neighbors and see if they need help. The best way to do it is by phone, email, text, or if you go to their home, please knock and back up 6 feet before they answer. Follow the safety guidelines above to keep vulnerable people safe. Try to connect people with official resources as much as possible.
NextDoor.com Help Map 
Other Ways to Help
California Volunteers Resources 
Donations 
Please ensure that any donations you wish to make go through established organizations that have requested specific donations. Generally, they need cash more than anything right now. Some organizations may be posting about items they need such as masks or other protective equipment, but it's important to make sure to contact them first to get direction on specifics such as what they will accept or not accept, and how to deliver to them in a safe manner. Here's a resource to get you started. 
See the volunteer guidelines!
---
Updates on Coronavirus in Marin County
For the most up-to-date information on COVID-19 in Marin County please visit the Marin Health and Human Services Website:  https://coronavirus.marinhhs.org/
Watch Video Updates from Marin HHS:
COVID-19 Video updates from Marin HHS are available on YouTube. Subscribe to be alerted when they post a new video.
COVID-19 Updates   |    FAQs
---
COVID-19 Hotline and Public Health Email
Call: 415-473-7191
Email: COVID-19@marincounty.org
City of San Rafael Coronavirus Information
https://www.cityofsanrafael.org/coronavirus
---
City of San Rafael COVID-19 Business Resources
https://www.cityofsanrafael.org/coronavirus-business-resources/
---
Fecha:

martes, 25 de 

marzo

 del 2020
Mantenerse saludable significa más que lavarse las manos y distanciarse sociales. A medida que todos lidiamos con el acomodismo a la protección en el lugar, es importante recordar el autocuidado y encontrar maneras de ejercitar nuestro cuerpo, mente y alma a través de este evento.  Nuestro Departamento de Biblioteca y Recreación ha creado un Centro Virtual de Recreación y Recursos con algunas ideas para ayudarle a mantenerse activo y mantenerse conectado..  
El personal de Biblioteca y Recreación está formando un grupo de trabajo que estará actualizando regularmente nuestro centro de Librería y Recreación Virtual para compartir actividades y recursos con nuestra comunidad en todo el orden de refugio en el lugar.  Manténgase al tanto siguiendo al equipo en Facebook  y / o  Instagram.  
MAS INFORMACION: https://www.cityofsanrafael.org/city-of-san-rafael-virtual-recreation-resource-center/ 
---
EL CONSEJO DE LA CIUDAD DE SAN RAFAEL TIENE SU PRIMERA REUNIÓN DE CONSEJO VIRTUAL
Este lunes, el Ayuntamiento de San Rafael celebró una reunión virtual del Ayuntamiento, permitiendo al Consejo llevar a cabo los importantes negocios de gobierno mientras protegía la salud del público, el personal y los concejales. A los miembros del público se les pidió que participaran comentando en YouTube Live o prácticamente levantando la mano en una línea de conferencia. 
La reunión contuvo a más de 100 participantes. Entre otros puntos, el Consejo ha escuchado una actualización de la respuesta de la ciudad a COVID-19 y también ha aprobado las Resoluciones y Ordenanzas necesarias para que los proyectos de desarrollo de BioMarin/Whistlestop avancen. El Consejo y el personal están orgullosos de que podamos seguir llevando a cabo profesionalmente los negocios de la ciudad respetando al mismo tiempo el orden de refugio en el lugar y el distanciamiento social.  
Nuestro Secretario Municipal y el Consejo continuarán aprendiendo de la reunión de anoche (nuestra primera reunión del Ayuntamiento en vivo de YouTube) y trabajarán en la mejora de estos procesos para aumentar las oportunidades de participación durante estos tiempos difíciles. 
El Ayuntamiento continuará reuniéndose en este formato durante la orden de refugio en el lugar. Para obtener más información sobre cómo participar en estas reuniones, visite la página de comentarios en vivo en nuestro sitio web. 
VER LA REUNIÓN: https://cityofsanrafael.granicus.com/MediaPlayer.php?view_id=38&clip_id=1808 
---
PUNTOS DESTACADOS DE LA JUNTA DE SUPERVISORES
Esta mañana, martes, 24 de marzo, durante la reunión de la Junta de Supervisores, la Junta escuchó una solicitud de moratorias sobre los desalojos durante la emergencia COVID-19,así como un fondo de ayuda neto de seguridad en respuesta a la emergencia COVID-19..  
Adoptado: La moratoria de los desalojos durante la emergencia COVID-19 está  destinada a proteger a los residentes y empresarios de la posibilidad de desalojo debido a la repentina pérdida de ingresos como resultado de la pandemia COVID-19. El objetivo es proporcionar protección temporal a los arrendatarios y arrendatarios comerciales cuya residencia y negocios puedan verse amenazados por la pérdida de ingresos como resultado de la pandemia COOVID-19. La resolución adoptada complementará temporalmente la  ordenanza existente del Condado que limita las razones por las cuales un arrendador puede poner fin a un arrendamiento residencial. 
Apropiado: El Condado de Marin y la Fundación Comunitaria Marin se asociaron para crear un Fondo de Respuesta COVID-19 de $1 millón de dólares para ayudar a las poblaciones más vulnerables de Marin. Ambos socios contribuyeron con fondos de $500,000 para los esfuerzos de respuesta de la red de seguridad. El fondo recibió luz verde para los créditos que se asignarán en los próximos dos meses para suavizar los impactos sociales y económicos  de la pandemia. 
---
EL CENSO 2020 HA COMENZADO OFICIALMENTE
El distanciamiento social es una de las maneras de ayudar a su comunidad, otra es completar su censo en línea! El Censo 2020 es nuestra oportunidad una vez por década de contar a todas las personas que viven en los Estados Unidos. El conteo de 2020 dará forma a cómo se comparten los dólares de impuestos durante la próxima década hasta que se produzca el siguiente recuento. Los números de censo ayudan a guiar cómo se distribuyen los fondos para escuelas, carreteras y otros servicios públicos en nuestras comunidades locales. Los enumeradores del censo (las personas que nos ayudan a contar para el censo) tienen un trabajo aún más difícil de lo normal debido a los impactos de COVID-19 y las órdenes de distanciamiento social, así que si usted es capaz, por favor complete en línea.  
Cada persona
cuenta
–
independientemente de su ciudadanía o estatus migratorio.
¿Necesita ayuda para completar su Censo? Tal vez usted tiene una pregunta rápida, ¡no se preocupe! La Oficina del Censo tiene números gratuitos que están abiertos los siete días de la semana de 4:00 AM – 11:00 PM. 
MAS INFORMACION: https://marincensus2020.org/ 
ASISTENCIA: https://marincensus2020.org/census-questionnaire-assistance-centers-and-kiosks/ 
---
Junta De Supervisores Para Considerar Moratorium De Las Evicciones De Inquilinos
Además, el Martes 24 de marzo de 2020 durante la reunión de la Junta de Supervisores, se considerarán las Protecciones de Inquilinos de Emergencia. La pandemia COVID-19 ha causado impactos negativos significativos a los miembros de la comunidad, impactos financieros debido a la pérdida de trabajo, el miedo a perder vivienda y los cierres de negocios no han hecho más que aumentar. La resolución propuesta tiene por objeto proteger a los residentes y empresarios de la posibilidad de desalojo debido a la pérdida repentina de ingresos como consecuencia de la  pandemia COVID-19. Vea la reunión de la Junta, transmitida en vivo,en el sitio web del Condado mañana, 24 de Marzo a las 9:00 AM.
MAS INFORMACION: https://www.marincounty.org/main/county-press-releases/press-releases/2020/cao-covid-tenantprotections-031920
---
¿QUIERES AYUDAR? ¿CÓMO ES.
A veces ninguna acción es la mejor acción. Lo más importante es ayudar a parar la propagación del coronavirus refugiándose en su lugar y practicando el distanciamiento social; sin embargo, hay recursos y maneras de ayudar durante este tiempo. 
Recursos de Voluntariado 
OPORTUNIDADES DE VOLUNTARIADO ESTABLECIDAS 
Todas las necesidades de voluntarios se publicarán en el sitio web del Centro de Voluntariado y Liderazgo Sin Fines de Lucro (CVNL)  y se actualizarán según las necesidades que surjan. Le recomendamos que se ofrezca como voluntario con las organizaciones y actividades existentes y siga sus pautas, así como las del Departamento de Salud del Condado. 
Profesionales Médicos 
Si usted es un profesional de la salud con licencia,  puede convertirse en parte del Cuerpo de Reserva Médica de Marin o de la Unidad "Surge" del Condado de Marin.. 
Si usted es  un profecional de atencion medica jubilado y sin licencia, puede unirse al Cuerpo de reserva médica de Marin. Tenga en cuenta que la prioridad será incorporar a los profesionales de la salud con licencia durante COVID-19. 
ASISTENCIA DE VECINO–A–VECINO 
Hay algunas maneras de comprobar a sus vecinos y ver si necesitan ayuda. La mejor manera de hacerlo es por teléfono, correo electrónico, texto, o si va a su casa, por favor llame y retroceda 6 pies antes de que respondan. Siga las guías de seguridad anteriores para mantener a las personas vulnerables a salvo. Trate de conectar a las personas con recursos oficiales tanto como sea posible. 
Mapa de ayuda de NextDoor.com 
Otras maneras de ayudar
recursos de voluntarios de California 
Donaciones 
Por favor, asegúrese de que cualquier donación que desee hacer pase por organizaciones establecidas que han solicitado donaciones específicas. Generalmente, necesitan dinero más que nada en este momento. Algunas organizaciones pueden estar publicando sobre artículos que necesitan, como máscaras u otro equipo de protección, pero es importante asegurarse de ponerse en contacto con ellos primero para obtener orientación sobre detalles específicos como lo que aceptarán o no aceptan, y cómo entregara a ellos de una manera segura.. 
ORIENTACIONES DE VOLUNTARIO: https://www.cityofsanrafael.org/want-to-help-heres-how/

---
---
Actualizaciones sobre Coronavirus en el Condado de Marin
Para obtener la información más actualizada sobre COVID-19 en el condado de Marin, visite el sitio web de Marin Health and Human Services: https://coronavirus.marinhhs.org/
Ver actualizaciones de vídeo de Marin HHS:
 
 COVID-19 Actualizaciones de vídeo de Marin HHS están disponibles en YouTube. Suscríbete para recibir alertas cuando publiquen un nuevo vídeo.
Actualizaciones de COVID-19 ?  Preguntas frecuentes
---
Línea directa COVID-19 y correo electrónico de salud pública
Llame al: 415-473-7191
Correo Electrónico: COVID-19@marincounty.org
---
Información de la ciudad de San Rafael Coronavirus
 https://www.cityofsanrafael.org/coronavirus
---
Ciudad de San Rafael COVID-19 Recursos Empresariales
  https://www.cityofsanrafael.org/coronavirus-business-resources/