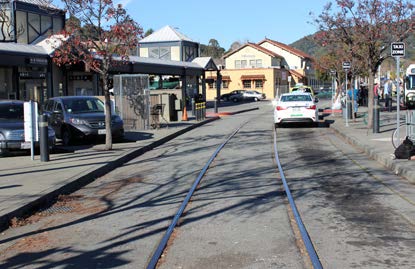 Contractors working for SMART will begin construction on Monday night, January 7, 2019, within the existing transit center. Work in the area will include the removal and the replacement of the existing rail system through the Center.
SMART construction activity within the Transit Center will impact bus service only. For more information and trip-planning assistance, visit www.goldengate.org or call 511 (say "Golden Gate Transit," then "operator" to bypass recorded messages)/TDD 711. The Customer Service Center is open weekdays from 7 a.m. to 6 p.m.
Monday night's construction will include work on a portion of Platform A, and on Tuesday morning, January 8, westbound Route 23X (to Manor) bus riders will temporarily begin using a new temporary Platform C.5, located between Platforms C and D at Second Street. Ambassadors (information personnel) will be onsite to assist riders in getting to the correct platform. Signage will be posted around the Transit Center to direct customers to correct boarding locations.
Construction schedules are weather dependent.
For your safety, please stay out of construction zones and always use marked detours when passing through the Transit Center.