Spotlight Photo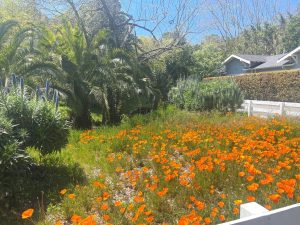 Spring in Sun Valley
Photo Credit: Bernadette Sullivan, City Manager's Office
Last Quiz Question
Congrats to Allison Soby for being the first to answer our latest Snapshot Quiz. The photo featured is of the AC Marriott Hotel in downtown San Rafael. We are excited for it to officially open its doors to guests in June!  Congrats, Alison, and thanks for reading Snapshot. Scroll down to see this edition's quiz and be the first to answer!
---
San Rafael City News
Foodware Ordinance
On Monday night, the Council will consider a new Reusable Foodware Ordinance (RFO) for San Rafael. The proposed ordinance aims to reduce single-use plastic waste and requires compliant compostable foodware for takeout and reusable foodware for dine-in restaurants. The ordinance also implements a $0.25 cup itemized charge for all disposable cups and requires food vendors to provide clearly labeled, separate waste receptacles. The adoption of the RFO aligns with the City's goal of reducing single-use plastic waste and improving water quality.
Read the Staff Report Here
---
BioMarin Development Agreement
At the Monday night Council meeting, the City Council will consider approving the third annual review of a Development Agreement with BioMarin. On March 23, 2020, the City Council adopted Ordinance No. 1982, approving a Development Agreement (DA) between BioMarin Pharmaceutical and the City of San Rafael. The DA permits the phased development and expansion of the San Rafael Corporate Center and the 999 Third Street property with laboratory and research and development (R&D) buildings and vests the land use and development entitlements/approvals for 10 years. As part of the DA, BioMarin submits annual reports to the City Council for comments and to ensure that the public benefits, obligations, and requirements of the DA are being met.
Read the Staff Report Here
---
Community Development Block Grant "CDBG"
On Monday, May 1, the City Council will hear an update on the proposed allocation of Community Development Block Grant ("CDBG") funds. The Community Development Block Grant (CDBG) program is a federal program that provides funding for local community-based projects, such as affordable housing, community infrastructure, and public support services. The City of San Rafael is responsible for recommending allocation of CDBG funding for projects serving the San Rafael planning area under a cooperation agreement with the County of Marin.
Read the Staff Report Here
---
Chamber of Commerce and Business Improvement District Partnership
At the Monday night Council meeting, the City Council will consider entering into an agreement with the Chamber of Commerce to manage various aspects of the Business Improvement District (BID), such as marketing, events, and administration. This move is expected to explore needs and identify program and resources for downtown vibrancy while strengthening the partnership between the business community and City government. The BID in Downtown San Rafael has been in place since 1979, but the COVID-19 pandemic significantly reduced the number of businesses and the collections of BID assessments. The BID Corporation, the San Rafael Chamber of Commerce, and the City have been working together to identify a pathway for long-term sustainability to support Downtown San Rafael, which led to this recommendation for a new approach to BID management and an enhancement agreement with the Chamber.
Read the Staff Report Here
---
Use Permit Revocation
At the Monday, May 1, City Council meeting, the City Council will hear an appeal of the Planning Commission revocation decision for George's Nightclub, located at 842 Fourth Street.  Due to frequent disturbances, the Planning Commission held a revocation hearing in March 2023, which resulted in a unanimous decision to revoke Use Permit 05-01. The business owner, Evolution Nightclub & Restaurant, LCC, filed an appeal, which the City Council will consider.
Read the Staff Report Here
---
Third Street Improvements  
During this week (April 24– April 28):
Sonic Telecom construction crews will bore the North side of Third Street between Lincoln Avenue and Cijos Street. The work will require a sidewalk and lane closure.
Crews will remove curb ramps at the southeast corners of Third Street and A Street.  This work will require a curb lane closure and no parking adjacent to the intersections.
Crews will continue to construct the new curb ramps at the southeast corners at Third Street and A Street and Third Street and C Street. The work will require a lane closure and a traffic lane shift.
Crews will replace the northern curb ramp at Third Street and Brooks Street. This work will require a lane closure.
Crews will replace the sanitary sewer main lateral on Ritter Street. This work will require a lane closure on Ritter Street.
Crews will slip-line the sewer pipe on Third Street, between Irwin Street and Grand Avenue. This work will be performed at night.
IMPACTS:
For the next two weeks, crews will slip-line the sanitary sewer pipe on Third Street between Lincoln Avenue and Irwin Avenue. This work will be performed at night (7:00 pm to 6:00 am)
The stairway from Second Street to Jessup Street (south of Ida Street) is closed.
For the Lane Shift on Second Street, the posted speed limit is 25 mph. Drivers should be aware of changed conditions and be alert.
Traffic Controls (temporary signs, message boards, traffic cones, delineators, and detour signs) will be put in place to direct motorists through the work area.
Curb parking spaces will be marked "No Parking."
The daytime hours of work will be from 6 am to 6 pm, with lane closures from 6 am to 3 pm on Third Street and Second Street westbound. Lane closures will also be in effect from 9 am to 6 pm on Second Street eastbound.
CLICK HERE FOR AN INTERACTIVE MAP
VISIT THE THIRD STREET IMPROVEMENTS PROJECT WEBPAGE
---
TALES OF THE CITY—Egg Hunt and Parade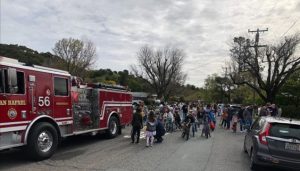 On March 8th, the members of Engine 56 lent their support to the residents of a Terra Linda neighborhood at their annual egg hunt and parade, a 25-year-long tradition! The festivities began with the engine's siren blaring and red lights flashing, signaling the start of the hunt. Overall, the event was a huge success, with everyone having a great time.
---
At the Last Council Meeting on April 3, 2023
Beginning with the April 18, 2022, City Council meeting, the City Council has returned to in-person meetings combined with virtual real-time public comment.
At the April 17, regular City Council meeting, the Council:
Held open time for public expression.
Heard City Manager and Councilmember reports.
Approved the consent calendar.
Approved an ordinance amending Paramedic Tax Rates for Fiscal Year 2023-24
Approved a resolution adopting the Citywide Parks and Recreation Master Plan
Adopted a resolution appointing Cristine R. Alilovich to City Manager
City Council meetings are held every first and third Monday of the month. City Council meetings that fall on a holiday are rescheduled for the following Tuesday.
---
Events
SAFE Team
The City of San Rafael's SAFE (Specialized Assistance for Everyone) Team is a new crisis response, prevention, and intervention program. Composed of civilian first responders, the team will provide specialized assistance to the most vulnerable community members, including those struggling with mental health, substance abuse, and homelessness.
How Can I Reach the SAFE Team?
Call (415) 458-SAFE, where​ an emergency dispatcher will answer and determine if your situation requires the SAFE team, first responders such as police, fire, or paramedics, or a combination of both.
---
AC Marriot Hotel at 1201 Fifth Avenue
May 15-16, 7:00 am- 4:00pm
Heavy construction activities for the downtown AC Marriot Hotel will be performed on May 15 and 16 between the hours of 7:00 am – 4:00 pm. There will be some traffic delays on those two days due to construction activities.
For more information on the AC Marriot Hotel, click here.
---
HeadsUp Carnival
Saturday, April 29, 2023, 11:00 am-3:00 pm Davidson Middle School: 280 Woodland Avenue
The HeadsUp Carnival is back and better than ever. This annual event brings together all of the schools in the area for a day filled with fun and celebration. With a variety of exciting activities and attractions, there is something for everyone to enjoy. Come and cheer on the marching bands as they parade through the carnival, or groove along to the beat with dancing mascots. Kids will love getting their faces painted and indulging in delicious pupusas, while adults can relax and soak up the festive atmosphere. Best of all, admission is completely free, making it the perfect way to spend a Saturday with the whole family.
---
33rd Annual May Madness Car Show Classic Car Show & Parade
Saturday, May 6th, 2023, 12:00 noon – 6:00 pm
The May Madness Car Show is a beloved community tradition, and this year promises to be the best one yet. The action will be centered on Fourth Street, from Lincoln to D Street, where you'll find an incredible array of classic cars, hot rods, and custom vehicles on display. From vintage muscle cars to sleek sports cars, there's something for every car enthusiast to admire. You won't want to miss the spectacle of these classic cars cruising through the heart of downtown San Rafael, parade starts at 5:00 pm.
---
Taste of San Rafael – State of the City Awards
May 10, 2023, 5:00 pm- 7:30 pm 
Hosted by the San Rafael Chamber of Commerce and the City of San Rafael, this event will take place on May 10, 2023, from 5:00 pm to 7:30 pm.
Guests will have the opportunity to savor the flavors of San Rafael's finest restaurants, wineries, and breweries, while mingling with local business owners and community leaders. We will also be announcing the 2023 Business of the Year honorees, including Small, Large, Downtown, and Green Business categories, and the City of San Rafael's Employee of the Year. This year, we are thrilled to be recognizing and celebrating the 2023 Public Service Award honoree, Melissa Prandi.
Don't miss out on this incredible event – and join us for a night of gourmet food, community spirit, and recognition of San Rafael's outstanding businesses and public servants.
---
Quiz
Where do the Star Trek and Star Wars universes exist side by side?