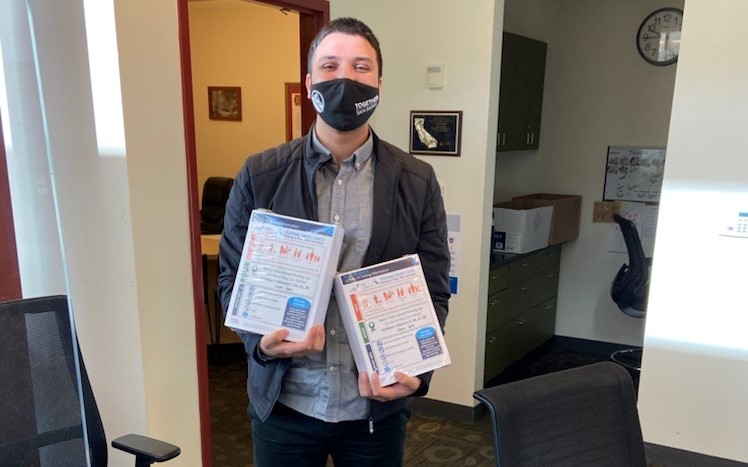 Spotlight Photo
Program Coordinator, Habad Ahmad has been working with the City's Emergency Operations Center to coordinate food distribution sites in San Rafael, and to distribute free testing information to the community.
Photo Credit: Steve Mason, San Rafael Recreation Supervisor
Last Quiz Question
Shout out to Brucie Melvin for being the first to correctly answer the last Snapshot Quiz Question! The photo featured was of the under construction Oakmont Senior Assisted Living facility located along Redwood Highway in Terra Linda. The new facility will have 89 residential units. Congratulations Brucie and thanks for reading Snapshot!   
Scroll down for this week's quiz and be the first to answer.  
San Rafael City News
San Rafael 

H

ire

s

 

N

ew Police

 Chief
We have great news to share! Following a nationwide search, the City of San Rafael is pleased to announce David Spiller as our new Chief of Police. Chief Spiller brings an impressive background as a law enforcement professional. He began his career in San Diego as a patrol officer before moving to Mountain View for 11 years as a police officer and then sergeant and special operations supervisor. Chief Spiller joined the City of Pleasanton in 2002 as a lieutenant and rose to the rank of Police Chief, a position he held for over eight years. Chief Spiller is currently serving as the Interim Police Chief for the City of Menlo Park and will begin his new post in San Rafael on March 16, 2021.  
Mayor Kate was recently quoted as saying, "Every community is unique and Chief Spiller is just the person to work closely with our residents to continue to ensure that our police department reflects our community values." Please join me in welcoming Chief Spiller to San Rafael!  
---
Str

e

amlining Housing Development
In the Bay Area, the cost and availability of housing is always on our minds. For a little over the last two years, the City Council has heard informational reports on various ways to facilitate housing development and streamline approvals in San Rafael. Some actions have already been taken, but there are some key additional actions being proposed at the City Council meeting on Tuesday evening.  
The City Council will review recommended changes to update housing policies for inclusionary housing and residential density bonus provisions, as well as municipal code amendments to streamline permitting. The goal of these recommendations would be to increase the supply of housing and "affordable housing" in San Rafael. For these interested in the background leading up to Tuesday night's discussion, here are some recent reports to the City Council on housing development and approvals:  
---
Public Art Projects in San Rafael
Public art is an important piece of any vibrant city. The San Rafael Social Justice Community Art Group and Canal Arts Initiative have been working over the past several months to propose two new community art projects in San Rafael. These efforts have highlighted potential improvements to the approval process for public art in the City. On Tuesday evening, the City Council will hear an informational update on the two proposed public art projects as well as proposed amendments to the San Rafael Municipal Code 14.25.040 that would exempt certain public art projects from going through a lengthy major environmental design review process. If approved, projects would go through a streamlined pilot process that would be open to the public before going to the City Council for project review. 
---
Creating 

S

afer 

E

vacuation 

R

outes in San Rafael
At Tuesday's meeting, the City Council will consider the City's proposed response to the 2019-20 Marin County Civil Grand Jury Report entitled, "Roadblocks to Safer Evacuations in Marin".  
The Grand Jury Report investigated and made determinations about Marin's evacuation needs and whether they have been considered adequately when planning for and building improvements to roads and traffic infrastructure. 
The report outlines nine findings regarding the current state of evacuation safety and preparedness in Marin County, and five recommendations for the various agencies and jurisdictions involved. City staff will review the proposed responses and also provide a brief update on the progress on this important topic.  
---
Guidelines 

F

inalized for 

N

ew, 

S

emi-

P

ermanent 

O

utdoor 

D

ining 

A

reas on the 

S

treet
Building off of the criteria developed last spring for temporary on-street dining areas, the City has finalized new guidelines for restaurants in San Rafael seeking to build semi-permanent outdoor dining areas in the parking lane to expand their COVID-friendly dining. There is no fee for this temporary permit. This is good news for our restaurants and their employees, and it will also create a welcoming environment for outdoor dining and allow visitors to take advantage of our wonderful shops and services in San Rafael. Now is the time to shop at dine in San Rafael and support our businesses and their employees.  
---
Digital Marin 

S

urveys 

P

ublic on 

I

nternet 

A

ccess
Digital Marin, a cross-sector effort to develop a countywide strategic plan to address local internet access and digital equity gaps is looking for feedback from residents about access, quality, affordability, and use of the internet. An online survey is available in English and Spanish. The anonymous responses will help identify potential projects and priorities for the digital roadmap. 
In addition to the survey, the Digital Marin team is conducting a focus group, interviews, and sector-specific surveys with various stakeholder groups in Marin.  Learn more, subscribe to updates, and take the survey at GoDigitalMarin.org. 
---
Upcoming City Office Closures
In observance of President's Day and the City's Furlough Schedule, City Hall and all non-essential City facilities will be closed from Friday, February 12, 2021 through Monday, February 15, 2021. 
All City facilities will reopen on Tuesday, February 16, 2021. The regular City Council meeting has been scheduled for Tuesday, February 16th at 7:00 pm. 
24-hour operations will remain in effect for the Police and Fire Departments. 
---
TALES OF THE CITY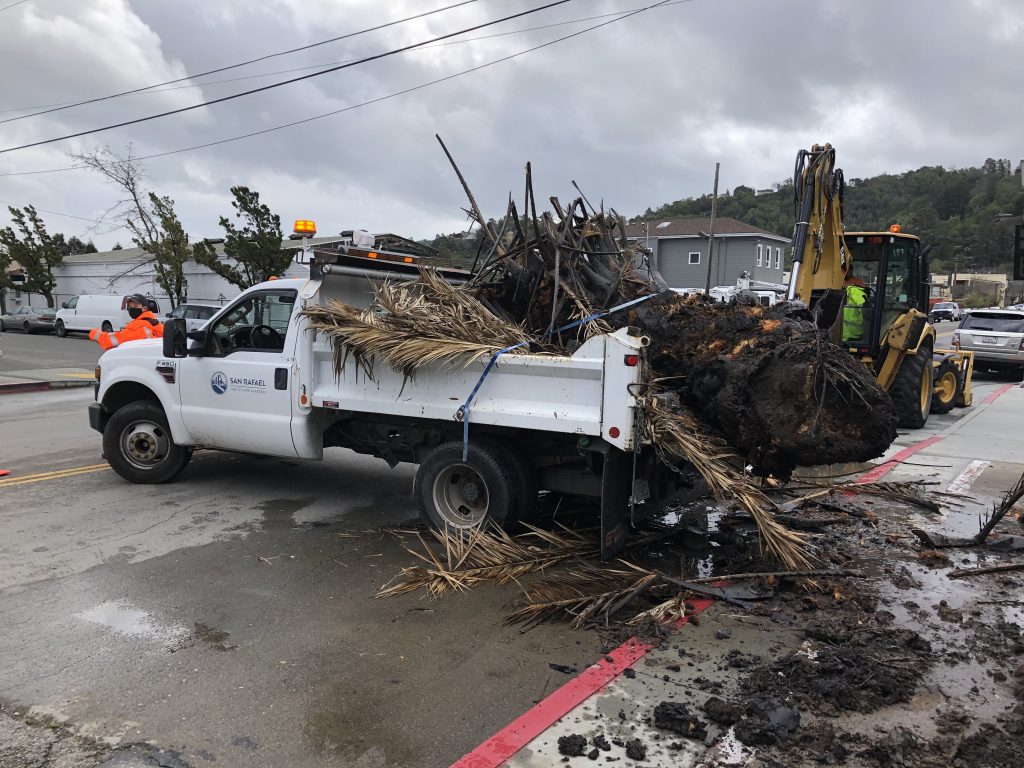 Winter weather kept our Department of Public Works busy this January! During a heavy rain event in the evening of January 26th, a six-person crew patrolled the City to keep watch for flooding, down trees, or power lines. Pictured is Streets Maintenance worker Arturo Tinoco operating the backhoe to remove a large, waterlogged palm tree that had lodged underneath the bridge on Lindaro St. near Albert Park. It was so saturated with water that the backhoe could barely lift it over the wall and into the dump truck. Streets staff Mike Castaneda, Trevor Thomas along with Parks Division staff member Daniel Walzer and Garage staff member Jay Arieta assisted with the removal of this palm tree.
Get prepared for the next storm and know who to call if you see flooding, downed trees, or power lines with these storm resources.  
---
OVERVIEW OF 
LAST COUNCIL MEETING
 on 
January 19
th
Due to Executive Order N-29-20, we can no longer offer an in-person meeting location for the community to attend public meetings. We are offering two remote ways to participate.  
At the February 1, 2021 regular City Council Meeting, the Council:   
Approved consent calendar items.

 

Issued a

 proclamation supporting Black History Month

 

Issued a

 proclamation to Tom 

Obletz

 and Jeff Jones for their service on the Park and Recreation Commission

 

Passed an Ordinance amending the current vegetation Management Ordinance

 

Passed an Ordinance amending San Rafael Municipal Code Section 5.40.080 regulating parking on narrow, hilly City streets

 
City Council meetings are held every 1st and 3rd Monday of the month. City Council meetings that fall on a holiday are rescheduled for the following Tuesday. 
---
EVENTS
Red Cross Girl

, the story of Erna 

Torney

— Wednesday

,

 February 24

  

 
Join our friends from the Marin History Museum on Wednesday, February 27 at 7pm for a special Speaker Event presentation via Zoom. Marin History Museum conducted an oral history interview with Erna Torney to learn about her WWII experiences as a Red Cross Girl at a B-24 Bomber Airbase in England. The video of this interview will be presented. Erna's son Richard Torney will also share some stories and photos.  
---
Review the 

Draft Downtown Precise Plan—Wednesday, February 17th
Have you seen the Draft downtown Precise Plan? The community driven plan creates a 20 year vision for Downtown San Rafael. On Wednesday, February 17th, the Planning Commission will host a meeting for community members to comment on the Draft Plan. So now is a great time to get involved if you would like to learn more about, and weigh in on, the future of our downtown.  
How to Participate 
When: Wednesday, February 17, 2021 at 7:00 pm
Call In: (669) 900-9128
Meeting ID: 897-5941-0487# 
---
Food for the Soul: Children's Programs with Amber Hines

—Saturday

, Feb 

20
Join us online from 10:30-11:30 a.m. on Saturday February 20th to celebrate Black History Month with the Marin County Free Library, in partnership with the County of Marin African American Employees' Association. The upcoming topic is "Embody Rhythm". To learn more about Hines's work, visit her website. 
---
Drive Clean Bay Area—electrify your ride!
Learn electric vehicle (EV) basics! On Wednesday February 17th at 4 p.m., Electrify Your Ride will provide a review of available electric vehicles, charging at home and on the road, incentives, total cost of ownership, and you'll have the chance to ask the questions you've always wondered about EVs. 
---
SNAPSHOT QUIZ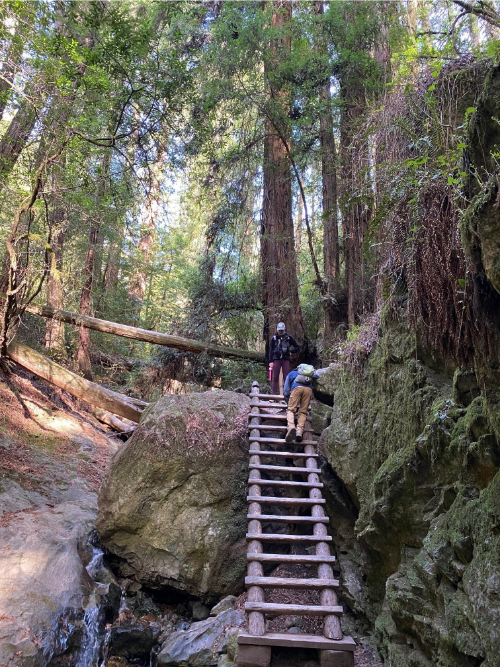 We almost always ask San Rafael questions, but thought we'd change it up on you for this edition of Snapshot. Okay, all you hikers, what is the name of this trail?
Know the answer? Be the first one to reply!
---
Get these newsletters delivered right into your email inbox!