Snapshot en Español
Spotlight Photo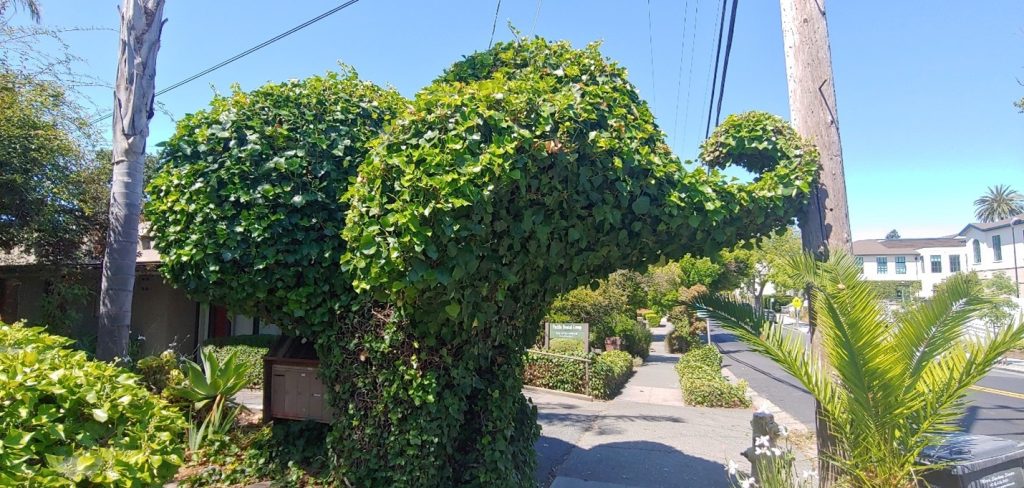 Henry, The Elephant Tree
Photo Credit: Cory Bytof, Sustainability Program Manager
Last Quiz Question
Congrats Marty Komitopoulos! Lonate Pozzolo, is San Rafael's Italian Sister City.  Congratulations, Marty, and thanks for reading Snapshot! Scroll down to see this edition's quiz and be the first to answer.
---
San Rafael City News
Upcoming City Council Meeting – Monday, August 21, 2023
The following items will be considered at the upcoming City Council meeting on August 21st at 7 pm.
Civil Grand Jury Report on Accessory Dwelling Units (ADUs)
The City Council will consider a proposed response to the Marin County Civil Grand Jury's report, "Build More Accessory Dwelling Units: An Rx to Increase Marin's Housing Supply." The report emphasizes the role of ADUs in addressing Marin County's housing challenges and outlines the barriers homeowners encounter when developing ADUs. Based on their findings, the Grand Jury made recommendations that range from individual financial aid to inter-county collaboration. The City of San Rafael and other Marin County entities are mandated to respond by September 13, 2023.
Read the Staff Report Here
---
Tax and Equity Fiscal Responsibility Act (TEFRA) Public Hearing
The City Council will review a proposal from the California Enterprise Development Authority (CEDA) and Star Academy—a non-public, non-profit school dedicated to educating students with learning differences—to facilitate financing and refinancing their educational facility in San Rafael. Under the Tax Equity and Fiscal Responsibility Act of 1982 (TEFRA), entities like Star Academy can access tax-exempt bond financing to fund projects which provide a public benefit. In the past, the City has used this process for other requests focused on affordable housing projects. The City does not incur any debt or liability from this action and has no further role in the project outside of holding this public hearing and adopting the required resolution.
Read the Staff Report Here
---
Automated License Plate Readers
The City Council will consider a proposal from the San Rafael Police Department (SRPD) to expand its use of Automated License Plate Recognition (ALPR) technology, which the department has utilized since 2012. This technology has proven useful in identifying stolen vehicles and providing investigative data to solve crimes. Facing a 50% increase in motor vehicle thefts over the last five years, the SRPD is now seeking to deploy nineteen state-of-the-art ALPR cameras. If approved, these cameras would be deployed strategically across the City in eighteen static locations, with the nineteenth camera reserved for deployment at multiple locations. The use of this data is subject to SRPD policy which prohibits the sharing of any ALPR data with out-of-state or federal law enforcement agencies.
Read the Staff Report Here
---
Other News
Temporary Restraining Order on City's Ability to Enforce New Camping Ordinance
On July 17th, the City Council adopted a new ordinance to further regulate camping on public property amid rising public safety concerns associated with larger homeless encampments, particularly at the Mahone Creek Path. On August 11th, a lawsuit challenged the legality of the City's ordinance. On August 16th, a federal judge issued a Temporary Restraining Order (TRO), blocking the City's enforcement of the new ordinance until further judicial review can occur. There will be a hearing in early September, where the court will decide if the temporary block on the City's ability to enforce the new camping ordinance will be lifted or extended. We are working on strategies to balance the community's safety concerns with supporting individuals experiencing homelessness and protecting their health and safety. City staff and social service partners continue their outreach to provide education about the new ordinance and provide case management and other supportive services. The City is committed to investing in long-term solutions by funding case management services and approving Affordable Housing Trust Fund projects for new permanent supportive housing units and shelter beds.
Click here to read the City's full statement in response to the TRO.
---
Terra Linda Pool
The Terra Linda Pool will continue a pilot program to remain open into November this year. As a pilot program, staff are assessing the City's capacity to continue offering an extended swim season during the fall/winter months and the community's interest in these programs. If you or other swimmers you know are interested in this, we encourage you to join us this fall! For a schedule, you can view the September pool schedule or visit our website for additional information. As a reminder, season passes are valid through September 8, 2023. Beginning September 9, swimmers may purchase daily admission passes or use a punch card at our standard fees. Starting October 1, 2023, the pool will begin using fall/winter pilot program fees, shown below:
Fall/Winter Season Daily Fees
Resident
Non-Resident
Adult (18 – 61 years)
$11
$14

Youth (1 – 17 years) &

Seniors (62+ years)

$8
$11
Under 1 year old
Free
Free

Adult – 5 Punch Pass

(pre-paid admission; not discounted)

$55
$70

Youth & Senior – 5 Punch Pass

(pre-paid admission; not discounted)

$40
$55
Thank you for a great 2023 season, and we hope to see you still swimming in October and November so we can work to keep the pool open longer each year!
---
Internship Opportunity- Canal Alliance
Join Canal Alliance in San Rafael as a Policy and Civic Engagement (PACE) Intern and be at the forefront of transformative change. This part-time role offers 8-10 hours of paid work at a competitive salary of $26 per hour. The PACE intern will be responsible for researching and synthesizing information in policy memos, creating policy and civic engagement training, and doing in-person education and outreach to Latino community members in Marin County. For more information and to apply, visit https://recruiting.paylocity.com/Recruiting/Jobs/Details/1876904.
---
Volunteers Needed- San Rafael PorchFest
San Rafael PorchFest 2023 is happening on September 17th! This all-volunteer, family-friendly, free event brings residents together to celebrate music and creativity in the Gerstle Park neighborhood. Twenty porches will host over 60 bands and performers of different styles in this neighborhood-wide event.
PorchFest organizers are looking for volunteers to support the event this year.  Volunteer opportunities include porch host captains, barricade managers, newsletter and poster distributors, information booths, t-shirt sales, runners, music tech, banner hangers, set up, breakdown, and more.
Sign up to volunteer at https://www.sanrafaelporchfest.com/volunteers
---
Resilient Neighborhoods Climate Action Workshops- Registration is Open!
Are you interested in taking action to create a sustainable future? Join a Resilient Neighborhoods Climate Action Workshop to make your home and lifestyle more climate-friendly. This program will help you reduce energy consumption, switch to renewable energy sources, reduce waste, and prepare for climate-related emergencies. During the program, you'll create a personalized climate action plan that identifies actions you can take now and through 2030. You'll have ongoing access to up-to-date resources and financial incentives to achieve your goals efficiently and cost-effectively. Over 2,000 Marin residents have already participated, reducing nearly 13 million pounds of CO2 emissions!
The workshop meets five times over ten weeks online and is free for all Marin residents. Choose from sessions starting on either September 13th or 21st. Be part of the climate movement and register today at http://tinyurl.com/RNProgram or visit www.ResilientNeighborhoods.org.
---
Third Street Improvements
THIS WEEK (August 14 – August 18):
Crews will continue replacing the Sanitary Sewer at Third St. and Ritter.
Crews will replace various sections of the sidewalk on Second and Third St.
Crews will reconstruct the curb ramp and sidewalk at SW corner of Second and East St.
Crews will adjust signal heads at the NW corner of Third and D St.
Crews replaced the damaged pedestrian push button at NE corner of 3rd and E St.
NEXT WEEK (August 21 – August 25):
Crews will be installing new pedestrian crossing signals at Third St. and Brooks. The work will require a sidewalk closer and a detour.
Crews will continue with the construction of the sanitary sewer main at Ritter and Third St.  This work will require a lane closure and sidewalk closure, and pedestrian detours.
Crews will be reconstructing a SD manhole on Second St. at East St.  This work will require a lane closure.
Crews will continue replacing the curb ramp at the SW corner of Second and East St. This work will require a lane closure on eastbound Second St.
IMPACTS:
For the Lane Shift on Second St., the posted speed limit is 25 mph, drivers should be aware of changed conditions and be alert.
Traffic Controls (temporary signs, message boards, traffic cones, delineators, and detour signs) will be put in place to direct motorists through the work area.
Curb parking spaces will be marked "No Parking."
The daytime hours of work will be from 6 am to 6 pm, with lane closures from 6 am to 3 pm on Third Street and Second Street westbound. Lane closures will also be in effect from 9 am to 6 pm on Second Street eastbound.
CLICK HERE FOR AN INTERACTIVE MAP
VISIT THE THIRD STREET IMPROVEMENTS PROJECT WEBPAGE
---
TALES OF THE CITY- San Rafael campers have a ball at six-week day camp.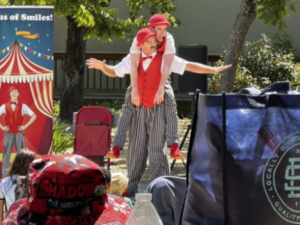 The six-week day camp at the Albert J. Boro Community Center wrapped up on Friday, July 28th. The free program was a collaboration with the City of San Rafael, Marin YMCA, and San Rafael City Schools. Participants went on weekly field trips and swimming outings, played sports & games, cooked, and made crafts.
---
LAST COUNCIL MEETING on July 17th, 2023
At the July 17th, regular City Council meeting, the Council:
Held open time for public expression
Heard City Manager and Councilmember reports
Approved the consent calendar
Approved a Resolution Confirming the Engineer's Annual Report for the Baypoint Lagoons Assessment District
Approved a Resolution Confirming the Engineer's Annual Levy Report for the Point San Pedro Road Median Landscaping Assessment District
Approved a Resolution Renewing the Ordinance Approving San Rafael Police Department Military Equipment Use Policy
Adopted an Ordinance Regulating Camping on Public Property
Approved a Resolution for a Temporary Street Closure for the 2023 West End Block Party
Adopted a resolution for Recommended Projects to Receive Affordable Housing Notice of Funding Availability (NOFA) Funds.
City Council meetings are held every first and third Monday of the month. City Council meetings that fall on a holiday are rescheduled for the following Tuesday. The next City Council meeting will be held on August 21st.
---
Events
Police Accountability and Advisory Committee Open Houses – Opportunity to Apply & To Provide Community Input
Are you interested in applying to serve on the recently established Police Advisory and Accountability Committee (PAAC)? You can apply by using this link.
The City is seeking residents interested in applying to serve on the committee. Additionally, we are seeking the community's input on topics and areas of focus for the Police Advisory and Accountability Committee. Visit one of our upcoming open houses and share your thoughts with your City Council members and City staff! You can also visit the Police Accountability & Transparency webpage and provide feedback about what you think the committee should focus on by taking the brief survey.
Open houses will take place from 12:00 pm -6:00 pm. Drop in anytime; no appointment is necessary.
August 25th – B Street Community Center
August 30th – Al Boro Community Center
September 7th – Terra Linda Community Center
---
NEW DATE

–Northgate Mall Redevelopment Design Review Board Meeting
On September 6, 2023, at 6:00 pm, the Design Review Board will hold a meeting to consider the comprehensive redevelopment of the existing Northgate Mall (located at 5800 Northgate Drive) into a new mixed-use development with approximately 225,000 square feet of retail space and approximately 1,422 residential units on the 44.76-acre site. The Design Review Board will consider the applicant's proposal regarding the proposed architecture of the new and updated residential units, commercial buildings, bicycle and pedestrian circulation, and site landscaping. The Design Review Board meeting will be held in person in the City of San Rafael Council Chambers at 1400 Fifth Avenue and online.  If you'd like to sign up for automatic updates or to submit a comment or suggestion, visit https://www.cityofsanrafael.org/northgate-town-square-rev/ or email northgatemall@cityofsanrafael.org.
JOIN ONLINE
---
New Exhibit at Falkirk Cultural Center
The Falkirk Cultural Center is excited to share its newest art exhibition, "Mixing it up with Mixed Media," which is now open. This exhibit showcases over 50 Bay Area artists that have utilized mixed media in their artwork.
August 11 – September 15, Gallery Hours: Tuesday-Friday, 1:00 pm – 4:30 pm & Saturday, 10:00 am – 2:00 pm
Note: The Exhibit will be closed during private events
---
Marin Wildfire Prevention Authority Tour
On August 29, 10am-noon, the Marin Wildfire Prevention Authority is offering a tour where you can learn more about the San Rafael – San Anselmo Fuel Reduction Zone Project. MWPA, San Rafael Fire, Ross Valley Fire, the Town of San Anselmo, and Marin County Parks are hosting a public site visit to share information about this project. Meet at the end of Ridgewood Drive, and the group will hike in from there. Please bring water, wear comfortable shoes, and carpool if possible, as parking is limited.
---
Quiz
Where in San Rafael can you find the world's greatest bait shop?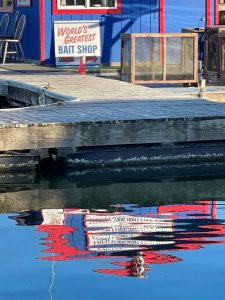 Be the first to respond!