Spotlight Photo

CAPTION: Falkirk Cultural Center Dining Room taken during morning hours 
PHOTO CREDIT: Walter Gonzalez, City Manager's Office Community and Engagement  
Last Quiz Question
Congrats to Ralph Mihan for being the first to correctly respond to our mystery photo in the last Snapshot Quiz. The photo featured was of the Christopher B. Smith Rafael Film Center, also known as The Rafael! Congratulations Ralph and thanks for reading Snapshot!   
Scroll down for this week's quiz and be the first to answer.  
San Rafael City News
Council to hold Public Hearing on Board and Commission Updates
On Monday night, the City Council will review recommended changes to the Park and Recreation Commission, the Planning Commission, and the Bicycle and Pedestrian Advisory Committee (BPAC). Key changes proposed include modifying the Planning Commission member composition to four district representatives that reside in each district along with three at-large members. There are several other proposed changes to the various commissions/committees in categories such as the number of total members, age and residency requirements, voluntary resignation, and term limits.  
---
Council to Hear Special Presentation on Juneteenth Proclamation
Monday's City Council meeting will include a Proclamation commemorating Juneteenth as the oldest nationally celebrated commemoration of the ending of slavery in the United States and the first federal holiday signed into law since Martin Luther King Jr. Day in 1983.  
---
Council to Hear Special Presentation on Pride Month
Monday's City Council meeting will also include a Proclamation commemorating Pride Month in San Rafael. June is "Lesbian, Gay, Bisexual, Transgender, Queer+ (LGBTQ+) Pride Month" in the City of San Rafael. The Council recognizes it to inspire equity, create alliances, celebrate diversity, and establish safe environments in our schools and communities throughout the City. 
---
Council to Hear Special Presentation on Community Facilities Districts
Each year, the City Council hears annual updates from City staff and receives an engineer's report on the status of two Community Facilities Districts (CFD) located in San Rafael. These annual updates detail the operation, maintenance, and budget of each CFD for the year. Upon hearing these updates, the Council then decides upon the special assessment tax that funds the CFD for the next fiscal year, as required by State law. 
The Loch Lomond Marina CFD was formed in 2010 as a special tax to fund park and recreation improvements in the Loch Lomond Marina Village area of East San Rafael off of Pt. San Pedro Road. The Loch Lomond 10 CFD is located on the Pt. San Pedro Peninsula, north of Pt. San Pedro Road and encompasses 28 home parcels and one open space parcel.  
---
Upcoming Citywide Community Conversation with Mayor Kate 
Mayor Kate will hold her second citywide Community Conversation event on Wednesday, June 8 at 5:30 p.m. at the San Rafael Community Center. As a reminder, Community Conversations will be held citywide throughout 2022 in all four of the City's districts to allow for community members to discuss their topics of interest and meet with their local elected officials in a friendly and accessible environment. There are opportunities to join in at a citywide meeting or a specific district meeting.  
See events section below for details on upcoming Community Conversations events. You can also visit our Community Conversations page to learn more about community conversations. Unsure of your district? Find your district here. 
---
Marin County Participatory Budgeting 
The County of Marin is making $2.5 million available for members of the public to decide how it is spent though a process called Participatory Budgeting. Interested? Apply here to join the Participatory Budgeting (PB) Committee!  Want to Learn More?  You can also visit the PB webpage to learn more about this exciting and innovative approach to equitable governance in Marin County.  
---
Marin Business Grant Opportunity 
Are you a Marin County business that made less than $50,000 in 2019? You may qualify to get a $2,500 COVID Relief Grant!  Just a few examples of businesses who might be eligible: Artists & Musicians, Childcare Providers, Construction Workers, Food Vendors, Hair Stylists, House Cleaners, Gardeners & Landscapers, and Nail Technicians. Help spread the word if you or someone you know might qualify! 
The first round application process is open NOW through June 30, 2022. 
Learn more and apply at www.marinsbdc.org/microbizgrants 
---
Third Street Improvements  
Nightwork will resume on Sunday, June 5, and motorists are advised to drive with caution and follow all posted directional signals. The posted speed limit is 25 mph for the lane shift on Second Street. Traffic controls (temporary signs, message boards, traffic cones, delineators and detour signs) will be put in place to direct motorists through the work area, and curb parking spaces will be marked "No Parking." There will be intermittent lane closures on Third Street and detours on A Street, B Street, C Street, D Street, and E Street. For businesses in this section of Second Street, the City's contractor, Ghilotti Bros. Inc., will help facilitate deliveries by providing traffic controls and flagging. 
The hours of work will be from 6:00 a.m. to 6:00 p.m. Lane closures will be in effect from 6:00 a.m. to 3:00 p.m. on Third Street and Second Street eastbound, and 9:00 a.m. to 6:00 p.m. on Second Street westbound. 
Visit the Third Street Improvements Project website to learn more about this critical effort, and sign up here to receive weekly email updates.
---
COVID-19 Updates
According to the Marin County Department of Public Health, as of May 31, Marin County has 778 "Active Cases" (cases confirmed in the previous 10 days) bringing the total confirmed cumulative cases to 34,575 since March 2020. These numbers continue to highlight the remaining threat of COVID-19 in our communities, and the need for all community members to remain diligent in their efforts to stop the spread of COVID-19.  
Please follow the links below regarding the appropriate steps to follow if:   
COVID-19 booster shots and vaccination appointments continue to be offered at all Marin vaccine clinics. If you need transportation assistance to get vaccinated, please visit the following links about Lyft's Vaccine Access Program and GoGoGrandparent. As always, if you are experiencing any COVID-19 like symptoms, please get tested as soon as possible, even if you are fully vaccinated.
TALES OF THE CITY –

City Parking Spaces Get a Facelift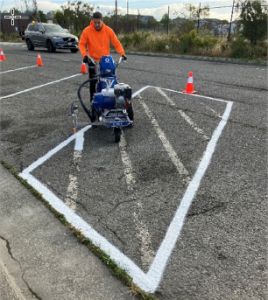 Public Works employee applying new paint to a parking space on Windward Way 
Public Works employees from the Streets Division have been hard at work in recent weeks providing painting and striping to several faded parking spaces on Windward Way. Using a walk-behind stripe machine, Public Works employees are able to quickly and conveniently update faded markings that can cause confusion and accidents when left unchecked.  
During the summer months, Public Works crews will be refreshing several road markings across the City to increase visibility for motorists and pedestrians alike. These routine facelifts increase public health and safety for roads and create a sense of safety and assurance for all. Thank you, Streets Maintenance team, for all your hard work in keeping our roads visible and safe! 
---
AT THE LAST COUNCIL MEETING on May 16, 2022
Beginning with the April 18, 2022 City Council meeting, the City Council has returned to in-person meetings combined with a virtual real-time public comment on agenda items. 
At the May 16, 2022 regular City Council Meeting, the Council:   
Approved Consent Calendar Items

 

Heard a Special Presentation of Proclamation Supporting Mental Health Awareness Month

 

Held a Public Hearing and Approved an Amendment to San Rafael's Building Code to Require Replacement of Wood Roofing

 

Head a Public Hearing and Approved a Resolution Approving the 2

nd

Anniversary Annual Report for the Executed Development Agreement with BioMarin (Ordinance No. 1982)

 

Adopted Resolution Approving the Formation of the Public Art Review Board

 

Heard an Informational Report on Preliminary Three-Year Capital Improvement Program

 
City Council meetings are held every first and third Monday of the month. City Council meetings that fall on a holiday are rescheduled for the following Tuesday
---
Events
Upcoming Parks and Recreation Master Plan Community Meetings
(Please note meeting dates and times have been changed from prior announcements) 
Join us at one of the following meetings as we introduce the planning process, seek community input, and share information about the community questionnaire.                                                                                                                     
Thursday May 5 | 6:00 p.m.

  v

ia Zoom – https://tinyurl.com/CPRMP-2022-05-06

 

Wednesday, May 11 | 6:00 p.m. (in Spanish)

  –

Albert J. Boro Community Center, 

50 Canal Street, San Rafael, CA 94901

                                                                                                             

 
Interpretation can be requested by completing and submitting this form at least 72 hours in advance of a meeting. 
---
Joint Community Conversation with Mayor Kate
Wednesday, June 8 | 5:30 p.m. to 6:30 p.m. 
San Rafael Community Center, 618 B St, San Rafael, CA 94901  
Join Mayor Kate and your local community members to discuss issues going on across the City in a personal, Q&A format. Learn more about local and citywide updates and happenings and submit your inquiry or question to staff for the opportunity for discussion at upcoming community conversations events!  
Visit the community conversations webpage 
---
Marin County Sheriff's Gun Buyback Event 
Saturday, June 4 | 9:00 a.m. to 1:00 p.m. 
East side parking area of the Marin Sheriff's Office at 1600 Los Gamos Dr #200, San Rafael, CA 94903 
Help reduce the risk of suicide, accidental discharge, domestic violence, and guns getting into wrong hands. This is an anonymous participatory event with no questions asked.   
$100 per firearm will be provided for handguns, rifles, shotguns, and $200 per firearm for assault weapons. Firearms must be functional. There is a limit of three firearms per person. This is a drive-up only event, and the firearm must be unloaded in trunk of vehicle. Boxed ammo will be accepted.  
Questions or want to give a tax-deductible donation? Call (415) 485-3059 
Click Here for more information  
---
Quiz
What kind of tree is this?