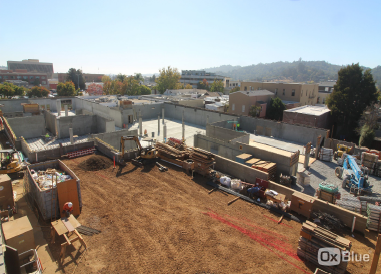 During the month of September 2018, Alten Construction finished with the shotcrete walls and all underground utilities in the basement within the first week. The contractor then proceeded with placing and spreading the underground rock (3/4-inch rock) followed by water proofing and rebar. The contractor took extra precaution during the rebar installation assuring that the water proofing mat was not ruptured. Contractor then proceeded and poured the Apparatus Bay room and partial basement floor. Contractor also worked on off-site utilities gas, water, sewer and storm drain. The IOR and City inspector have been performing continues inspection. We have also take extra concrete cylinders to assure proper curing and design strengths are met. In addition review and processing of submittals and Request for Information (RFI's) have continue.
PROJECT TEAM
Owner: City of San Rafael
Project/Construction Manager: Kitchell, Sacramento, CA
Architect: Mary McGrath Architects, Oakland, CA
Contractor: Alten Construction, Inc.
Download the full update here!