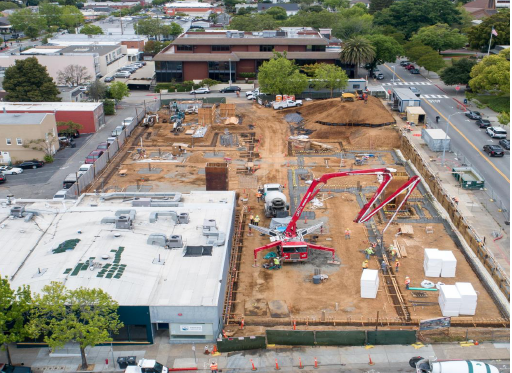 Project Progress
During the month of May, Alten Construction continued with the excavation of footings, elevator pits / stairs, and underground utilities (storm drain, fire line, sewer, waterlines, electrical and any sleeves required for future plumbing). After review /acceptance of the footing excavations by the geotechnical engineer, the contractor installed all the conduits and rebar in preparation for the first concrete pour of 250 cubic yards. This pour covered approximately half of the footing in the basement level and the elevator pits. The pour was a success having an inspector on site for the entire pour consistently checking the mix designs and testing the slump, temperature and taking cylinders for compression tests. In addition review and processing of submittals and Request for Information (RFI's) continue in high volume/pace.
PROJECT TEAM
Owner: City of San Rafael
Project/Construction Manager: Kitchell, Sacramento, CA
Architect: Mary McGrath Architects, Oakland, CA
Contractor: Alten Construction, Inc.
Download the full update here!