Successful Seeds of Hope Event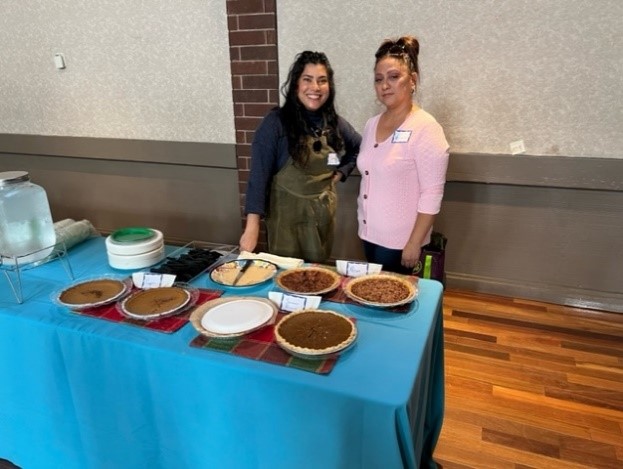 On November 6, the City of San Rafael and County of Marin Health and Human Services co-hosted the 6th Seeds of Hope lunch and service provider fair.  The event invites people experiencing homelessness to receive meals, donations, and housing-focused services.  The turnout was wonderful, and 23 service providers assisted attendees with everything from free haircuts, acupuncture, and massage, to applications for public benefits and paperwork for housing programs.  The event featured a full Thanksgiving feast with turkey cooked by Forrest Fire BBQ and sides provided by Dee Wagner Catering.   A Marin County HHS employee provided 14 homemade pies that were out of this world!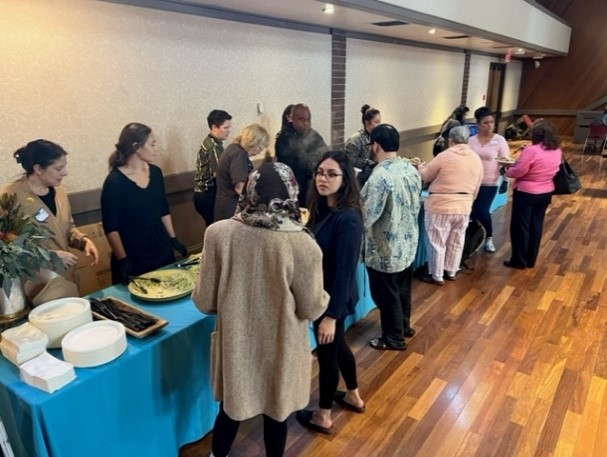 The next Seeds of Hope event will be Monday, February 5 at the San Rafael Community Center from 11am to 1pm.  Anyone interested in volunteering or providing services to unhoused residents can contact Lynn Murphy at (415) 485-3489.  A special thank you to Kaiser Permanente for their sponsorship of the next three luncheons.  
Success Stories as Unhoused Individuals Move into Homes
Numerous individuals previously experiencing homelessness moved into permanent housing this month, joining nearly 700 chronically homeless individuals brought into housing since our system of care started tracking in 2016. The entire community congratulates these folks on their new homes. The City appreciates and recognizes the dedicated support of the service provider community, Marin Housing Authority, private landlords, Marin County Health and Human Services, and other jurisdictions that are working on solutions to homelessness in our region. 
Three newly housed individuals are clients of St. Vincent De Paul's (SVDP) housing case management, whose case management services were made possible by San Rafael's Encampment Resolution Funding (ERF) grant.  
"Terrance," a 24-year-old who grew up in Marin and grapples with a severe mental health condition, obtained an apartment using a voucher after being unhoused since adolescence.

 

"Peter" spent his youth in the foster care system in Marin and has navigated life without housing since the age of 16. Now at 36, he has secured his own permanent housing with a voucher for the first time in twenty years.  

 

"Aaron" experienced a traumatic brain injury leading to unemployment and severe memory issues. He now has transitioned into housing and will be receiving ongoing support services. 

 
Additionally, with the opening of permanent supportive housing at 1251 S. Eliseo this month, 43 individuals left chronic homelessness to a supportive housing environment in Larkspur managed by Episcopal Community Services.  
City Removes Unsafe Structures that Pose Critical Fire Risk
On October 24, the San Rafael Fire Department and the Building Division inspected campsites of individuals experiencing homelessness along the Mahon Creek Path, Andersen Drive (Rice St to Irwin St) and Francisco W. for significant building and fire hazards. Staff issued notices on approximately 20 structures deemed to be a hazard because they contained wood, pallets, and/or cardboard.  
With the cooperation of the affected individuals, Department of Public Works staff began removing their structures on October 27. The Community Development Department's Homelessness Division provided tents, tarps, blankets, and other camping gear for shelter replacement. The City is working to remove the few remaining structures with cooperation from the individuals affected.  
Camping Ordinance Update
On October 19, Hon. Judge Edward Chen issued an order allowing implementation of the City's new camping ordinance regulating camping on public property, subject to certain court-mandated conditions. The 50-page order can be found here. 
The City is developing its plan to implement the ordinance according to the court's requirements and will provide further information when available. The City's ordinance can be found here. 
Educational Event on Homelessness for Davidson Middle School Parents
Mayor Kate Colin, City Manager Cristine Alilovich, and other staff co-hosted a Zoom informational session on October 18 with San Rafael Public Schools.  The event was for parents of Davidson Middle School children, who have recently expressed concerns over encampment activity along the walking route to school. 
We appreciate the approximately 50 parents who attended the event and affirm that the safety of children is the City's highest priority.  The video can be found here, and a FAQ following up on parent concerns is available here.   
How can you help?
The best way to assist people experiencing homelessness in Marin is to donate or volunteer directly through social service agencies and community groups working with our community.