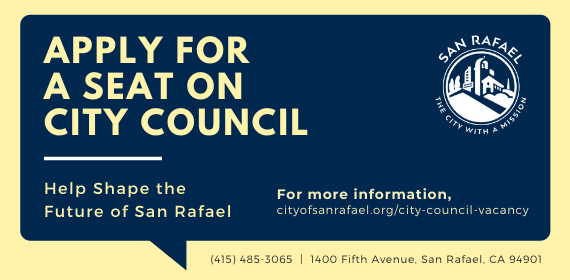 Be a part of an exciting new chapter in the City of San Rafael as a member of the City Council. This November voters elected San Rafael's first female mayor, Kate Colin, and two new council members. The election of Mayor Kate created a vacancy that is now open for appointment by the Council. The appointee will be working with the Council and City staff to tackle the challenges of economic recovery from COVID-19, homelessness and affordable housing, racial inequality, climate change, and the guidance of City policy.
Apply online! Interested community members must reside in city limits, be 18 or older, and be registered voters in the city. Additionally, if the person appointed to the seat were to decide to run for office in 2022, they would need to reside in District 2. 
What Does the Council Do?
Councilmembers participate in setting Citywide policy, approving the City budget, making appointments to boards and commissions, and overseeing City functions. Each fiscal year, the City Council approve goals and objectives that provide direction to staff to assist them in prioritizing work that is most important to San Rafael.
The City Council meets the first and third Mondays every month at 7 p.m. Typically these meetings take place in the City Hall Council Chambers (1400 Fifth Avenue), but currently the City Council meeting is meeting virtually. In addition to regular meetings, Council occasionally holds special study sessions on certain topics. All of these meetings are open to the public and information about them can be found online. 
Councilmembers may have additional responsibilities including being part of Committees and attending public events. 
Questions 
If you have questions about the position or the process contact: 
Lindsay Lara, City Clerk
Lindsay.lara@cityofsanrafael.org
(415) 485-3066 
More Information: