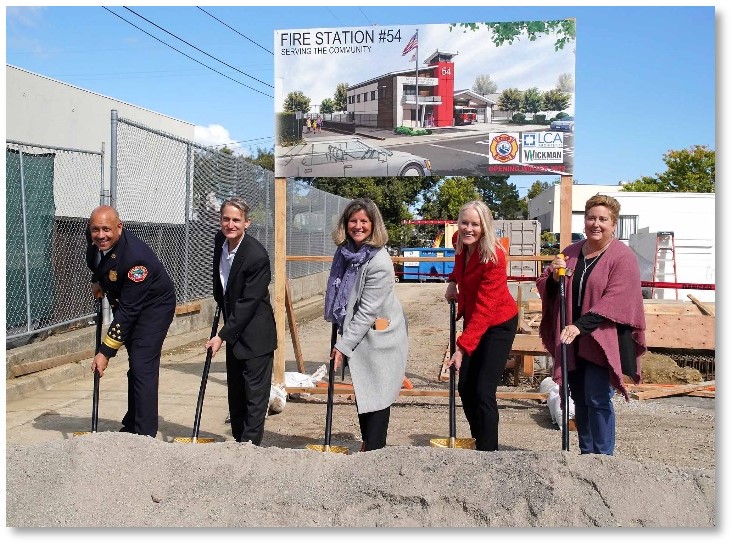 On April 19, the City held two groundbreaking ceremonies for the fire station reconstruction project: one for Fire Station 54 and one for Fire Station 55.  A line of shovels was used to officially mark the start of the renovations.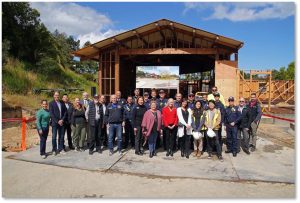 Mayor Kate Colin was joined by Vice Mayor Kertz, Councilmembers Bushey and Llorens Gulati, Fire Chief Darin White, City Manager Jim Schutz, Public Work Director Bill Guerin, representatives from the Fire Commission, firefighters, City staff, the general contractor Wickman Development, and the architect for the project, Loving Campos Associates Architects to celebrate the commencement of this project.  Mayor Kate expressed her deep appreciation to the community of San Rafael for supporting Measure E, which is the funding source for the essential facilities upgrades, including Fire Stations 54 and 55.  She also recognized the invaluable contributions of her predecessors, Mayor Phillips and former councilmembers, from inception of tax Measure E through the completion of the first three essential buildings: Fire Station 52, Fire Station 57, and the new Public Safety Center.  Chief White also spoke at the event and noted his excitement to participate in these projects as they will provide a safe working environment and improve the quality of life for the firefighters for years to come.
Construction for Fire Station 54, located at 46 Castro Ave., and for Fire Station 55, on 955 Point San Pedro Rd., is expected to conclude in the Spring of 2023.