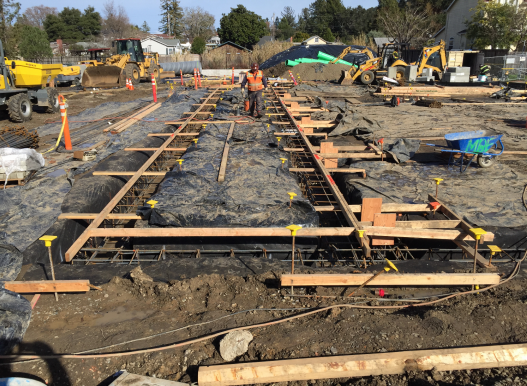 Project Update:
During the month of January, Alten Construction continued to work on the Fire Station
Building; the Classroom Building and the retaining wall/ bio-retention on the North-East
side of the site. At the Fire Station Building, contractor continued with installation of
Scaffolding, wood framing at the bay room and the CMU Block. The CMU Block is
currently installed up to the second floor along with rough electrical conduits and
electrical boxes. Steel beams are also currently being installed. At the Classroom Building,
Contractor continued with the wood framing, door jams and all the electrical conduits.
They also took the initiative, placing plastic on the roof top to protect it. At the retaining
wall on the north east side of the site, Contractor poured, removed the forms and
backfilled the bio-retention walls. All inspection and testing by the City Inspector, Special
Inspector, Structural Engineer, Soils Engineer and the IOR have been performed and
approved.
PROJECT TEAM:
Owner: City of San Rafael
Project/Construction Manager: Kitchell, Sacramento, CA
Architect: Mary McGrath Architects, Oakland, CA
Contractor – Alten Construction, Inc.
Back to Monthly Updates