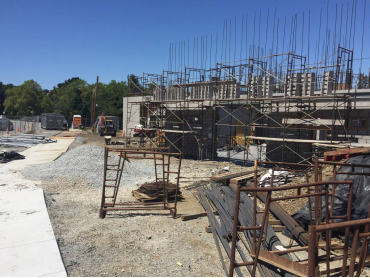 Project Progress
During the month of June, Alten Construction completed the CMU installation for the Apparatus Bay. Steel elements (in conjunction with CMU activities) were completed for the Living Quarters. Embedded MEP elements were completed and the concrete slab was poured for the Apparatus Bay and Living Quarters. Shop fabrication for remaining steel commenced. Potholing and site investigation for the on-site storm
drain system was completed.
PROJECT TEAM:
Owner: City of San Rafael
Project/Construction Manager: Kitchell, Sacramento, CA
Architect: Mary McGrath Architects, Oakland, CA
Contractor – Alten Construction, Inc.
Download the full update here!
Back to Monthly Updates