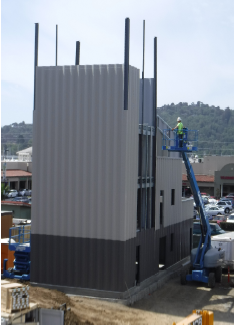 Project Progress
During the month of May, Alten Construction work progressed on the Fire Station Building, the Training Classroom and the Training Tower. The Tower erection began the first of May and neared the structure 50' top out at the end of the period. The Classroom stucco system brown coat was applied and completed the 28-day cure. Interior MEP and Fire Protection received inspections and insulation and drywall is scheduled for early June along with exterior plaster. Work at the Fire Station Building included the 2nd Floor metal framing and MEP installation. 1st Floor activity involved rough-in of under-slab HVAC refrigerant lines, ductwork, unit heaters, as well as plumbing, electrical and fire protection. The App Bay plymovent exhaust system install started. Utilities for the City's off-site Storm Drain work at 3rd & Union completed in May. Coordination with PGE and MMWD for off-site gas and water facilities work continued. Inspections and observations by the
City Inspector, Special Inspector, Structural, and the IOR were performed and approved.
PROJECT TEAM:
Owner: City of San Rafael
Project/Construction Manager: Kitchell, Sacramento, CA
Architect: Mary McGrath Architects, Oakland, CA
Contractor – Alten Construction, Inc.
Download the full update here!
Back to Monthly Updates