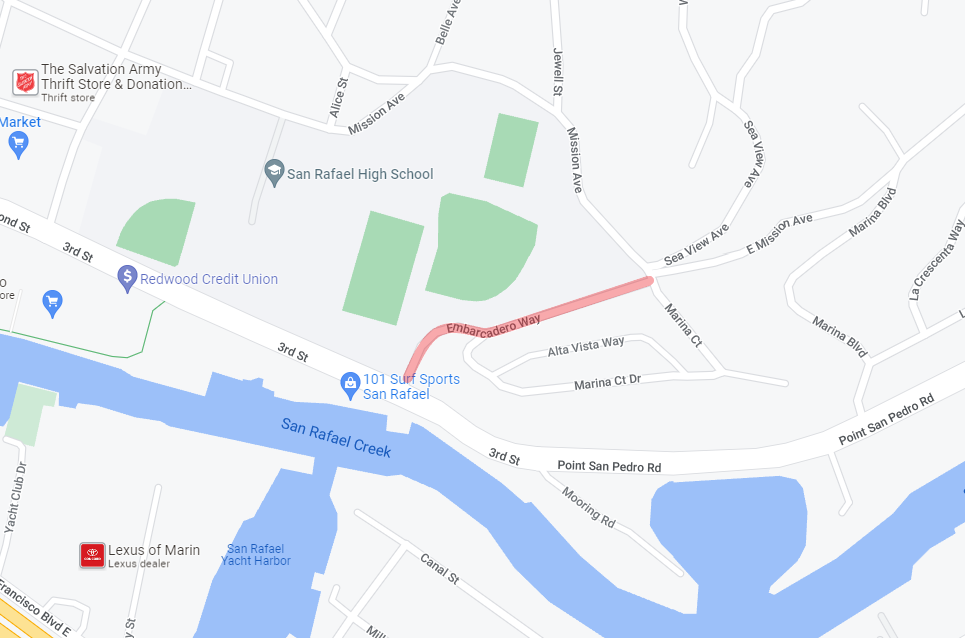 The City of San Rafael Department of Public Works is considering converting Embarcadero Way to one-way eastbound (inbound to the neighborhood), from Marina Court Drive to Marina Court. Embarcadero Way will remain two-way from Third Street to Marina Court Drive.
There is a steep drop-off next to Embarcadero Way from Marina Court Drive to the all-way stop intersection of Mission Avenue-Marina Court/Sea View Avenue. It is infeasible to widen that section of Embarcadero Way to accommodate two-way traffic. This change would result in re-routing downhill Embarcadero Way traffic to other streets to exit the neighborhood. Vehicles would still be able to enter the neighborhood via Embarcadero Way and Mission Avenue.
Traffic volumes were collected on all legs of the all-way stop-controlled intersection of Mission Avenue-Marina Court/Sea View Avenue for a week in January 2022 while schools were in session. With the conversion of Embarcadero to one-way uphill, the 17 a.m. and 12 p.m. peak hour trips would have to take another route to leave the neighborhood. All the other streets can easily accommodate the additional trips.
More information can be found on the project website. We are also encouraging residents in the area to participate in a survey.