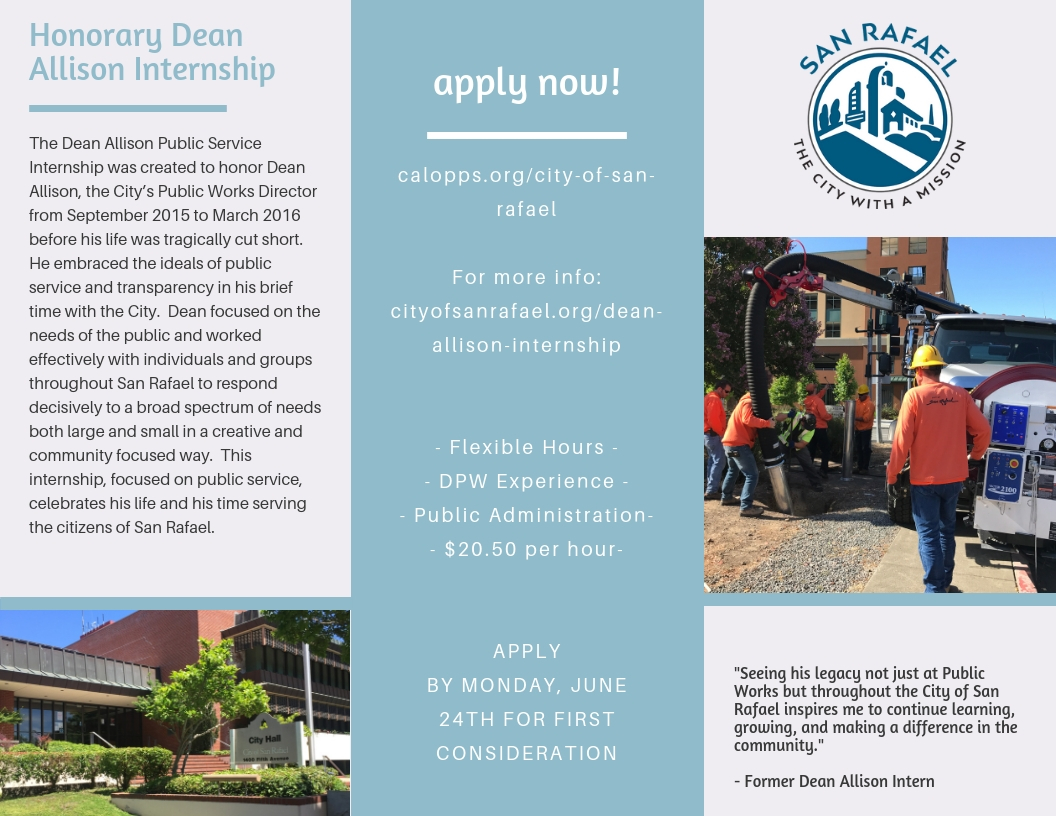 "Seeing his legacy not just at Public Works but throughout the City of San Rafael inspires me to continue learning, growing, and making a difference in the community."
– Former Dean Allison Intern
Thomas Wong, former Dean Allison Intern, was recently featured in a Marin Independent Journal story about his experience. Also, read his personal account of a day spent with Dean Allison.
The Department of Public Works is seeking an Intern to work part-time (Up to 4 days/30 hours per week.  The Dean Allison Public Service Internship was created to honor Dean Allison, the City's Public Works Director from September 2015 to March 2016 before his life was tragically cut short.  He embraced the ideals of public service and transparency in his brief time with the City.  Dean focused on the needs of the public and worked effectively with individuals and groups throughout San Rafael to respond decisively to a broad spectrum of needs both large and small in a creative and community focused way.  This internship celebrates his life and his time serving the citizens of San Rafael.
Part-Time (Up to 30 hours per week)
$20.50 per hour
Duties and Responsibilities include, but are not limited to:
• Assisting to develop and implement the City's new sidewalk maintenance program, including a
new tree ordinance.
• Assisting to develop a plan to seek funding to dredge the San Rafael Canal.
• Preparing written reports regarding program activities.
• Creating, updating and auditing spreadsheets using Microsoft Excel.
• Conducting research and analysis of federal, state and local laws related to special projects.
• Compiling information, preparing documents and public education materials.
• Participating in other public works programs and activities.
• Other duties as assigned.
Qualifications:
• Graduated or currently enrolled in the 3rd year of a Bachelor's degree program or higher in an
Engineering, Business, Public Administration, Environmental Science or related program.
• Ability to multitask and stay organized.
• Proficient computer efficiency, including familiarity with Microsoft Word and Excel.
• Ability to demonstrate characteristics of listening, flexibility, follow-through, problem solving,
community-orientation, and identifying "win-win" solutions.
Application Process:  City of San Rafael application is required.  Resumes do not substitute for the City application.  To file an application on-line go to www.calopps.org.  Select "Member Agencies".  Select "City of San Rafael".
Contact: For questions regarding this internship please contact Rafat Raie (Rafat.Raie@cityofsanrafael.org).