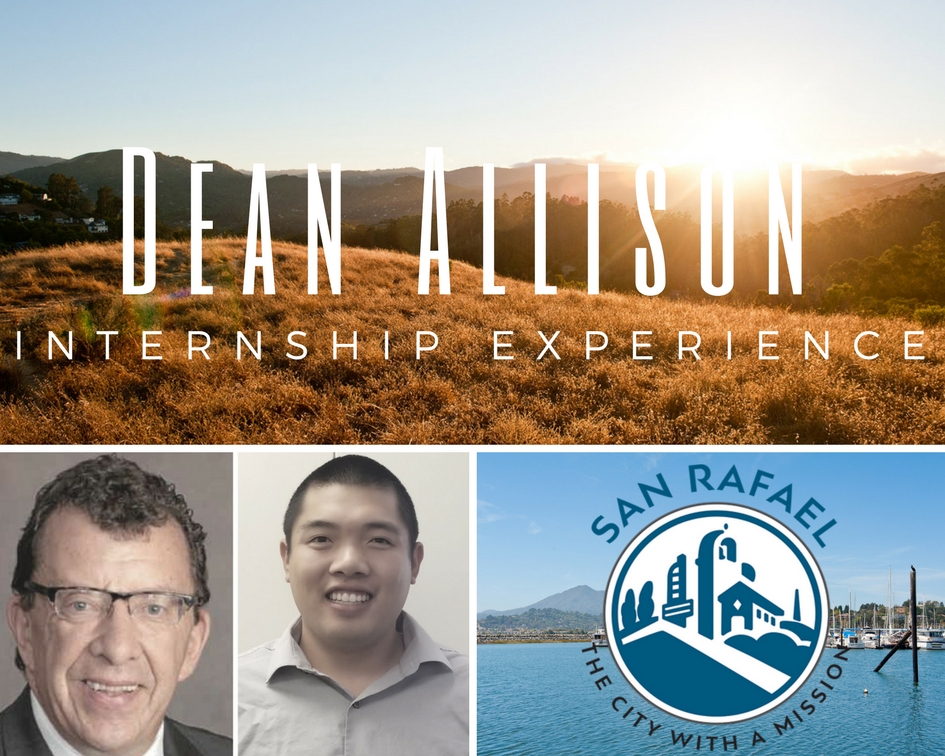 A Day with Dean
By Thomas Wong
Former Honorary Dean Allison Intern,
and current Junior Civil Engineer
I had the honor of meeting Mr. Dean Allison only once. I had finished a degree in civil engineering a few years prior and continued to work in the construction industry as I had done for many years. I was put in touch with Dean through a mutual friend. Dean was gracious enough to allow me to shadow him for a day, but it would take several months, a few phone calls, and careful planning before we would eventually meet. And this was all because Dean was concerned that I would visit on a day he considered to be "uneventful." He wanted to show me aspects of public service that he believed I would enjoy.  I would have been happy just following anyone around the office, but to follow the Director of Public Works for a day was unforgettable.
January 11th, 2016. Dean and I met for what turned out to be a very eventful day. We first met with his engineers to discuss a bridge replacement project, later visiting the site to see and hear his vision for the area in person. We talked about the challenges of the project and, to my surprise, he wanted to know what I thought.
This was not just to make small talk; Dean genuinely wanted to hear what I thought.
He was the first to admit that he was still getting to know San Rafael. But for him to engage me directly in the discussion and learn from my experiences having grown up in Marin was as much an honor as it was inspiring.
After leaving the bridge project site, we stopped at City Hall to sit in on a meeting regarding the Sonoma Marin Area Rail Transit (SMART) service coming to San Rafael. I was especially intrigued to hear about new developments with SMART having followed the progress of the new rail service since the project was approved in 2008.
By the time the SMART meeting concluded, it was time for lunch. Dean's desire to show me the best of San Rafael was always at the forefront of his mind. We drove down Miracle Mile only to head back downtown when he had a change of heart about what he considered to be the best restaurant in the city. I'll omit the name in fairness to all the wonderful restaurants San Rafael has to offer, but I will say it was a delicious burrito!
While eating lunch, our conversation turned to baseball. I'm a baseball buff and a lifelong Giants fan while Dean was an avid Mets fan; you knew it the moment you stepped into his office. At the time, the Giants had won three of the last six World Series. Dean had a tough time of it, enduring the biennial festivities while living in the Bay Area when the Met's had not even been to the World Series since 2000, let alone win three like the Giants had done recently. But that changed when the Mets, not the Giants, played in the 2015 World Series.  Unfortunately for Dean, his team would fall to Royals in five games. So I asked him, "Would you have rather the Mets not even make the playoffs knowing they would lose in the World Series, or was the journey to the World Series worth it?" I knew how I would answer, having experienced the devastating Game 7 of the 2002 World Series in which the Giants ultimately lost. But Dean smiled, beaming with pride.  "No," he said without hesitation. "The run was great. We'll be back next year!"
After lunch, we headed to our final stop with our hearts full of baseball and our stomachs full of beans.  Dean and I arrived at Gerstle Park where we met with a sidewalk contractor to discuss different sidewalk repair techniques. We then walked several blocks to determine the extent of the issue. We spoke to numerous residents who wanted to express their concern; Dean even spoke with one resident for over 10 minutes, never once rushing the discussion or trying to move it along.
Despite his busy schedule, he cared deeply about the residents, spending as much time as he could listening to and discussing their concerns.
Our day together drew quickly to a close.  Dean had a way of making an eight-hour day feel like only four.  We agreed to meet again so he could show me other facets of Public Works.  Sadly, he would never get the chance.
At the time of Dean's sudden and unexpected passing, I was interested in Public Works but already employed. It wasn't until I heard that the City of San Rafael was seeking applicants for the first Honorary Dean Allison Internship that I decided to rearrange my schedule and apply for the position. Not long after, I was selected for the internship and began a year-long journey with Public Works, continuing to see the importance and value of serving the public that Dean had shown me once before.
My first week at Public Works was anything but ordinary. I dove right into storm water regulation and compliance. On the surface, this means preventing motor oil from going down storm drains. But just like my time at Public Works, there's so much more: inspecting rain gardens, construction sites, and city owned property, as well as tracking pesticide use and accessing the amount of garbage waste on city streets. In fact, the list of regulations total over a hundred pages. I learned about grading permits, the approval process, and what to look for out on the construction site. I learned how to apply for local and state grants, participate in community involved committees, and maybe most importantly, how to communicate with residents, businesses, and groups that I interact with on a daily basis.
The wide breadth of work that I contributed to and learned from during my internship was as surprising as it was rewarding. The experience I gained from projects across all different areas of Public Works is largely a result of the compassion, professionalism, and cooperation of those I am now fortunate enough to call colleagues. They created an environment that helped me learn and grow as a professional and for that, I am truly thankful.
I never imagined what the future would bring when I met Dean on that January morning.
My hope is that through this internship, I embodied some of the values that Dean carried with him.
Hearing stories from colleagues and seeing his legacy not just at Public Works but throughout the City of San Rafael inspires me to continue learning, growing, and making a difference in the community – an enriching and rewarding service that I look forward to every day. I am thrilled that the City will continue the Honorary Dean Allison Internship and I am excited to share my experiences with my successor.
Thank you, Dean, for allowing me to share in your experiences, passion, and genuine love for the people and City of San Rafael. I am forever grateful.