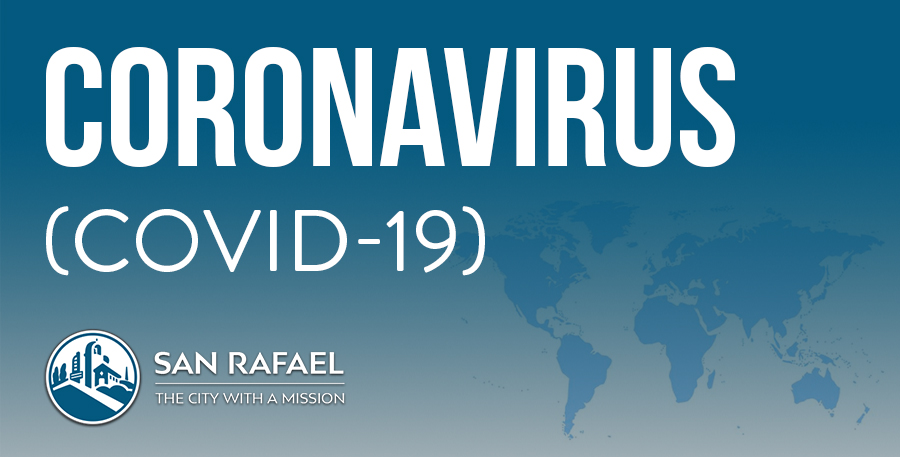 DESPLAZARSE HACIO ABAJO PARA ESPAÑOL
City Staff Pivoting 

into

 New Roles
During these difficult times, our public safety employees are doing the amazing job they always do supporting our community. A big "thank you" to our police officers, firefighters, and other safety-related employees. Many other staff from throughout our City organization are also pivoting into new roles and helping in many ways. For example, City of San Rafael employees are participating in a pop-up childcare program to support Marin County Healthcare workers. This is a great collaboration between the County of Marin, Marin County schools, City of San Rafael staff, and so many wonderful community partners. Childcare centers have been designed to align with county health guidelines on social distancing.  
In addition, other City of San Rafael staff have stepped in to assist with food delivery. The County of Marin has organized a lunch program to bridge the gap during these challenging times for our most vulnerable population as most food resources have been stopped until further notice. We are proud that our staff has stepped up in various capacities to provide assistance to our community partners. 
San Rafael continues to focus our efforts on operating our essential services and developing remote service plans that are in line with the Shelter Order.  
---
Understanding What It Means to Shelter-in-Place
Seven Bay Area County Public Health Officers issued a Public Health Order March 16 which requires people to stay home except for essential needs. It is required that you stay home except to get food, care for a relative or friend, get necessary health care, or go to an essential job. Stay at least six feet apart when leaving your home for essential activities. This order is in effect until April 7, 2020. It may be extended depending on recommendations from public health officials. New information is being regularly added to the Frequently Asked Questions.  
Check out the most Frequently Asked Questions 
Read the Public Health Order 
---
Are City Parks and Open Space Available for Use? 
While sheltering in place, take some time each day to appreciate the natural beauty that surrounds our community. View the list of county open space preserves and pathways that are currently open. Please practice social distancing whenever you leave your home. 
We have many parks and open space where you can engage in activities such as walking, hiking, or running. Those kind of passive uses of open space is recommended as now is a good time to skip play structures or equipment where it is difficult to maintain social distancing and cleanliness. Please see the public health guidance.  
---
PG&E Halting Work & Keeping Our Power On
PG&E is assuring customers that planned power outage work will be postponed until further notice. PG&E will not perform work that requires a clearance resulting in a planned outage that impacts customers. Work pertaining to Wildfire Mitigation Program work will continue. PG&E will work to minimize customer impact, if possible, with temporary construction or generation. If there is critical work that requires a planned outage, it will be elevated for resolution. 
Keeping the Power On press release 
Read more about what PG&E is doing in response to COVID-19
---
Updates on Coronavirus in Marin County
For the most up-to-date information on COVID-19 in Marin County please visit the Marin Health and Human Services Website:  https://coronavirus.marinhhs.org/ 
Watch Video Updates from Marin HHS:
COVID-19 Video updates from Marin HHS are available on YouTube. Subscribe to be alerted when they post a new video. 
---
COVID-19 Hotline and Public Health Email
Call: 415-473-7191
Email: COVID-19@marincounty.org
---
City of San Rafael Coronavirus Information
https://www.cityofsanrafael.org/coronavirus
---
Personal de la ciudad 
girando
hacia
nuevos
 roles
Durante estos tiempos difíciles, nuestros empleados de seguridad pública están haciendo el trabajo increíble que siempre hacen apoyando a nuestra comunidad. Un gran "gracias" a nuestros oficiales de policía, bomberos y otros empleados relacionados con la seguridad. Muchos otros miembros del personal de toda nuestra organización de la Ciudad también están cambiando a nuevos roles y están ayudando de muchas maneras. Por ejemplo, los empleados de la Ciudad de San Rafael están participando en un programa emergente de cuidado infantil para apoyar a los trabajadores de salud del Condado de Marin. Esta es una gran colaboración entre el Condado de Marin, las escuelas del Condado de Marin, el personal de la Ciudad de San Rafael y tantos socios maravillosos de la comunidad. Los centros de cuidado infantil han sido diseñados para alinearse con las pautas de salud del condado sobre distanciamiento social. 
Además, otro personal de la Ciudad de San Rafael ha intervenido para ayudar con la entrega de alimentos. El Condado de Marin ha organizado un programa de almuerzo para cerrar la brecha durante estos tiempos difíciles para nuestra población más vulnerable, ya que la mayoría de los recursos alimenticios se han detenido hasta nuevo aviso. Estamos orgullosos de que nuestro personal haya aumentado en varias capacidades para brindar asistencia a nuestros socios comunitarios. 
San Rafael continúa enfocando nuestros esfuerzos en operar nuestros servicios esenciales y desarrollar planes de servicios remotos que estén en línea con la Orden de Refugio. 
---
Comprender
 lo que 
significa
refugiarse
en
 el 
lugar
Los Oficiales de Salud Pública del Condado de Seven Bay Area emitieron una Orden de Salud Pública el 16 de marzo que requiere que las personas se queden en casa, excepto por necesidades esenciales. Se requiere que se quede en casa excepto para obtener alimentos, cuidar a un pariente o amigo, obtener la atención médica necesaria o ir a un trabajo esencial. Manténgase al menos a seis pies de distancia cuando salga de su casa para realizar actividades esenciales. Esta orden está vigente hasta el 7 de abril de 2020. Puede extenderse dependiendo de las recomendaciones de los funcionarios de salud pública. Se agrega regularmente nueva información a las Preguntas frecuentes. 
Consulte las preguntas más frecuentes 
---
¿Los 
parques
 y 
espacios
abiertos
 de la ciudad 
están
disponibles
 para 
su
uso
?
Mientras se refugia en su lugar, tómese un tiempo cada día para apreciar la belleza natural que rodea a nuestra comunidad. Vea la lista de reservas y caminos de espacios abiertos del condado que están abiertos actualmente. Practique el distanciamiento social cuando salga de su casa. 
Tenemos muchos parques y espacios abiertos donde puede participar en actividades como caminar, caminar o correr. Se recomienda ese tipo de usos pasivos del espacio abierto, ya que ahora es un buen momento para saltear estructuras o equipos de juego donde es difícil mantener el distanciamiento social y la limpieza. Por favor, consulte la guía de salud pública. 
---
PG&E detiene el trabajo y mantiene la 
electrizad
 encendido
PG&E asegura a los clientes que el trabajo de corte de energía planificado se pospondrá hasta nuevo aviso. PG&E no realizará trabajos que requieran una autorización que resulte en una interrupción planificada que afecte a los clientes. El trabajo relacionado con el programa de mitigación de incendios forestales continuará. PG&E trabajará para minimizar el impacto en el cliente, si es posible, con la construcción o generación temporal. Si hay un trabajo crítico que requiere una interrupción planificada, será elevado para su resolución. 
Comunicado de prensa de Keeping the Power On 
Lea más sobre lo que PG&E está haciendo en respuesta a COVID-19: https://www.pge.com/en_US/about-pge/company-information/protective-protocols/covid19.page 
---
---
¿Dónde puedo encontrar información y actualizaciones? 
Actualizaciones sobre Coronavirus en el Condado de Marin   
Para obtener la información más actualizada sobre COVID-19 en el Condado de Marin, visite el sitio web de Salud y Servicios Humanos de Marin: https://coronavirus.marinhhs.org/  
Línea directa COVID-19 y correo electrónico de salud pública  
llame: 415-473-7191
correo electrónico: COVID-19@marincounty.org  
---
Preguntas frecuentes sobre la orden de salud pública  
El Condado de Marin ha desarrollado una lista de Preguntas frecuentes y está trabajando para actualizar esta lista a medida que haya más información disponible. Este es el mejor recurso para aclarar cómo debe responder a la orden de refugio en el lugar y qué empresas y servicios se ven afectados.  
Preguntas frecuentes sobre el Condado de Marin COVID-19
---
Información sobre coronavirus en la ciudad de San Rafael  
Estamos trabajando diariamente para desarrollar soluciones para la continuidad del servicio y el acceso remoto a los servicios de la Ciudad. Continuaremos actualizando la información a medida que esté disponible en nuestro sitio web de Coronavirus.  
Para obtener información sobre los impactos en los servicios de la Ciudad de San Rafael, enlaces a recursos relacionados y preguntas frecuentes, visite: https://www.cityofsanrafael.org/coronavirus  
---
Ciudad de San Rafael COVID-19 Recursos empresariales  
Estamos trabajando para reunir recursos para apoyar a nuestras empresas locales y sus empleados. Continuaremos actualizando esta página a medida que haya más recursos disponibles.  
https://www.cityofsanrafael.org/coronavirus-business-resources/