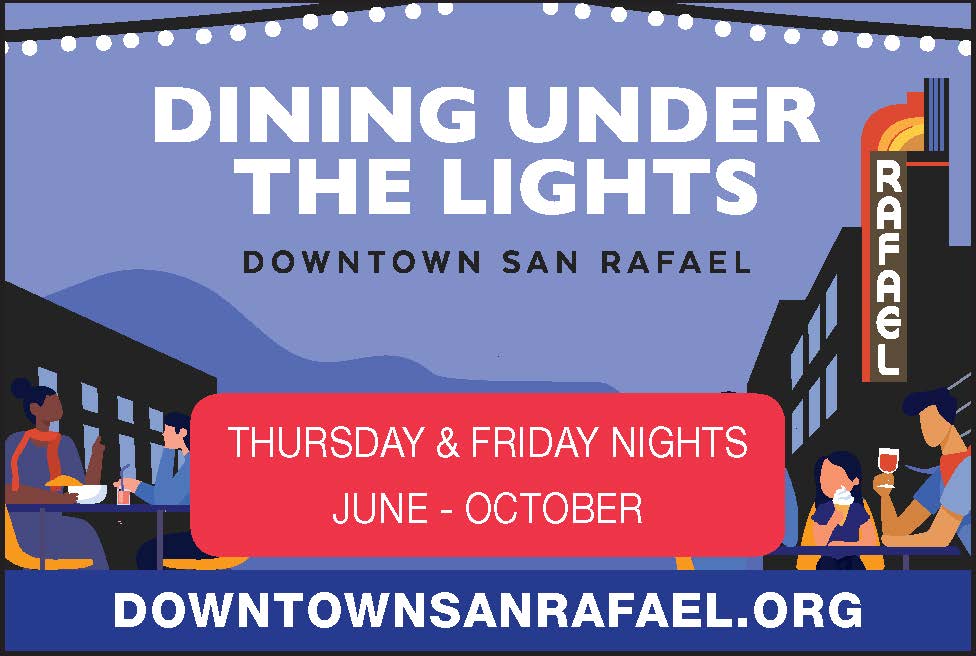 Welcome back to another week, we hope you were able to enjoy your weekend. Last Friday, the County of Marin issued a press about Social Bubbles, as well as, additional reopening guidelines that will go into effect on Monday June 29th.  With the completion of and compliance with a Site–Specific Protection Plan, many more of our businesses will be able to reopen and restaurants can offer indoor seating (at reduced occupancies), which you can take advantage of with your bubble. Businesses allowed to reopen starting June 29 include: 
In addition, guidance for campgrounds and RV parks, and the use of picnic areas will be provided this week for reopening on June 29 as well. 
If you're curious about the Stay-at-Home Order, it's still in effect until further notice, but appendices have been created to provide guidance as industries continue reopening and other activities become allowed.  
---
Dining Under the Lights
—UPDATED 08.01.2020
The Dining Under the Lights program has now expanded to Friday nights! It will run every Thursday and Friday night, from now to the end of October. We were able to expand it because of the overwhelming support of the local community in maintaining safe distances and wearing masks, except while eating.
Fourth Street will be closed to traffic for alfresco on-street dining on Thursdays & Fridays from 5–9 pm. Making the best of social distancing, restauranteurs arrange tables on the street for a romantic European feel under the glimmering new overhead Tivoli lights.
Several restaurants and bars are also serving daily meals outside on their sunny sidewalks or patios during their usual business hours and many are still offering take out and delivery. Please check with your favorite restaurant for hours and reservation requirements. "Know before you go!"
Learn more by visiting the Downtown Business Improvement District event page.
PREVIOUS POST
The San  Rafael Downtown Business Improvement District (BID) spearheaded this weekly initiative to support our beloved San Rafael restaurants. "Dining Under the Lights", an on-street, socially distanced dining program will occur every Thursday from 5—9 p.m. this summer. Do you remember the Twinkle Lights in the  trees along Fourth Street? Those have been replaced by "Tivoli Lights," the same lights that were installed in the West End last summer. Portions of Fourth Street will be closed for the evening to allow for safe outdoor dining.  
Check out the BID's event page for participating restaurants and be sure to call your favorite restaurant in advance to schedule a reservation! 
Street Closures 
Lincoln Avenue to D Street. All cross-streets (except Cijos) will remain open, including E Street.

 

Shaver Street to G Street. All cross streets will remain open.

 
You can also check out this super simple map that displays the closure. 
We hope to see you there!
---
Discounted Internet Opportunities Extended
At the beginning of the coronavirus pandemic, Comcast implemented Internet Essentials, a discounted high-speed internet program to support those now working from home or school-aged kids with their studies. This opportunity has been extended for an additional 60 days. Learn more and find out if you qualify by visiting InternetEssentials.com. 
---
Reminders